ASCI expands its celebrity scope; A deep dive into ASCI's latest guidelines on the influencer landscape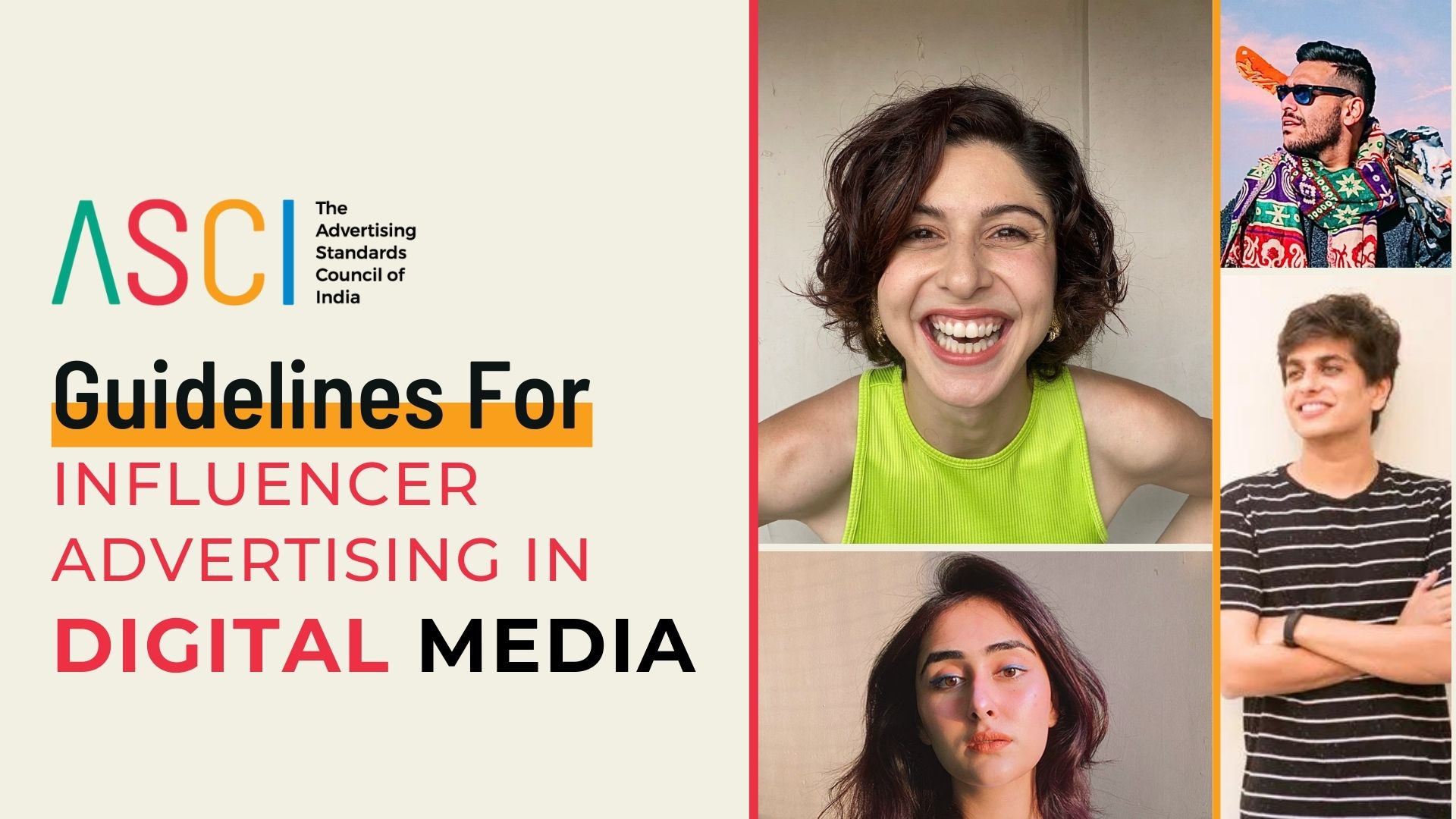 In a groundbreaking move, the "Advertising Standards Council of India (ASCI)" has unveiled a plethora of new guidelines redefining the landscape of influencer marketing. That's correct – the rulebook is undergoing a transformative overhaul, and the influencer arena is on the brink of a makeover.
ASCI has updated the definition of celebrities in its code to include large social media influencers, quantified by income and following. Those with 5 lakh or more followers on a single handle and those with income over Rs. 40 lakh (or equivalent) annually from appearing in campaigns will now be required to follow code applicable for celebrity endorsers.
The ASCI code includes a dedicated guideline for celebrities, mandating that advertisements featuring them must adhere to the ASCI Code and that celebrities should possess a comprehensive understanding of the code's principles.
This shift is a direct response to an astounding 800% surge in breaches of regulations by influencers and public figures across social media and advertising channels. Despite their legal obligations, a multitude of well-known personalities continue to engage in advertisements featuring deceptive content.
Manisha Kapoor, the CEO and Secretary General of ASCI, underscores that the transformation of the celebrity definition has occurred in a team with the rise of social media influencers. These creators of content have amassed substantial followings over time, prompting the council to revise its guidelines to encompass them.
How ASCI's new guidelines change the influencer game?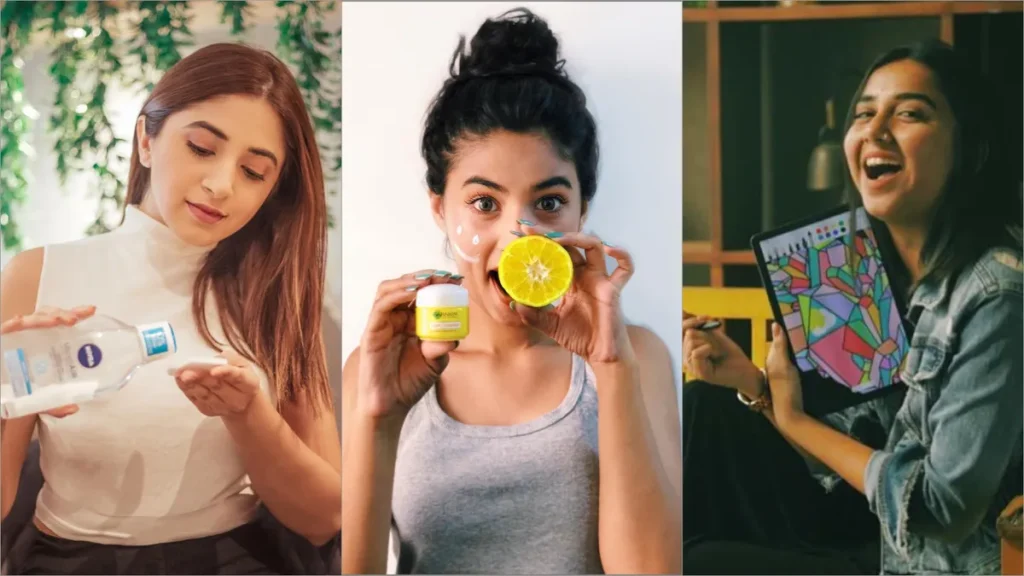 According to the revised guidelines, celebrity testimonials should mirror their authentic and current viewpoints, grounded in sufficient information or firsthand familiarity with the advertised product or service. The directives stipulate that celebrities are responsible for conducting thorough research to ascertain the verifiability and substantiation of claims presented in the advertisements.
Kiran Ramamurthy, COO, Media.Monks India, comments, "The influencer space has been largely unregulated and we have seen cases of how damaging any kind of misrepresentation can be. The financial influencer community has had cases that have raised the hackles of financial regulatory bodies."
The guidelines mandate that celebrities conduct due diligence to ensure that claims featured in the advertisements can be objectively verified and substantiated. The guidelines further state that celebrities, when called upon, need to produce evidence of due diligence.
Furthermore, the ASCI code dictates that celebrities should abstain from endorsing products, treatments, or remedies that are prohibited from advertising under the Drugs & Magic Remedies (Objectionable Advertisements) Act, 1954, as well as the updated Drugs & Cosmetic Act, 1940, and Rules 1945 (Schedule J).
This adjustment acknowledges the surge of influencer marketing in recent times. As social media influencers establish new hubs of widespread influence, it became imperative to expand the definition of celebrities to encompass such influencers, as highlighted in an ASCI statement.
The Consumer Protection Act, 2019 puts the responsibility of due diligence on all endorsers, whether celebrities or not. However, due to the disproportionate influence and impact of individuals with large followership, ASCI requires celebrities to demonstrate a much greater responsibility in making sure that their followers do not get deceived or misled, the statement added.
This also comes on the back of an increase in misleading ads featuring celebrities. According to ASCI, it processed over 500 misleading ads featuring celebrities in 2022-23 as against just 55 in 2021-22.
"Earlier, only personalities from the world of sports or entertainment were considered celebrities. Today, however, the scenario is different. We have a range of personalities who are extremely popular on social media and share a close personal connection with consumers. These personalities affect the spending habits of consumers who trust them. So, it's vital to ensure consumer protection — especially when celebrities endorse products or services that can cause serious financial loss and physical harm. This update widens ASCI's ambit and includes all those personalities who have a notable influence as celebrities," Manisha Kapoor, CEO and Secretary General, ASCI, said.
How will the stipulation mandating celebrities to possess a minimum social media following of 500,000 on a single platform impact the spectrum of endorsements governed by these fresh guidelines?
Kunal Kishore, co-founder and COO, ClanConnect, thinks the guidelines will have a significant impact on celebrity endorsements. The expanded scope of the guidelines could ensure that influencer content adheres to the same guidelines and accountability as endorsements by traditional celebrities.
This expansion of the definition of 'celebrity' will likely lead to a wider range of individuals being involved in celebrity endorsements, including influencers from various fields such as business, F&B, finance, and even social media. The updated guidelines broaden the scope of 'celebrity' to encompass notable figures like doctors, authors, activists, and educators.
"This could potentially bring a fresh perspective to advertising and create new opportunities for brands to connect with their target audience through endorsements by these non-traditional celebrities," Divyansh Gala, Group Head – Outreach, SoCheers, says.
The influencer community has grown significantly, especially on platforms like Instagram that boasts around 35,000 influencers with over 50,000 followers. However, this number falls to a couple of thousand only when the follower count is 500,000-plus.
"Given that most brands look for influencers in the 50,000-plus follower bracket, these guidelines will still not cover almost 95% of the influencers. The impact of these guidelines will be for larger brands with deeper pockets," says Ramamurthy.
In light of these guidelines, what will now be the roles and responsibilities of social media influencers?
Gala from SoCheers believes that this shift is bound to increase the responsibilities of brands as well as influencers and celebrities. Celebrity product endorsements generally have an immense impact, with people often taking their words at face value. Yet, this trust can be eroded if the claims in ads turn out to be deceptive or false.
He adds that with ASCI's focus on the claims and endorsements made by celebrities, they will have a better chance to make informed choices about the products they're associated with. Brands will have to back up their claims with verifiable evidence.
Henceforth, agents or managers representing celebrities must provide ASCI with duly signed written confirmation, affirming the thoroughness of due diligence conducted concerning the assertions and depictions featured in the advertisement.
The guidelines also offer advice against endorsing products, treatments, or remedies that are disallowed from advertising according to the stipulations of the Drugs and Magic Remedies (Objectionable Advertisements) regulations and the Drugs and Cosmetic Act 1940, along with its accompanying regulations.
Moreover, celebrities will be obligated to abstain from engaging in advertisements for products that are legally mandated to bear health warnings such as "… is injurious to health" on their packaging or promotional materials.
Will influencer marketing agencies need to educate content creators who have now attained celebrity status due to the recent guidelines established by ASCI?
Earlier this year, the Central Consumer Protection Authority (CCPA) also introduced regulations pertaining to influencer endorsements. The CCPA possesses the authority to levy fines of up to Rs. 10 lakh on manufacturers, advertisers, and endorsers. In cases of repeated violations, the penalty can increase to Rs. 50 lakh.
The CCPA also has the power to restrict endorsers of deceptive ads from endorsing any product for a duration of one year for initial violations and up to three years for subsequent breaches.
According to ASCI, a specific guideline for celebrities mandates that ads featuring them should adhere to its code. Celebrities are also expected to understand and embody the essence of the code.
The guidelines emphasise that celebrities are responsible for conducting due diligence to ensure that the claims made in the ads can be objectively verified and substantiated. In cases where required, celebrities must present evidence of this due diligence.