Celebrate Independence Day with Up to 50% Off on The Lip Balm Company Range of Natural Lip Balms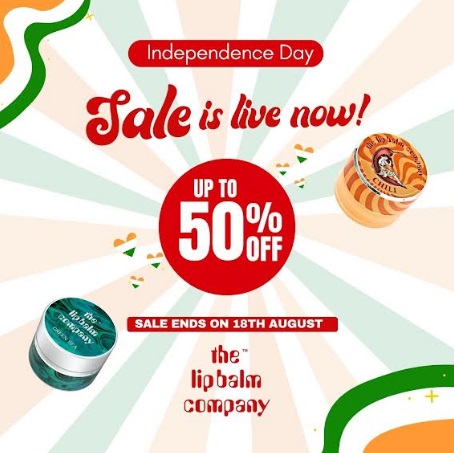 Chennai based The Lip Balm Company is thrilled to announce an exciting Independence Day Sale, offering up to 50% off on a wide variety of natural lip balms. With a commitment to delivering quality products and promoting sustainability, this sale is the perfect opportunity for lip care enthusiasts to stock up on their favourite lip balm essentials.
Get your favorite lip balms and let your lips shine
"We listen to our customers and on their feedback, we are excited to bring them this incredible Independence Day Sale. We take pride in using natural and plant-based ingredients, ensuring that our products are not only effective but also environmentally conscious," said Irene Janet A, Chief Coordinator, E-Commerce Execution, The Lip Balm Company.
"The Lip Balm Company is excited to showcase a vibrant selection of tinted lip balms designed to cater to a variety of preferences and needs. With over 10 captivating options ranging from shades of purple to red, such as Grape, Crimson, Flamingo, and Lava, these tinted lip balms are enriched with plant-based natural tints. This array of choices allows customers to find the perfect match for their distinctive style and preferences," she added.
In addition to these tinted offerings, The Lip Balm Company also offers more than 30 non-tinted lip balms. These include Apple Ko., Chocolate Ko. for lip dryness and sensitivity, Banana Bubblegum for chapped lips, and SolOrange for sun protection.
The Independence Day Sale will be live until August 18th, 2023. This limited-time offer reflects The Lip Balm Companys commitment to promoting self-care and sustainable choices.
Join The Lip Balm Company in celebrating this Independence Day by indulging in high-quality lip care and taking advantage of significant savings.
For more information, visit www.thelipbalmco.in.