A New Chapter Unfolds: Pilot Pen part ways with Luxor JV, Ventures solo in India's Writing Market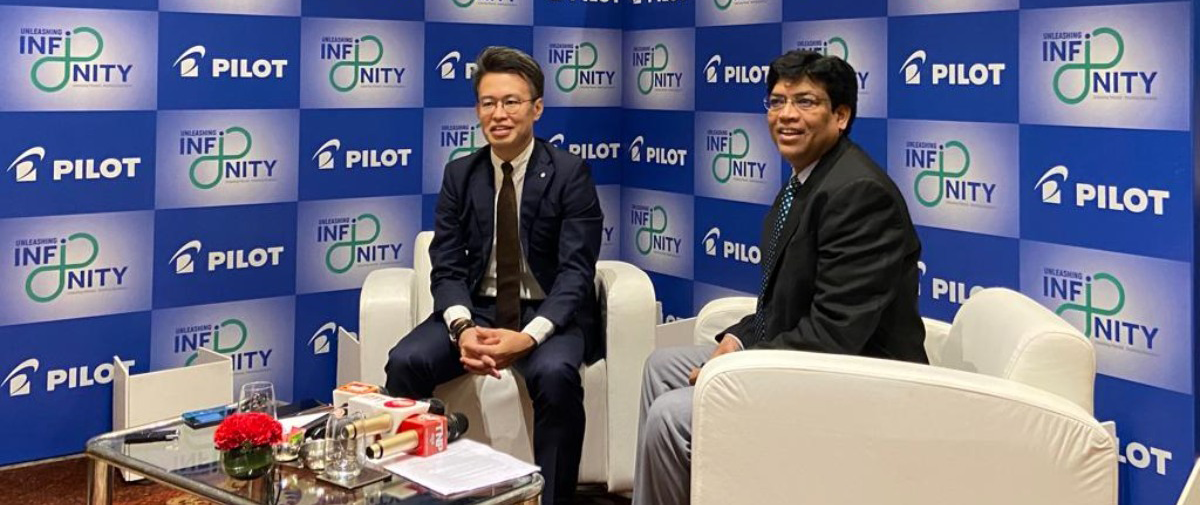 The legendary Japan-based Pilot Corporation, renowned for its iconic Pilot pens, has taken the plunge into the Indian market as an individual entity. With an awe-inspiring grand unveiling, they showcased their unwavering dedication to establishing an unbeatable distribution network and establishing a formidable presence in the Indian market. Breaking free from a four-decade-long collaboration with Luxor, they're now ready to set the stage ablaze with their mark of excellence.
What made the company part ways with Luxor?
"In the last 40 years being associated with a distributor, we realized the existing constraints – we were taken up as additional business and not promoted as a 100% focused product. Now as an individual company, we will have the final say in everything, including advertising, inventory management, distribution, sales as well as every minute detail," stated GP Srivastava, VP- Sales & Marketing, PPIN Private Limited.
"We have a target of achieving Rs 100 crore worth of sales in FY24. Over the next two years, we're aiming to partner with two lakh retail outlets, up from the current 60,000. Apart from metros and tier-I cities, we plan to penetrate tier-II towns, focusing on reaching every level of consumers and creating extensive distribution," he added.
With a steadfast commitment to delivering an unparalleled writing experience and establishing a prominent position within the industry, Pilot Pen has achieved remarkable growth as one of the swiftly expanding enterprises in its domain. The brand's unwavering focus on upholding international quality standards is clearly demonstrated by its cutting-edge Research and Development center, which is equipped with advanced Japanese test and measurement equipment.
Despite the challenges presented by the COVID-19 pandemic, the brand has achieved a remarkable 30 percent year-on-year growth. As per the company's assessment, the premium function pen market size stands at approximately Rs 500 crore, and Pilot aspires to capture a significant share of this market, targeting at least Rs 100 crore.
Shift Towards Complete Control
Under the banner of "Complete Control," Srivastava conveyed his enthusiasm for Pilot Pen's recent introduction in the Indian market and emphasized the brand's unwavering commitment to safety, quality, and efficiency. Embracing a comprehensive approach, Pilot Pen is now taking charge of key aspects such as marketing, inventory management, advertising, public relations, sales, and manufacturing to ensure enhanced operational control.
Pilot has invested about Rs 70 crore in setting up a manufacturing unit in Manesar to expand its distribution network across the country. Furthermore, the company is adopting a multi-faceted communication strategy, with a primary focus on targeting students and subsequently catering to corporate clientele. This strategic approach sets the stage for sustained growth and success.
"Our main markets are the US, China, Japan, and Europe. However, we see a lot of potential in India being present in the country since the 1950s. With the help of our local distributor, we have gained a significant market share in the country, and gaining100 percent control now, we aim to grow further within the country," states Shu Itoh, President, Pilot Japan.
Targeting Gen Z and young millennials
With a focus on engaging Gen Z and young millennials, Pilot Pen's expansion strategy encompasses the diversification of localized product offerings, along with an amplified sales and distribution presence in untapped regions across India. Recognizing the immense potential of India's substantial youth population, the company is strategically channeling efforts and promotional initiatives towards capturing the attention of young Indians.
"We have initiated collaborations with an agency to conduct targeted campaigns in approximately 1,000 schools nationwide, while also leveraging social media platforms to connect with Gen Z," remarked Srivastava. The brand takes pride in fostering a sense of brand loyalty among its customers and is gearing up to introduce innovative products tailored for the new generation.
With a positive outlook for growth, the company envisions achieving a revenue of over Rs 100 crore by the end of FY23-24. Furthermore, Pilot Pen holds ambitious aspirations to substantially accelerate revenue growth in the subsequent years. Interestingly, in March, Luxor Writing Instruments and Germany's Schneider Pen announced a collaboration to launch co-branded products in the Indian market.
Positive Growth Outlook
Pilot Pen upholds its commitment to ensuring absolute customer satisfaction through its diverse and high-quality product range. The brand takes pride in delivering writing experiences that are unrivaled and leave a profound impact on its users.
With Pilot Pen assuming control of its distribution and marketing endeavors, the brand embraces change and remains adaptable to the dynamic market landscape. The foundation of its growth strategy lies in continuous enhancements and a customer-centric approach.
The Road Ahead
Pilot Pen's journey as an individual entity in India is marked by focused growth and innovation. The brand is set to redefine the writing instruments industry and build lasting relationships with customers, making every writing experience memorable.
In an age of digital dominance, Pilot Pen plans to leverage social media and online platforms to engage with the tech-savvy Indian audience. Digital marketing strategies will be employed to stay connected with the youth and adapt to changing consumer preferences.
Hiroki Kisaichi, MD PPIN Private Limited further added, "Today, 71 percent of the Indian population is using smartphones. The overall economy has grown over the last couple of years. With our wide range of products such as roller ball pens, foundation pens, ball pens, markers, and more, we cater to the diverse needs of customers across India. Our current distribution network is around 60,000 and the target is to touch approximately 1,00,000 in the next 1 to 1.5 years."
Recognizing India's large youth population, Pilot Pen will target to empower the younger generation through educational initiatives. By partnering with educational institutions and organizations, the brand seeks to promote the significance of writing and creativity among the youth.
Having garnered a rich legacy of excellence spanning across decades, Pilot Pen's distinct presence as an individual entity in India reflects its resolute dedication to offering premium writing instruments. As the brand's journey in India unfolds, it is poised to scale even greater heights, setting numerous milestones in the years ahead.