Good News For Students! UGC Approved Students To Pursue 2 Degrees Simultaneously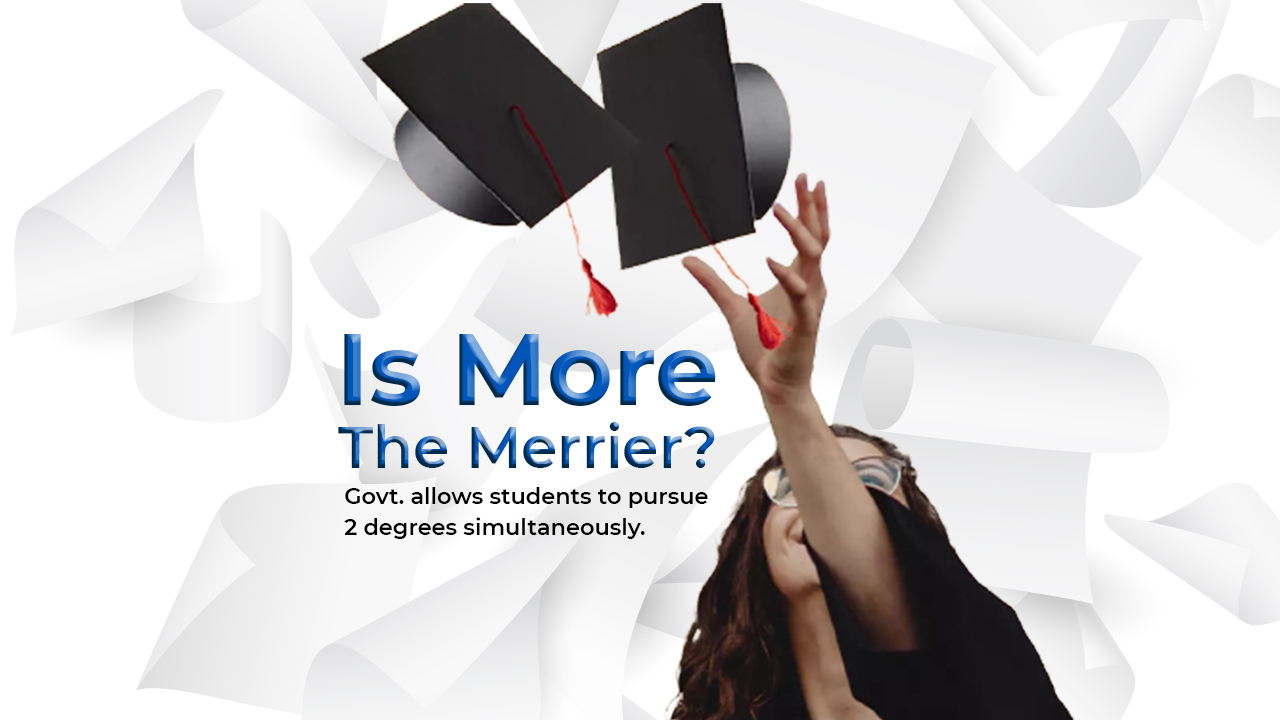 As per the recent UGC norms, students can simultaneously pursue two full time academic programs in offline mode. 
Previously, the University Grants Commission (UGC) allowed students to take up two degrees simultaneously. Still, one had to be in regular mode and the other in open and distance learning or online mode.
The new guidelines will be released soon based on which students can either take up two courses in regular mode or a mix of physical and online mode from the same or different university.
As there has been a steady rise in the demand for higher education and there are a limited number of seats available in the regular stream, several higher educational institutions have started programs to meet the rising aspiration of the students.
The allowance for pursuing two academic programs was made to help improve the learning process in informal and non-formal education modes.
Common Guidelines for pursuing two academic programs at a time
● No separation between science and arts or between curricular and extracurricular activities.
● Allowing an individual to study more than one area of interest from the root level.
What is the new scheme about?
In the new scheme, a student can take up two full academic programs provided that both programs' class timings do not overlap. A student can take up two programs, of which one shall be in regular mode, and the other one can be in Online mode. Also, one can take up to two ODL programs simultaneously.
This is not a dual degree, but a student will get two different degrees to complete the courses. The National Education Policy 2022 has introduced multiple entry and exit reforms, both physical and online. It doesn't matter whether one is pursuing a single or multiple degrees.
To cater to the student's needs and facilitate a learner-centric approach, many top education centers are offering both ODL and online programs. To help students gain knowledge from multiple streams and multiple disciplines, the Commission, in the last meeting held on the 31st of March, discussed in detail and then issued guidelines to let students pursue two academic programs at the same time. It was also mentioned that online and offline modes are available to allow more freedom in the overall learning process.
It has been mentioned that a student can pursue two academic programs in physical mode as well, but one needs to make sure that the timing of both the programs does not overlap.
A Brief Example of Courses
A student takes up BA(Economics) in physical mode. He/She also has the opportunity to take up another degree program of the same level and in the same university or any other university in an evening program. This will help provide them with new opportunities. A student can take one full-time regular mode degree and the other in the open and distance learning mode or online mode. The UGC will guide this degree or diploma program under the guidelines they notify from time to time. 
Views of Other Educationists
Some educationists believe that the guidelines must be modified a little more. According to them, multiple skills should be focused on a single degree and not two different degrees.
Talking about the attendance policy on pursuing two different degrees simultaneously, the UGC head notified that the universities would decide while adopting the scheme and the concerned bodies approved it. Until and unless the concerned bodies approve these guidelines, no university can implement these.
Admission Criteria
For students willing to take up two degrees from different universities in offline mode, the universities will decide the rules and regulations. If it is an online program, it has been made very clear that anybody who has passed Class XII is eligible to enroll in such online degree programs.
As per the NEP 2020, the guideline of multiple entry-exit reforms by UGC has been approved and implemented irrespective of whether a student is taking up one degree or dual degree simultaneously.