The War Between Russia And Ukraine Hits The Market At A 7-Month Low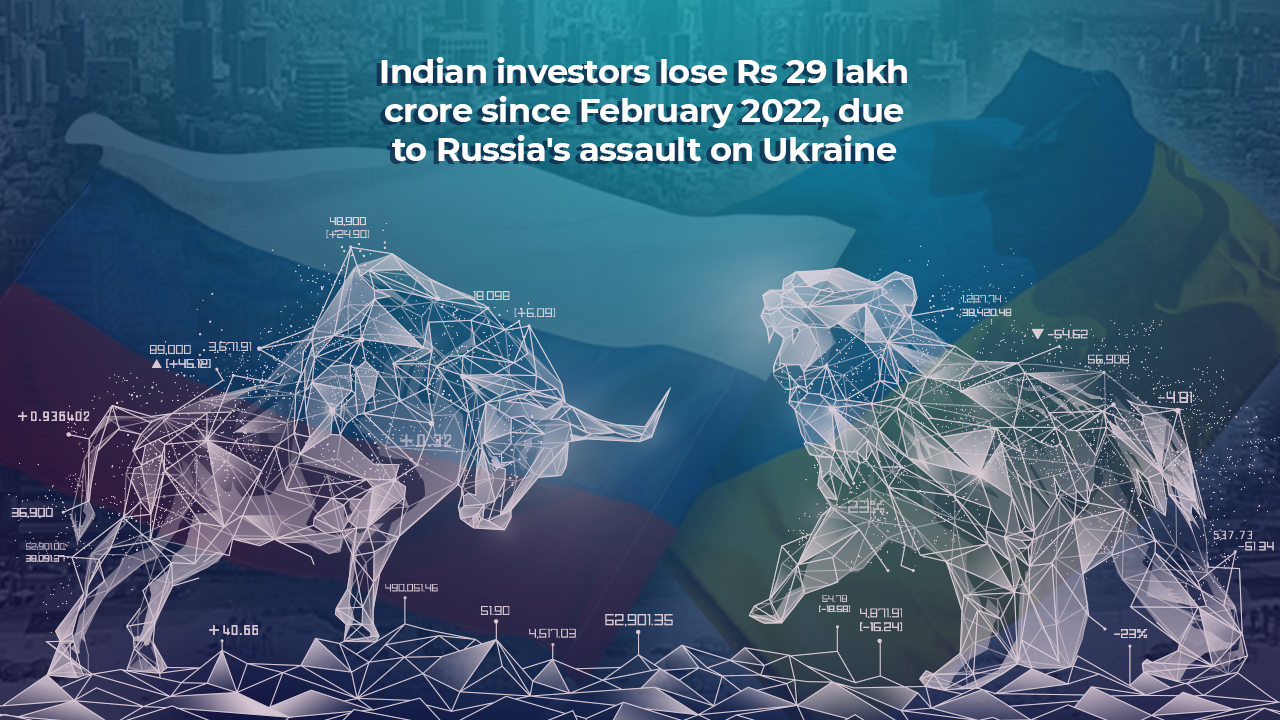 The rift between Russia and Ukraine continues, and so does its impact on the global economy. More than Rs 29 lakh crore of Indian Investors has been wiped off since the beginning of February.
The assault, which is still in progress, is ruining lives not only for both countries but also for global growth. Amid several sanctions imposed on Russia, there's a high possibility of imposing a ban too on Russian oil and natural gas. HOWEVER, the US And its European allies have hinted towards the same with no intention to hurt global supply.
This news has led to the highest spike of $139.13 in crude prices in the last 13 years. This is concerning because India imports more than 80 per cent of its oil requirement. With every rise in the price, the worry for fuel inflation, trade deficit, and economic growth also increase.
Senior Research Analyst at Capitalvia Global Research, Likhita Chepa, was quoted saying as "Traders may be concerned, as a private assessment decreased India's economic growth prediction for 2022 to 7.8 per cent, citing the impact of the Russia-Ukraine conflict on exports as well as rising oil prices producing ripple effects."
The currency has also dipped on Monday, resulting in the record low of 77.05 a dollar, following the rise in crude prices. The rupee is expected to drop more against the US dollar in the coming days as the feud between Russia and Ukraine progresses. This will lead to a surge in commodity prices and inflation.
The sanctions imposed by the West are a way to demotivate Moscow and force it to take the military back from Ukraine with the hope of restoring peace in Kyiv. However, Russia seems to be not disturbed by these noises and remains aggressive in invading Ukraine.
Volodymyr Zelenskyy, the President of Ukraine, requests the West to help them with more arms and ammunition urging foreign nationals to join the fight against Russia.
The Market is suffering all across the globe. The BSE Sensex and Nifty50 fell tremendously for the first time since last year. The Nifty Midcap 100 and Smallcap 100 also declined. The Realty sector and auto, banking, and financial services witnessed a blow of 4-5 per cent.
As per a report from Emkay Global Financial Services, "Global economies are facing a heightened risk of a recession this year as Russia's invasion of Ukraine severely disrupts supply chains and has flared up commodity prices since the conflict began. Brent crude oil prices have climbed by another 10 per cent, while important metals like nickel, aluminium, and copper prices have also rallied to hit all-time highs."
The ban on Russian oil has brutal results that the world is witnessing. The Indian economy is looking out for the State election results, announced on 10th March.