Paytm To Become A Small Finance Bank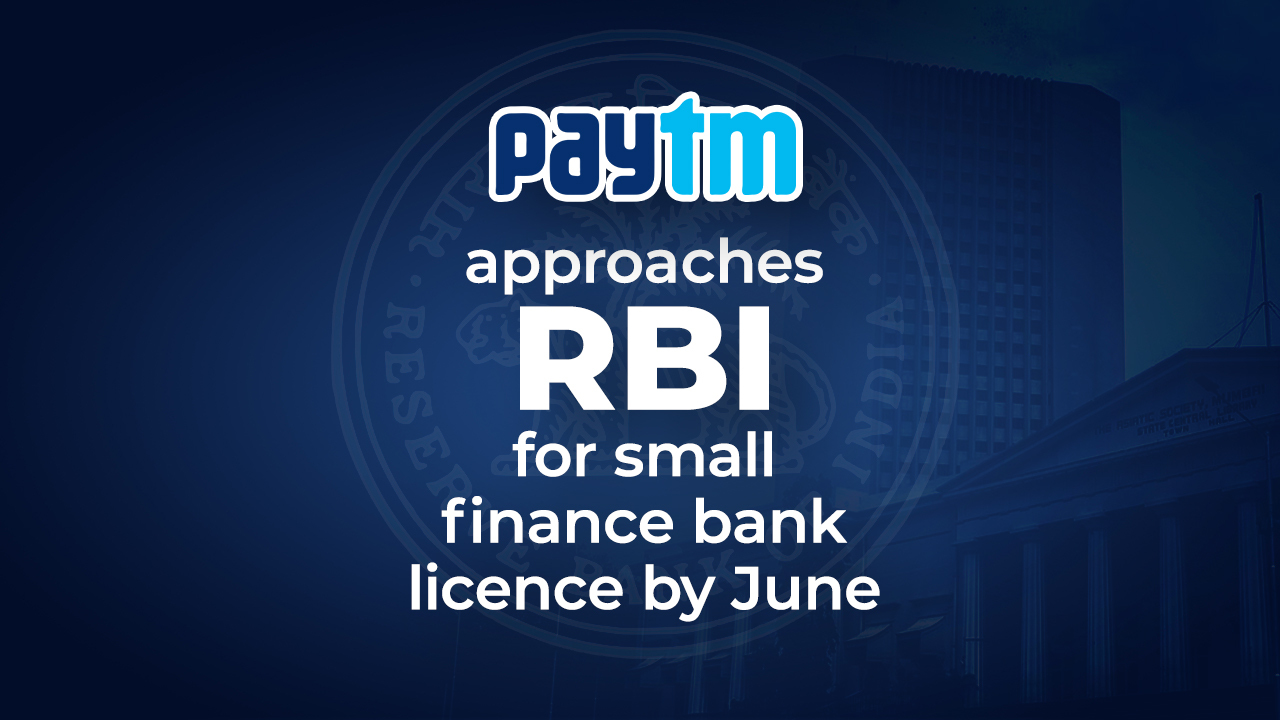 The digital online payment platform Paytm is ready to expand itself into Small Finance Bank(SFB), and it has been found that the founder, Vijay Shekhar Sharma, is soon going to appeal to the Reserve Bank of India (RBI). However, the news is just a thought until the appeal is approved.
The two unidentified sources revealed that the appeal should be passed to RBI by June of 2022. It can take almost a year or more to proceed with the approval and establish the Bank if everything proceeds smoothly. Thus, until the official approval from the RBI, this news still needs to keep hanging in the air for now.
However, according to the recent news, RBI had temporarily outlawed Paytm Payment Banks from continuing business with its customers for keeping the audit of the company's Information technology systems pending. In this scenario, it seems difficult to get approval from the Reserve Bank of India for a new lending venture through Small Finance Bank.
For the people who are confused or unsure about the role of Small Finance Banks, it is a small financial entity that provides temporary financial support through loans to small and local business firms, agricultural entities, and farmers. This is a huge initiative in a developing country like India, as multiple underprivileged and small business firms run under financial crisis. There are 11 Small Finance Banks currently operating in India, and Paytm stands in the line of becoming one soon.
The Paytm Payment company plans to have a tie-up with the current business partners while entering the business of lending once the appeal is approved.
Paytm will be the first business organization to expand itself from a payment company to a banking entity if the request is approved.
Keeping aside the pending audits, as suggested by the recent sources, the 'on tap' licensing criteria for getting approved as a banking entity, Reserve Bank of India finds a business operating as a Payment bank at least for five years, eligible to apply to expand into Small Finance Bank. Moreover, in alignment with this eligibility criterion established by the Reserve Bank of India, Paytm will soon complete its fifth fiscal year since its establishment in November 2017.
From a positive perspective, this milestone of Paytm, by converting into a Small Finance Bank, would ve considered a step towards a sustainable business approach. As mentioned earlier, Small Finance Banks in India have been considered one of the best financial support for small business firms needing short-term and long-term financial support.
However, the Small Finance Banks in India are not allowed to take a deposit of more than two lakhs. Additionally, these small banking entities are allowed to lend money in loans only if they have partnered with a non-banking organization. Currently, Paytm is partnered with well-known banking and non-banking companies like Aditya Birla Capital, HDFC, Fullerton, and Hero Fincorp. Paytm is just approved to expand into Small Finance Bank with the two eligible criteria bagging for itself.