Math teacher creates low-cost device to access online classes conveniently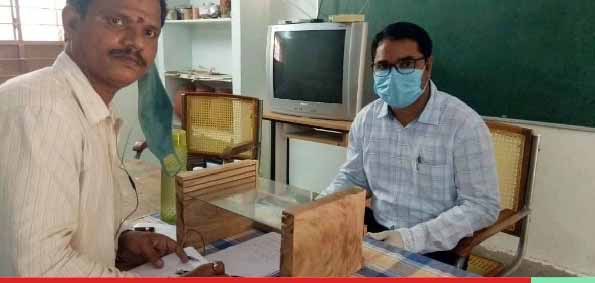 Teachers were required to adapt to an online form of teaching during the COVID-19 pandemic. Telangana's Ganji Amarender was among those affected by this rapid transition. Because he didn't have a blackboard or a tripod, he struggled to educate his students through Zoom.
Low-cost projection device
Ganji needed a gadget that could hold his phone and focus on a sheet of paper so he could figure out arithmetic problems in real-time when he wanted to teach online. "I utilised two scrap wooden planks discovered at home and removed the glass from a photo frame because carpenters and other professional workers were unavailable," Ganji explains.
"For better quality, I placed the phone on the glass and used the back camera to focus on the paper. I would put on my headphones and explain the theorems or formulae by writing them on the paper that was placed behind the glass frame," Ganji adds, mentioning that he also used the device to record his YouTube videos.
Ganji decided to assist teachers who were having trouble presenting online classes. Rather than glueing the glass to the wooden planks, the mechanism was now created by cutting slits in the planks and sliding the glass between them. The slots were built at various heights to allow teachers to customise the glass frame to their liking. He has delivered 20 orders thus far, all of which have received great reviews.
The Telangana State Innovation Cell (TSIC) praised Ganji's work, recognizing him as an "Intinta Innovator." This program seeks to uncover inventions that address common problems and assist innovators in commercializing their concepts.