3F Oil Palm to set up India's 1st Integrated Greenfield Oil palm processing complex in Andhra Pradesh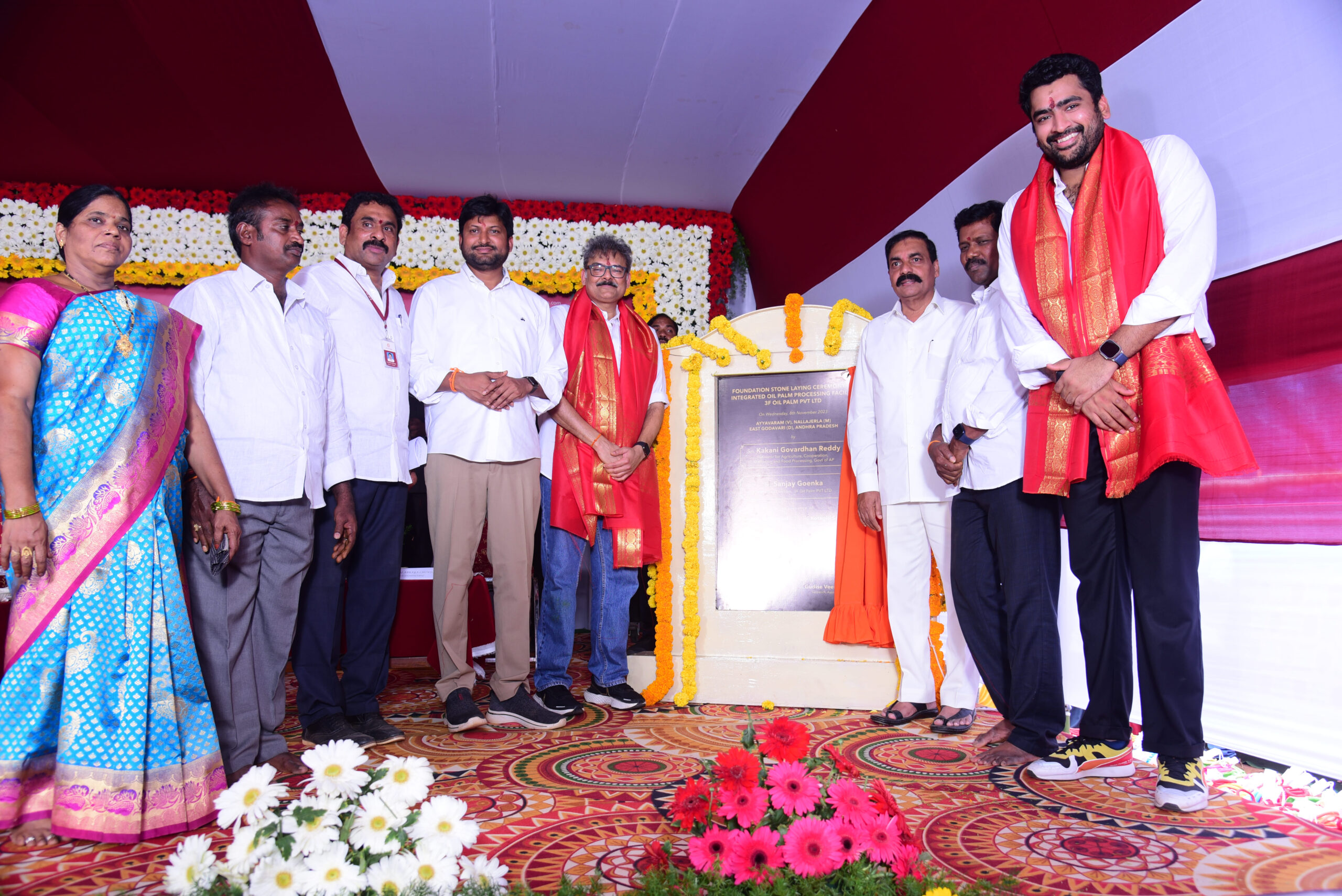 1. In continuation of the MOU signed between 3F Oil Palm and Andhra Pradesh CM Shri Y.S. Jagan Mohan Reddy
2. The company will be investing INR 250 Cr towards the new Greenfield Integrated Oil Palm Processing Complex
3. The new integrated greenfield oil palm processing complex is the first initiative of the overall investment of INR 55O Cr in Andhra Pradesh announced earlier this year
4. This facility alone will generate employment for 1,500 people
Andhra Pradesh, November 8th 2023: 3F Oil Palm, one of India's leading oil palm companies, today announced that it has laid the foundation stone for India's 1st integrated greenfield oil palm processing complex in Andhra Pradesh, in continuation of the signing of Memorandum of Understanding (MoU) with the Government of Andhra Pradesh (AP) for the sustainable development of farmers in the state.
The Bhoomi Puja for this Oil Palm processing complex in Ayyavaram village, Nallajerla Mandal, East Godavari was held in the presence of Sri. Kakani Govardhan Reddy – Minister for Agriculture, Cooperation, Marketing and Food Processing, Govt of AP; Sri. Kotagiri Sridhar – Member of Parliament, Eluru; Sri. Talari Venkatrao – Member of Legislative Assembly – Gopalapuram; Sri. Kothari Abbaya Chowdary – Member of Legislative Assembly – Denduluru and Sri. Sanjay Goenka – MD & CEO, 3F Oil Palm. Additionally, over 500 farmers attended the event from the surrounding villages.
3F Oil Palm will be investing INR 250 Cr towards this Oil Palm processing complex and it is likely to be fully functional within 18 months. The company has already acquired 75 acres of land on Dwaraka Tirumala Road for the project.
Sanjay Goenka, Managing Director and CEO, 3F Oil Palm, said: "We are embarking on a groundbreaking journey and poised to revolutionize India's agri-business landscape with the establishment of the nation's first Integrated Greenfield Oil Palm Processing Complex in Andhra Pradesh. The facility is expected to produce 2,00,000 MT of refined oil per annum by FY25 onwards and will generate employment for 500 direct and 1000 indirect workers. This venture will, we believe, contribute tremendously to India's self-sufficiency in palm oil production and processing."
3F Oil Palm currently operates in the states of Karnataka, Assam, Chhattisgarh, Gujarat and Arunachal Pradesh, other than Andhra Pradesh, with a cultivation area spread over more than 55,000 hectares and five processing units.