G Square Celebrates its 11th Year of People's Trust Anniversary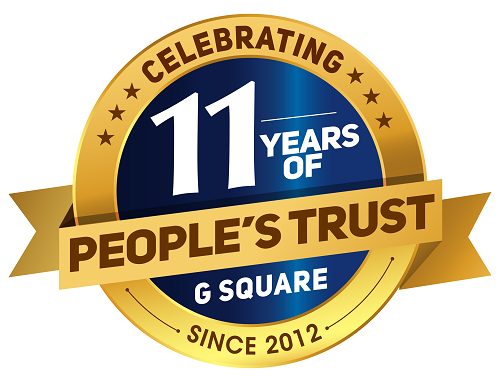 G Square to gift 11 grams of gold to customers who book a plot from 3rd to 31st October 2023
G Square, South India's largest plot promoter recently announced its 11th anniversary in plot development and land aggregation. The brand on the occasion has disclosed that they will gift 11 grams of gold to customers who book a plot from 3rd to 31st October 2023.
G Square celebrates its 11 years of peoples trust anniversary

The company saw its inception in 2012, when it forayed into land aggregation and successfully provided huge land parcels to large-scale organizations like JK Tyres, Indiabulls, TVS Emerald, Murugappa, CCI, ELGI, Safe Express, CEAT, Casagrande, Alliance, Saravana Stores, Saravana Selvarathnam, and Ascendas. Soon, the company went on to be the only private land aggregator in South India to have delivered more than 2,000 acres of land.
The company, post-pandemic in 2020 re-branded itself and ventured into the retail segment of real estate, where it pioneered the concept of plotted development in a secured community with world-class amenities within localities in the heart of the city. Under the plotted development sector, the brand has up to date established more than 100 projects, developing an overall land area of 50 million sq. ft and further extending its presence in major cities such as Chennai, Coimbatore, Trichy, Hosur, Hyderabad, Ballari, Bengaluru, Ambur, Theni, Dindigul, Udumalpet, Tirupattur and Mahabalipuram. The company's 1000-plus workforce currently caters to more than 10,000 customers.
Speaking on the occasion, Mr. Bala Ramajeyam, Managing Director, G Square Realtors Private Limited, "Not known to many people, our journey commenced way back in 2012 when we ventured into the land aggregation market of the real estate industry. Through the initial stages, we have been fortunate to cater to some of the most renowned and esteemed organizations. Within a short period, we were labelled within the industry as the only private land aggregator in South India to have delivered more than 2,000 acres of land. Our experience in wholesale land aggregation is what gave us the expertise and confidence to expand our horizons and venture into retail real estate, where we could easily locate and provide people with the right plot in the right location at the right price. This innovative idea is what drove us to establish the plotted development division of the brand, where we pioneered the concept of providing residential plots within a secured community with world-class amenities, all within the confines of the heart of a city."
During these 11 years, we have been successful in establishing and popularizing numerous real-estate market concepts such as land appreciation, satellite townships, and world-class amenities within secured communities and additionally have been instrumental in assisting in the economic growth of numerous large-scale organizations and in providing employment to thousands of people through the process.
"This journey has been very special for us and on this occasion of commemoration of the brand's success, we have decided to share the joy with our dear customers, where we will be gifting them 11 grams of gold for the 11 years of trust people have placed in our brand. We still believe that this is just the beginning and there are miles and milestones ahead yet to be achieved, which we are positive, we will achieve."
The brand on the occasion will gift 11 grams of gold to any customer who book a plot from G Square's existing projects in all zones- Tamil Nadu, Telangana, and Karnataka from 3rd October 2023 to 31st October 2023.
About G Square
G Square is South India's No.1 Real Estate Developer that brings to you a lifestyle-defining curation of upscale selections to choose from. Our proactive and keen sense of identifying opportunities has helped build many dream houses and iconic businesses within G Square's secured communities. Over 10000+ happy customers have trusted the transparent and hassle-free ownership of land in South India's most potential addresses with G Square's easy housing transactions.
Spread across Chennai, Bengaluru, Hyderabad, Coimbatore, Trichy, Hosur, Mysuru & Ballari over the past 10 years, we have delivered the most lucrative investment lands with world-class amenities in G Square's secured communities. With "2 Years of Free Maintenance" and all essentials covered, we aim to empower families and businesses to build the next chapter of their life on land they own.
For more details log onto: www.gsquarehousing.com.