From JioAirFiber launch to Jio's mega AI push to next-gen on board | All that happened at Reliance AGM 2023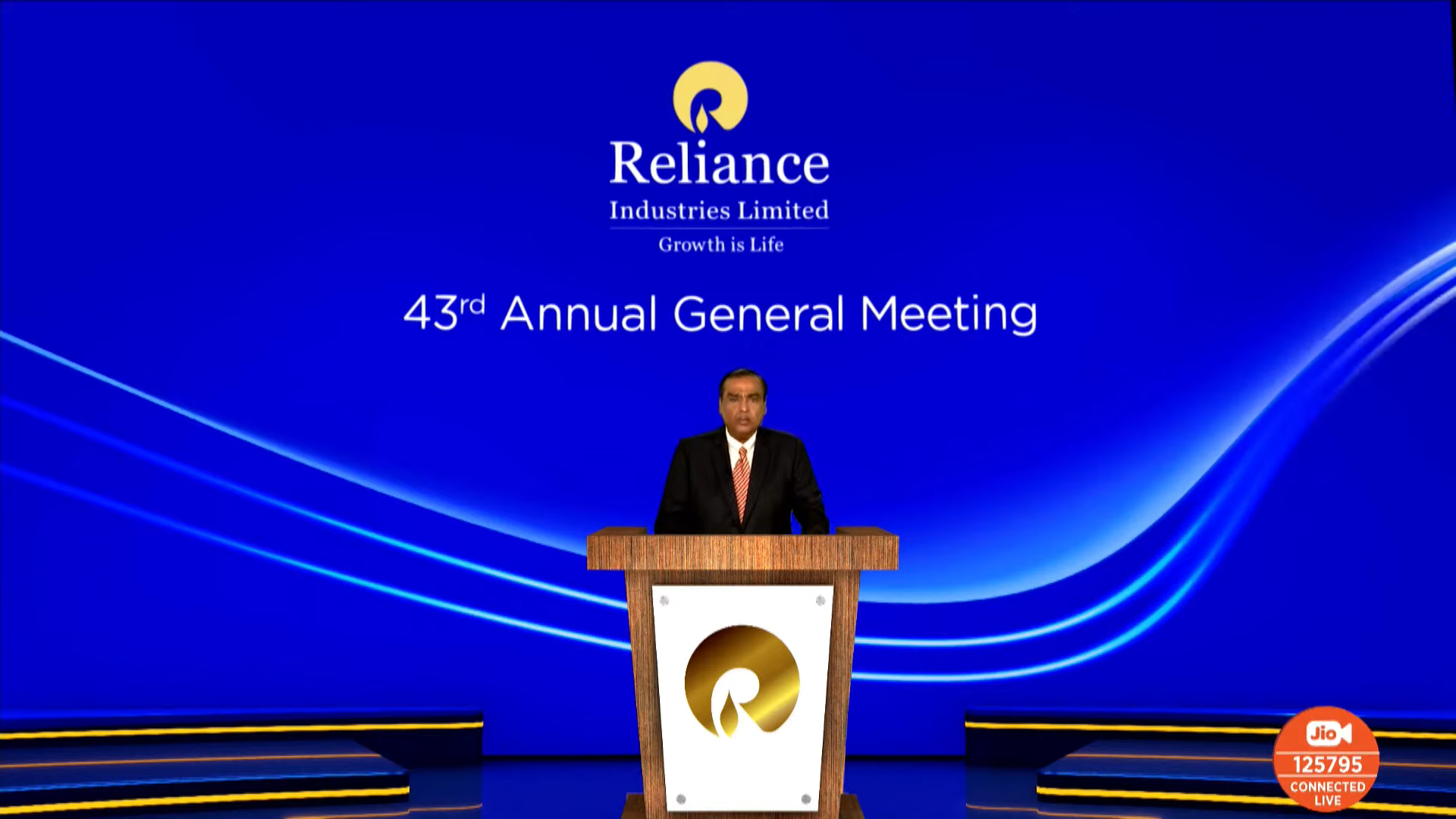 The eagerly awaited 46th Annual General Meeting (AGM) of Reliance Industries Limited (RIL) occurred on August 28th. During the event, significant announcements were made, including the appointment of the next generation of the Ambani family – Isha, Akash, and Anant Ambani – as non-executive directors on the board of Reliance Industries.
Mukesh Ambani, MD and Chairman of RIL, presented these key developments via videoconferencing, which was also broadcasted live across various social media platforms, including YouTube.
Both Isha and Akash Ambani, who hold official roles within the conglomerate, contributed to the AGM proceedings. Together with their sibling Anant, they unveiled RIL's strategic blueprint for the future.
Furthermore, in a company release, it was communicated that Isha, Akash, and Anant Ambani, children of Mukesh and Nita Ambani, will assume roles on the RIL board. Simultaneously, Nita Ambani will step down from the board, retaining her position solely as the chairperson of the Reliance Foundation. It's noteworthy that she will maintain a permanent invitee status on the board.
Global clean energy shift won't hit Reliance's oil business: Ambani
Despite the diminishing demand for fossil fuels due to the ongoing transition to cleaner energy sources, Ambani assured that the company's refineries and petrochemical projects will continue to operate with profitability.
Addressing the company's annual shareholder meeting, Ambani highlighted the establishment of a comprehensive strategy aimed at safeguarding and enhancing the profitability of investments and assets amidst the changing energy landscape.
He emphasised Reliance's commitment to adopting 100% green energy for internal consumption, effectively reducing energy costs. Additionally, the company aims to enhance its refinery operations by focusing on value-added chemicals.
Jio AirFiber to be launched this Ganesh Chaturthi
During his address Mukesh Ambani unveiled plans for the launch of Jio AirFiber on the auspicious occasion of Ganesh Chaturthi, which falls on September 19th. With the objective of targeting an unexplored sector, Reliance aims to reach out to more than 200 million households in India that constitute a potential market for this service.
Jio promises AI to everyone, everywhere
Chairman Mukesh Ambani declared that Jio Platforms is committed to providing AI access to all individuals, in every corner of the world. Ambani conveyed that Jio Platforms will prioritise the development of AI models and solutions tailored to the unique needs of India's diverse sectors. He stressed the significance of India taking a lead role in the worldwide AI revolution and underscored the crucial role AI plays in driving innovation and fostering growth.
JioCinema has become India's largest digital entertainment destination
Mukesh Ambani announced that JioCinema, the Over-The-Top (OTT) media streaming service operated by Reliance, has achieved the status of being India's most extensive digital entertainment hub. This achievement follows JioCinema's disruption of the industry earlier this year through the free live streaming of IPL cricket matches. RIL Chairman Mukesh Ambani conveyed this information on Monday.
Ambani stated that JioCinema has displayed outstanding engagement metrics, marked by remarkable growth in its number of paid subscribers. He highlighted that the platform achieved a remarkable global record during IPL, attracting an astonishing 45 crore viewers.
In addressing RIL shareholders, Mukesh Ambani remarked that JioCinema has now positioned itself as the premier digital entertainment destination in India, offering a diverse range of content. This includes blockbuster movies, original content exclusive to the OTT platform, major reality shows, and content from acclaimed global studios such as HBO and NBCU.
Succession plan in motion; appoints all three children to Reliance board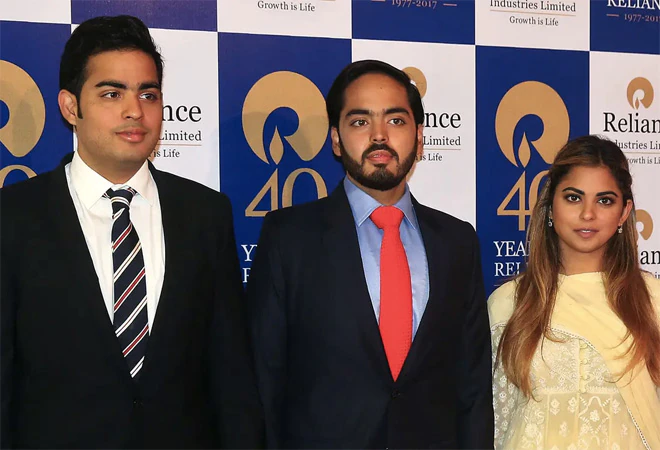 A fresh cohort of successors has been welcomed onto the board of Reliance Industries to transform the company into a digital and green energy behemoth. Mukesh Ambani will continue to serve as the chairman for the upcoming five years.
Isha, Akash, and Anant Ambami have been designated as non-executive directors. Meanwhile, Mukesh Ambani's wife, Nita Ambani, will step aside from her role on the board to dedicate more of her time to the charitable pursuits of the Reliance Foundation, where she holds the position of founding chairperson. Despite this transition, it has been specified that Nita Ambani will maintain her presence at all board meetings as a permanent invitee, ensuring her continued engagement.
Jio Financial Services capitalised with net worth of ₹1.2 lakh crore
Jio Financial Services, the newest addition to the growing empire of Reliance Industries Ltd, has been capitalised with a net worth of ₹1.2 lakh crore to create one of the world's highest capitalised financial services platforms at inception, said chairman Mukesh Ambani.
Speaking at the AGM, he said JFS will consolidate its payments infrastructure with a ubiquitous offering for both consumers and merchants, further driving digital payment adoption for India.
"JFS products will not just compete with current industry benchmarks but also explore path-breaking features such as blockchain-based platforms and CBDC," he said. "JFS will enter the insurance segment to offer simple, yet smart, life, general, and health insurance products."
Reliance to set up 100 CBG plants in 5 years
Reliance Industries Ltd, the owner of world's largest single-location oil refining complex, will set up 100 CBG plants to convert agri-waste into gas, as per chairman Mukesh Ambani.
Addressing the annual shareholder meeting, he said after setting up two demo units for compressed biogas (CBG) at Jamnagar, Reliance has commissioned the first commercial scale CBG plant at Barabanki in Uttar Pradesh in a record time of just 10 months.
He went on to say, "We will rapidly scale this up to 25 CBG plants across India. Our target is to establish 100 CBG plants in the next 5 years, consuming 5.5 million tonnes of agro-residue and organic waste, thereby mitigating nearly 2 million tonnes of carbon emissions, and producing 2.5 million tonnes of organic manure annually".
Substantial interest and investments from prestigious global investors in Reliance Retail
Several marquee global strategic and financial investors showed strong interest in Reliance Retail , according to statements by RIL Chairman Mukesh Ambani. This sentiment comes on the heels of the recent capital infusion of USD 1 billion from Qatar's sovereign agency.
Mukesh Ambani further stated that if one were to assess its current valuation and consider a listing on stock exchanges, the retail enterprise would rank among the top four listed entities.
Bill Gates and Mukesh Ambani join hands to elevate healthcare, climate solutions
The 46th Reliance AGM of shareholders witnessed a momentous occasion as Bill Gates took the stage to commend India's impressive strides in healthcare and unveil collaborative health initiatives between his foundation, Breakthrough Energy, and Reliance Industries.
'Next 10 years' growth to far outstrip last 45 years'
RIL chairman Mukesh Ambani said the company's growth in the next 10 years will outstrip the growth it has seen in the past.

"I am supremely confident that the value that your company will create for all its stakeholders over the next decade will be multiple times greater than what it has generated over the past 45 years," said Ambani.
Ambani said Reliance Industries has scrupulously adhered to certain cardinal principles of value creation, ensuring that it becomes more valuable with time. They include growth driven by the following – perpetual demand, superior customer experience and value, power of disruptive technologies and innovation, business discipline and global market potential.