PROFICORN 2023: Billionaire Nithin Kamath, Prashant Pitti and Rajiv Talreja Come Together to Celebrate India's MSME Heroes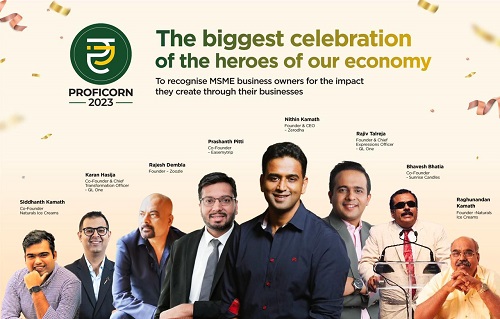 On 23rd and 24th May, 600+ MSME business owners are coming together for one of the biggest MSME awards and recognition events – PROFICORN 2023. This event will be hosted by Asia's largest business coaching and training company – QL One, founded by Rajiv Talreja. Along with his co-founder Karan Hasija and the entire team of QL One, this event is to be the first-ever, one-of-a-kind credible awards event for MSME business owners.
Billionaire Nithin Kamath, Bootstrapped IPO business owner Prashant Pitti & Asia's leading business coach Rajiv Talreja come together for the biggest celebration of MSME business owners in the country

The event is going to host 600+ MSME business owners who have been coached and trained by the 1 to 1 coaching and business growth training programs at QL One. The star-studded event has a panel of esteemed speakers to inspire the crowd of MSMEs.

This panel will include 6 Business Icons who have built massive businesses including industry stalwarts like Nithin Kamath, Founder of Zerodha, Indias largest stock broking company; Prashant Pitti Founder of EaseMyTrip, the 2nd largest travel portal in India and fastest growing with 1.5 crore users; Bhavesh Bhatia, the Founder of Sunrise Candles with the most inspiring story of his life and how he built a team of 9,700 Divyangjan (blind boys and girls) who have helped the company grow to 350 crores; Rajesh Dembla, Founder of Zoozle who is building India's largest Micro Distributor network for digital commerce; the father-son duo of Raghunandan and Siddhant Kamath, Founder and Director respectively of Naturals Ice Cream, one of India's most loved ice cream brands.
At PROFICORN 2023, 30 MSMEs will be recognized with the Business Success Award which is a clean and credible Awards process purely on the basis of impact and profitability!
Following this, there will also be 9 Inspiring MSME business owners who talk about their journey of business growth with QL One and how they have changed the way they run their businesses. The idea behind PROFICORN is to celebrate the real value creators of our nation's economy who are unlike most unicorns in the country who focus on just valuations!
Complete with a Bollywood gala night and some exclusive announcements for the community including the launch of the QL One app, a platform for supporting and celebrating MSMEs, and a Business Success Magazine, the 2 days are all about MSME business owners and the vision of QL One, to inspire, ignite and impact more through future initiatives.
PROFICORN 2023 is going to be a grand celebration of the true heroes of the Indian economy-the MSME business community.