Winter is Coming: Indian Startups are Facing a Funding Slowdown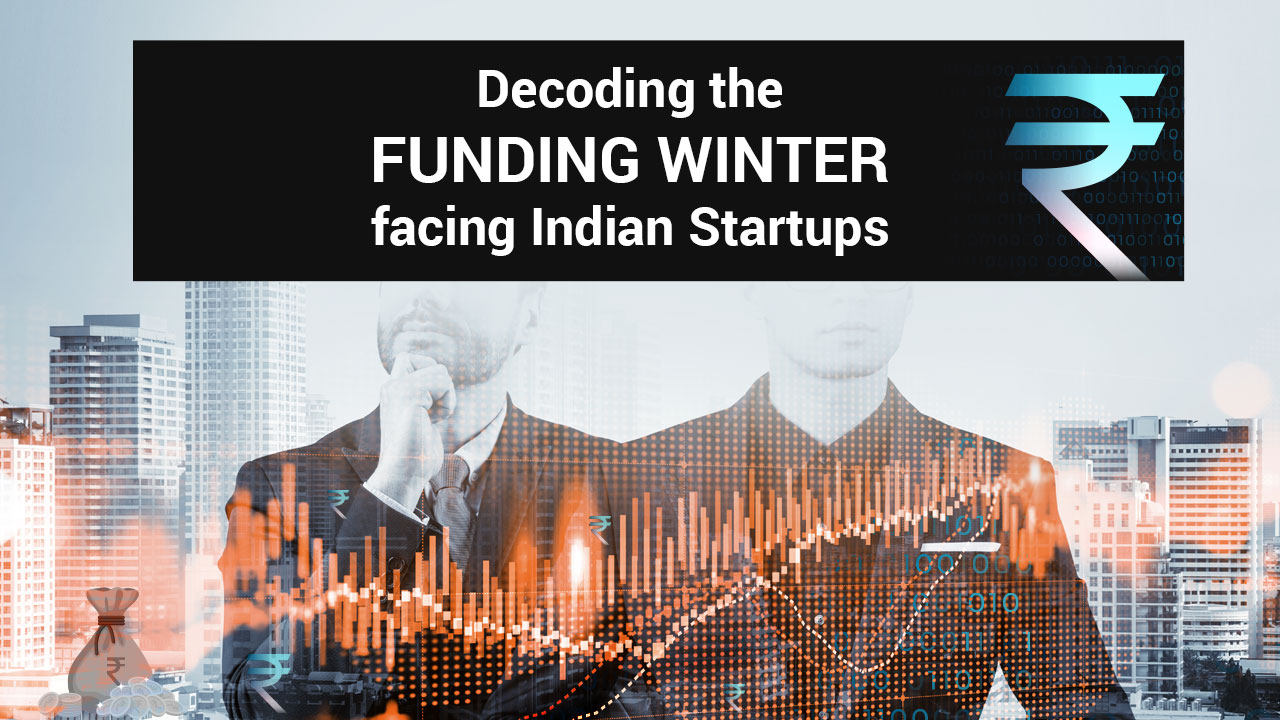 India has always had a strong entrepreneurial spirit, often seen in the sheer ranks of businesses that have blossomed across the length and breadth of the country. With a view to nurturing this startup culture, the government's 'Startup India' initiative was launched to further drive economic growth, support entrepreneurship, and enable large-scale employment opportunities. Since its inception, this scheme has seen the number of recognised startups grow from 726 in 2016-17 to 65,861 as on March 14 this year.
However, the breakneck pace of investment and growth seen in some startup circles has shown signs of slowing down, with whispers of a "funding winter" setting in. The numbers support this argument too; according to research, the Indian startup ecosystem witnessed funding worth $652.7 million across 116 deals.
In absolute terms, this was an annual decline of 89.8% in value and 27% decline in volume, compared to $6.4 billion invested over 159 deals in July last year. Month-on-month, the cumulative funding raised by Indian startups in July was over 60% lower than the $2.7 Bn raised in June 2022. What's more, as compared to May's $1.9 billion—the lowest monthly funding between January and June 2022—the absolute decline stands at 65.9%. August was no better for startups, as funding rounds declined by a further 20% when compared with July 2022, according to a report by Tracxn.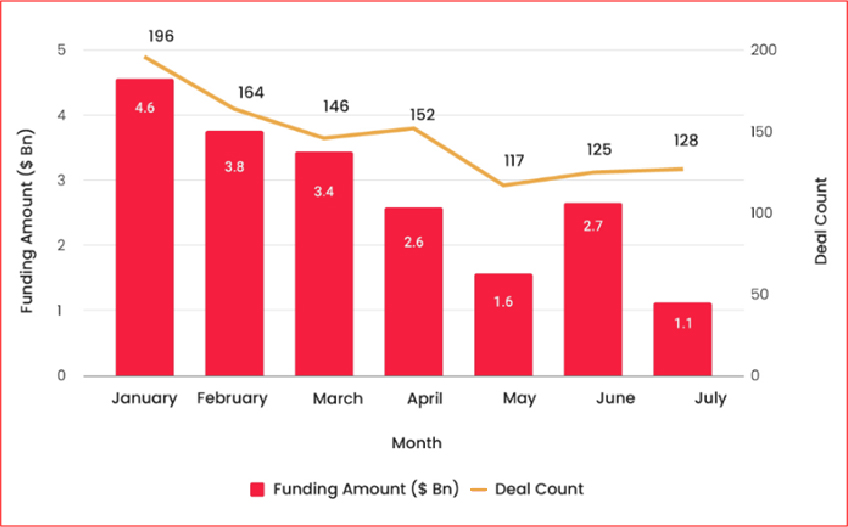 What are the factors causing the growth engine of Indian startups to seemingly misfire, and how are startups addressing this challenge?
Pragmatism First
With a widespread funding slowdown taking hold of the business ecosystem, Indian startups are finding it distinctly challenging to raise funds, increase their runways, and move focus from growth to managing costs. With investors clamoring for cash burn to be reduced, and without a clear path to immediate profitability, startups have resorted to trimming their workforce. Byju's alone laid off more than 2500 employees across Whitehat Jr. and Toppr, although the edtech unicorn has since claimed that these layoffs number less than 500, a figure contested by employees.
Even so, the numbers make for grim reading. According to Inc42's Indian Startup Layoff Tracker, more than 12,083 startup employees being laid off by 39 startups in 2022 so far.
| | |
| --- | --- |
| Startup | Employees laid off |
| Byju's | 2500+ |
| Ola | 2100 |
| Unacademy | 1150 |
| Blinkit | 1600 |
| Vedantu | 724 |
| Car24 | 600 |
So what caused this? The aftereffects of Covid-19 are one factor. The first signs of a funding slowdown were already witnessed as early as 2019, when investments fell substantially from 3.3 billion to 1.5 billion within a short span of time. The release of vaccines and the reopening of economies proved to be a shot in the arm, with funding levels hitting record-highs of USD 14.8 billion in the third quarter of 2021.
However, this stratospheric quarterly growth rate was not sustainable, although the crash (at -28%) was quite unexpected in many quarters. Soaring inflation levels across the world have played their part too, causing central banks to raise interest rates, making borrowing more expensive. And then factor in the impact of geopolitical factors such as the Russia-Ukraine war in Europe, which added further inflationary pressure and drove up prices and costs in India and across the world.
These myriad factors contributed to the slowdown, whose impact was felt well into the second quarter of 2022.
Will the funding crunch continue?
A correlation can be drawn between funding trends in India and that of the global scenario, with India following the ups and downs of the global investment market, simply lagging behind by one quarter.
Hence, if one were to be so inclined, market trends for India can be extrapolated simply by looking at the global investment landscape. This doesn't make for easy reading, as it could then be said that the funding and startup slowdown can continue for India over the next two quarters of 2022, and into 2023. Lending further credence to this argument is the fact that late stage funding has been the hardest hit by India's funding winter.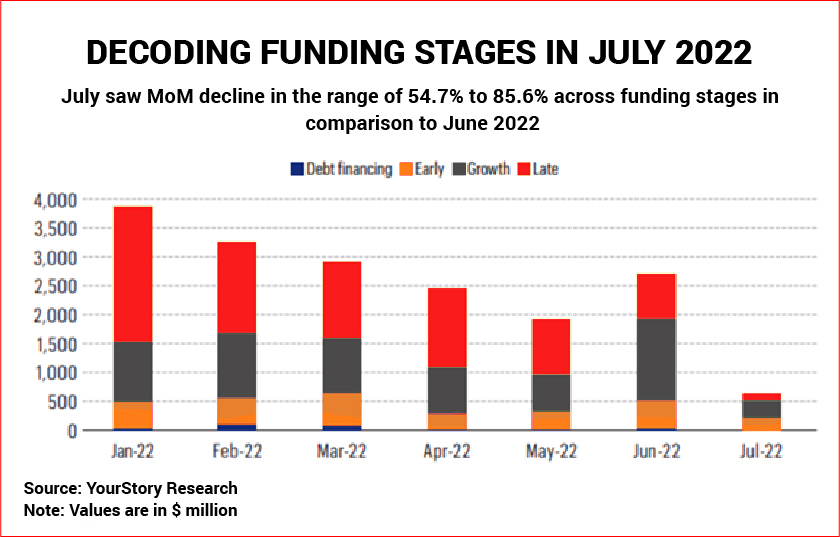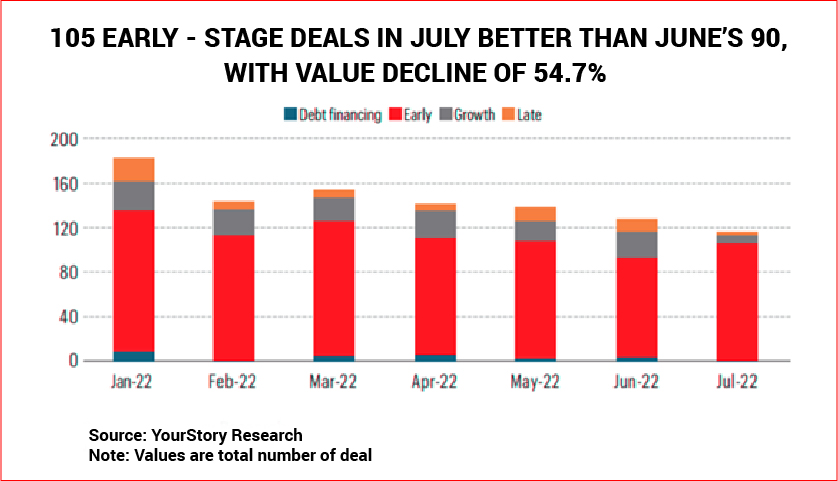 This can be attributed to the simple fact that a great deal of late stage funding amongst India's startups are linked to international investments, whereas seed stage funding is still local in nature. With global investment portfolios impacted by the global slowdown, their risk appetite reduced too, which inevitably impacted India's startup ecosystem.
The way forward for startups
There is still cause for optimism, as we see that seed and early stage startups are still finding takers amongst angel investors and early-stage funds.
Besides, this funding downturn will make startups focus on profitability and trim fat to become leaner, meaner enterprises. Given the global trends of funding avenues drying up, we would encourage startup founders to take the money on offer, even if at a similar price as earlier rounds, as investments could be at a significantly lower price within a year. Stripe, a startup darling, is a prime example of this; its value grew to a whopping $95 billion in 2021, before dropping to $74 billion in 2022.
It's back to basics for business, as unit economics will start to dominate boardroom conversations, and investors will again seek demonstrable proof of sustained growth more than ever. Only by building lean, sustainable and cost-effective business models will startups survive this bout of turbulence, and come out the other side of this winter ready to enter a spring of renewal.