An Insight Into Aquaguard, Popularly Know As 'Paani Ka Doctor'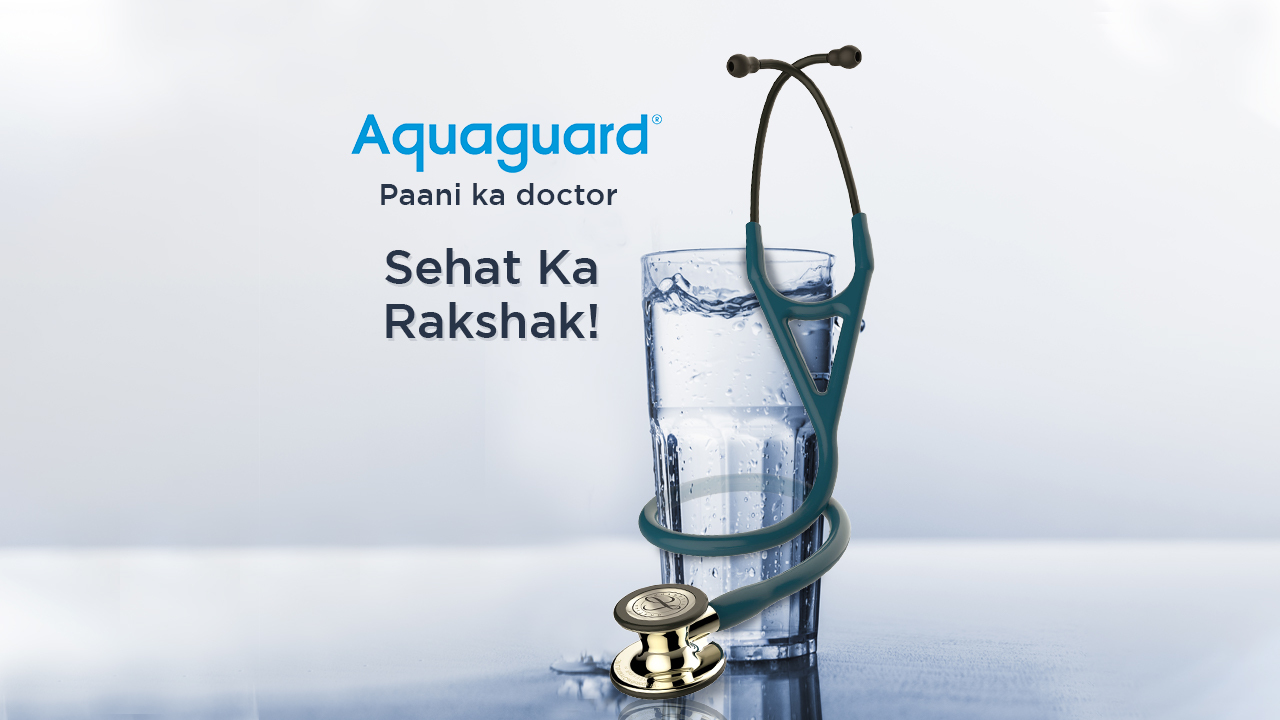 USP's and Trust quotient
Expert in water Purification known as 'Paani ka Doctor'
Tell us what makes your brand the trusted one in its segment, and why it is the consumer's brand of choice
We have been fighting Bacteria, Viruses for last 38 years, World Bank estimates 21% of communicable diseases in India are linked to Unsafe Water. The history of the water purification industry in India is the history of Aquaguard, the pioneer.
Aquaguard was born in 1984 with a simple mission 'Clean & Healthy water for all'. Even now 49% of households in India do not purify their water, 25% use a cloth or a sieve to filter compared to 5.3% penetration of water Purifiers. The initial years was all about habit creation, and brand took the direct sales route to reach customers and explain its pioneering technology. The fabled Aquaguard salesman is a part of communication folklore and even today there is no advisor, consumers place greater trust than an Aquaguard salesman. A testament to the trust in Aquaguard is the fact that more than 90% of the existing users of Aquaguard chose to upgrade to the same brand. In post COVID world, Trust as an attribute is gaining significance, with up to 30% more importance given to trust in making brand choice.
Aquaguard maintains and continues to improve on its high trust score, by driving the culture of accessibility and reliability. After all reliability is a pre-condition of trust. Aquaguard products have amongst the lowest return rates and failure rates, it is not uncommon to find a 15 year old Aquaguard in perfect working condition in consumers' home.
Another aspect of building trust is the culture of transparency, after all transparency breeds trust. While most water purifier brands push for a more expensive RO, Aquaguard and Aquaguard salesmen believe in testing the water condition in consumers' homes and the brand can recommend one of the 21 different technology as per 21 different water conditions in India. Consumers trust a pioneer but the pioneer cannot rest on its laurels, the pioneer has to maintain leadership. Continuous innovation is the penalty of leadership and Aquaguard has been at the forefront of technological breakthroughs in the water purification industry. It was the first to launch water purifier with UV e-boiling technology which gives water as safe as 20 minutes of boiled water, first to launch water purifier infused with the goodness of copper, and recently it launched a water purifier which infuses 7 ayurvedic herbs and spices. Finally consumers trust a purpose driven brand, a brand which puts 'WE' before 'ME'. We are facing a water sustainability crisis, India ranks 13 amongst 17 worst
affected countries. Recognising this Aquaguard has launched several sustainability initiatives like Jaldaan which promoted a small act of donating 5L of safe drinking water to
the needy, Water ATM Jal Amrit Shudh Kendra which ensures everyone gets access to safe drinking water at marginal cost of 50p per litre.
No wonder In India water purifiers have only one name Aquaguard.
Did you know – Share with us some interesting anecdote talking about the brand (example: Nike is one of only 4 brands whose iconic designs and tagline haven't changed since the 1960s)
Each day over 100 million litres of Aquaguard purified water is consumed somewhere in the world.
It has Asia's largest service network, An Aquaguard salesman enters a home every second.
There is an Aquaguard service centre every 5KM.
More than 1.6L Doctors use an Aquaguard.
Aquaguard has recently redesigned its logo with design inspired by 'Water Drop'.

From the MD and CEO's desk
Marzin R. Shroff, Managing Director and CEO, Eureka Forbes Limited: For us at Eureka Forbes, Water has just one name – Aquaguard. A single drop of Aquaguard water perfectly amalgamates over 3 decades of trust, heritage, and leadership. The brand that is eponymous to the category of water purification is not just a common household product but has, over the years, become a part of the lifestyle of almost every Indian. The success of Aquaguard is attributed to every family that has trusted this brand and built its legacy brick by brick.