Woman Starts Cab & Caretaker Service with Ex-Servicemen, Serves Over 2000 Customers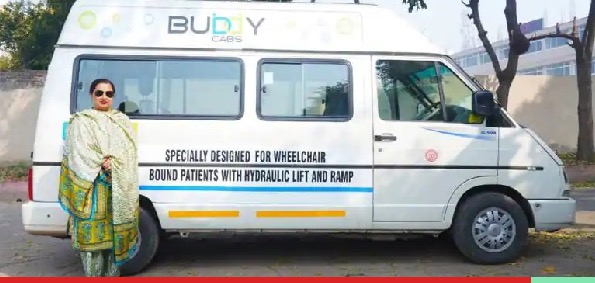 Buddy Cabs and Besure Care were founded by Sartaj Lamba, a caregiving and assisted travel company professional based in Chandigarh. Her father-in-law, who was diagnosed with Parkinson's disease in 2015, needed supported travel and caregiving. Between 2016 and 2018, he remained bedridden, but his amnesia necessitated frequent hospital visits.
Sartaj launched Buddy Cabs and Besure Care and operates in Delhi, Mohali, Ambala, Chandigarh, Faridabad, Gurugram, and Noida. "I've created a model that not only provides transportation but also services that a person may require before and after travelling," she explains.
How it Works
Ex-servicemen have been hired to act as both drivers and caretakers for the organisation. The wheelchair-enabled vehicles have rotating seats, oxygen cylinders, first aid and more. "The elderly don't have to be at the mercy of others," says Sartaj.
Buddy Cabs is a new taxi app that caters to the elderly and disabled. Cabs can be reserved for short inter-city or inter-state trips. They can also use the app to arrange health visits and carer services.
Buddy Cabs were used by Surinder Matharoo of Chandigarh two months ago after he had knee surgery. Sartaj's contribution during the Pandemic has been acknowledged by Kawaljit, who has converted her cabs into an emergency service for transporting patients. Along with the municipal government, she has also opened a small 25-bed COVID-19 centre.
An initiative that began as a result of a personal loss is now making a difference in the lives of senior citizens and people with disabilities. Sartaj's organisation has served approximately 2,000 customers in the last two years, the majority of whom have used the service more than once.