Oil's well that ends well: Meet the Oil king of Bareilly, Ghanshyam Khandelwal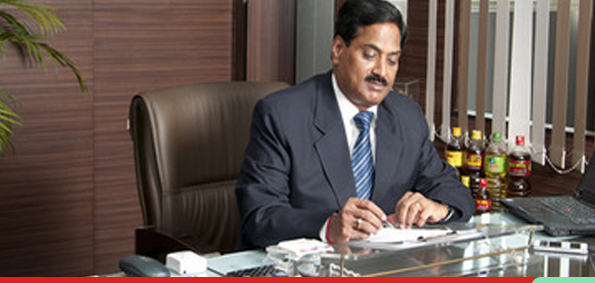 For being forced to get a government job by his parents, Ghanshyam saw the loophole in his family business and fixed it to aim for new heights.
It takes a visionary and a sharp, astute business mind like Ghanshyam Khandelwal to build a Rs. 2,500-crore turnover FMCG brand from a place like Bareilly in Uttar Pradesh, which used to be a really small town back in the 1980s.
At 29, Ghanshyam Khandelwal started the business as a partnership firm along with his brother in 1985 with Rs. 10 lakh. The company sold packaged mustard oil under the brand name Bail Kolhu.
Registering a turnover of Rs. 80 lakh in its first year, the business grew year-on-year, becoming a private limited in 1998, and eventually going public in 2007.
In the year 2000, the company crossed the Rs. 100 crore turnover mark and in 2010 touched Rs 1,000 annual turnover.
In 2018, the company launched a wide range of food products under the brand name Nourish. The company has opened around 12 Nourish Exclusive Brand Outlets till date and aims to open more this year.
His grandfather started the business and was then continued by his father and then him, but his father passed away in 1981 and his father's brother took over the family business in 1985 and gave him Rs. 10 lakh as his share.
He identified the major issues affecting the quality of the oil and found that the quality depended upon the composition of gums (phospholipids) in mustard seeds, and so he launched cold-pressed oil when he started his own company in 1986 with his brother. In 1990, the company registered for Agmark, which was a valuable asset for quality products in those days.
In 1998, the company faced a crisis when the government banned mustard oil after rumours spread that the product was causing dropsy in people.
He went all out and advertised in newspapers explaining that mustard oil was not harmful, and the sales rose. And this was the time he came to be known as UP's oil king.
Later on, he opened up many more facilities at different locations, from semi-automatic to fully automatic factories which increased their producing and packaging potential by 500%.
By the joining of his and his daughter his company became more modern in terms of advertising and reaching new markets.
Today they have a turnover of more than Rs. 2500 crores. Ghanshyam made us realize the fact that every business has potential: what we lack is perception.