Towards transformative BFSI workplaces

The BFSI edition of Most Preferred Workplace 2022-23 lauded organisations creating a culture of work excellence worthy of emulation
Organisational culture is a powerful force, capable of propelling and keep a business at the top, or being the anchor that weighs down an organisation.
Culture – A critical enabler
We all know the story of the fateful journey of the Titanic, deemed to be unsinkable by its makers, but which was ultimately destroyed on its maiden journey. And while many of us are aware that a massive, unforeseen iceberg was its doom, the real truth is that it was a flawed culture that spelled the end for the Titanic. More than a lingering iceberg, it was a touch of pride and overconfidence that blinded the powers that be to the inherent risk of its journey, innovative though it was. That was the nail in the coffin, which doomed the cruise liner to a watery cage, as opposed to any flaws in the ship's design.
Simply put, captains of industry must always be on the lookout for looming threats that can sink organisations. Navigate the waters of your business landscape carefully, and nurture a culture of excellence that inspires curiosity, while balancing innovation and risk. These are all factors that go into building world-class organisations, and thereby a Most Preferred Workplace. It is a daunting challenge, but one successfully charted by a few select brands.
These are the organisations have risen to the occasion and answered this challenge admirably, across industries and operating contexts, and have rightfully been appointed as Most Preferred Workplace 2022-23 from the BFSI industry. Through clever decision-making, they have outperformed their peers, and pursued differentiated mindsets, strategies, and capabilities that have set them apart. And through all this, they have stayed resolutely committed to creating a preferred workplace that is worthy of emulation.
Establishing new success paradigms
This research-driven industry initiative curated interesting conversations that saw diverse industry experts and leaders put forth their perspectives on topics such as bridging the skills gap, the principles of creating a strong, inclusive work culture, and what the future of work will resemble for the BFSI sector. Speakers at the event included: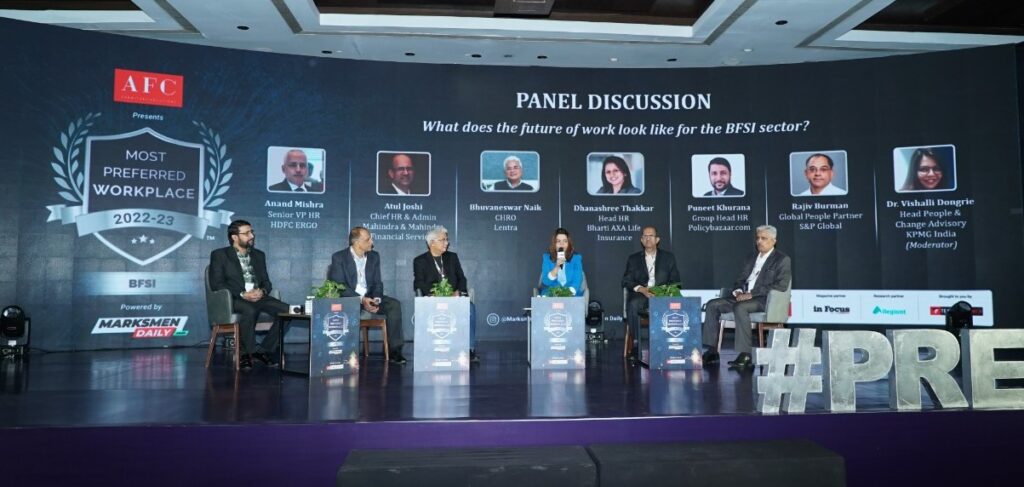 Shankar Jadhav, Managing Director – BSE Investments and Head Strategy, BSE
Manoj Chaudhary, Head – Human Resources, Edelweiss MF
Anand Mishra, Senior Vice President – Human Resources, HDFC ERGO
Atul Joshi, Chief Human Resources and Admin, Mahindra and Mahindra Financial Services
Bhuvaneswar Naik, CHRO, Lentra
Dhanashree Thakkar, Head Human Resources, Bharti AXA Life Insurance
Puneet Khurana, Head – Human Resources, Policybazaar.com
Rajiv Burman, Global People Partner, S&P Global
Dr. Vishalli Dongrie, Head People & Change Advisory, KPMG India
Speaking at the event, Rajesh Khubchandani, Co-Founder and CEO, Team Marksmen Network, said, "Players from across the BFSI landscape have begun to glean insights and lessons that can help them reshape their business model, operations, and workplaces for the better. But uncertainty still remains, and organisations have been faced with momentous decisions that will come to reflect their commitment to doing right by people even while pursuing strategic growth drivers. The BFSI brands that resolved this dilemma to the fullest were crowned as Most Preferred Workplace 2022-23, and we salute their contrarian spirit and commitment to build something better."
The galaxy of brands that have raised the benchmark of workplace excellence to exalted heights were recognised in a gala ceremony. This included:
Anand Rathi
Annapurna Finance
Bharti AXA Life Insurance
CCAvenue
DCB Bank
Edelweiss Mutual Fund
Federal Bank
HDFC ERGO
ICICI Lombard
InCred
IndiaFirst Life Insurance
IndusInd Bank
Lentra
Mahindra and Mahindra Financial Services
MCX India
New India Assurance
Policybazaar.com
Probus Insurance Broker
Reliance General Insurance
Safexpay
SBI General Insurance
South Indian Bank
Spice Money
Tata AIA Life Insurance
TVS Credit Services
U Gro Capital
Union Bank of India
Universal Sompo
It is amply clear that the future of work is now, and we can draw inspiration from the yeoman feats of these standout brands. May they inspire others of their ilk to scale greater heights as well.
About Team Marksmen
Team Marksmen's mission is to bring knowledge communities to life, and help business leaders from across sectors navigate the contours of a changing world order. This is achieved through an array of bespoke industry-centric knowledge platforms, using a variety of formats, such as Roundtables, Summits & Conferences, Workshops, and Award Ceremonies. In this way, we help senior industry decision makers navigate through issues of critical importance and inform their world-view for better decision-making.
We engage with leading thinkers from across industries on the most pressing issues facing organisations, governments, and society, and disseminate these learnings through insight-forward, thought-provoking content pieces on our daily news and insights website, marksmendaily.com, and our quarterly business & lifestyle magazine, in Focus.
To know more, email us at contact@teammarksmen.com