China's real estate crisis is blowing up, quite literally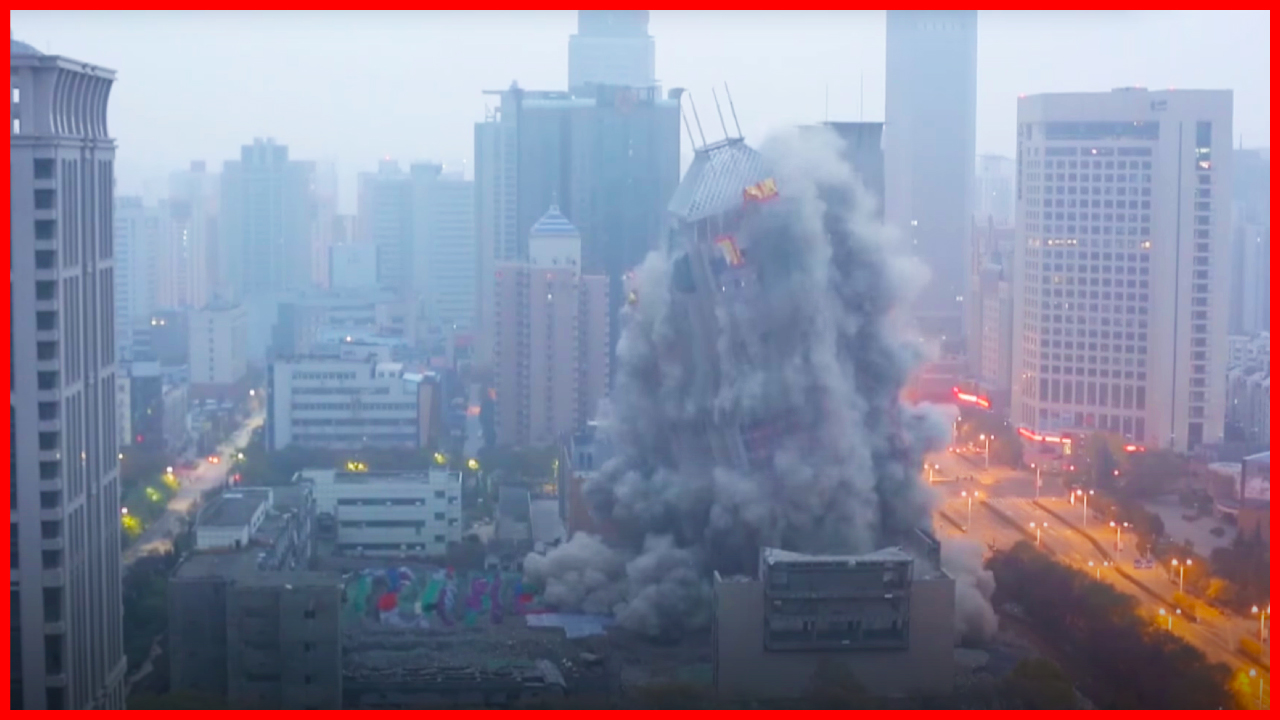 Across China, we are seeing buildings that take years to construct being demolished in a matter of minutes, all as part of Government policy.
But why has it come to this?
In a word, greed. Gordon Gecko might have declared that greed is good, but debt-fueled construction, amounting to as much as USD 5 trillion according to The Hong Kong Post, has seen China's real estate sector (which contributes 29% of Chinese GDP) grapple with the very real danger of bankruptcy. The collapse of the real estate industry can be seen in widespread stalling of under-construction projects, a paucity of buyers, unpaid wages for construction workers, and thousands of homebuyers are waiting for their homes. Some of these potential homeowners have been forced to move into their unfinished homes as mortgage payments kick in.
Real estate sales have plummeted by 49% in the first half of the year, and the pain shows no signs of receding. According to a report by Beike Research Institute (BRI), the average vacancy rate on the Chinese mainland is 12.1%. To put it in perspective, this figure dwarfs that of the UK (0.9%), USA (9.8%), and India (5.6%).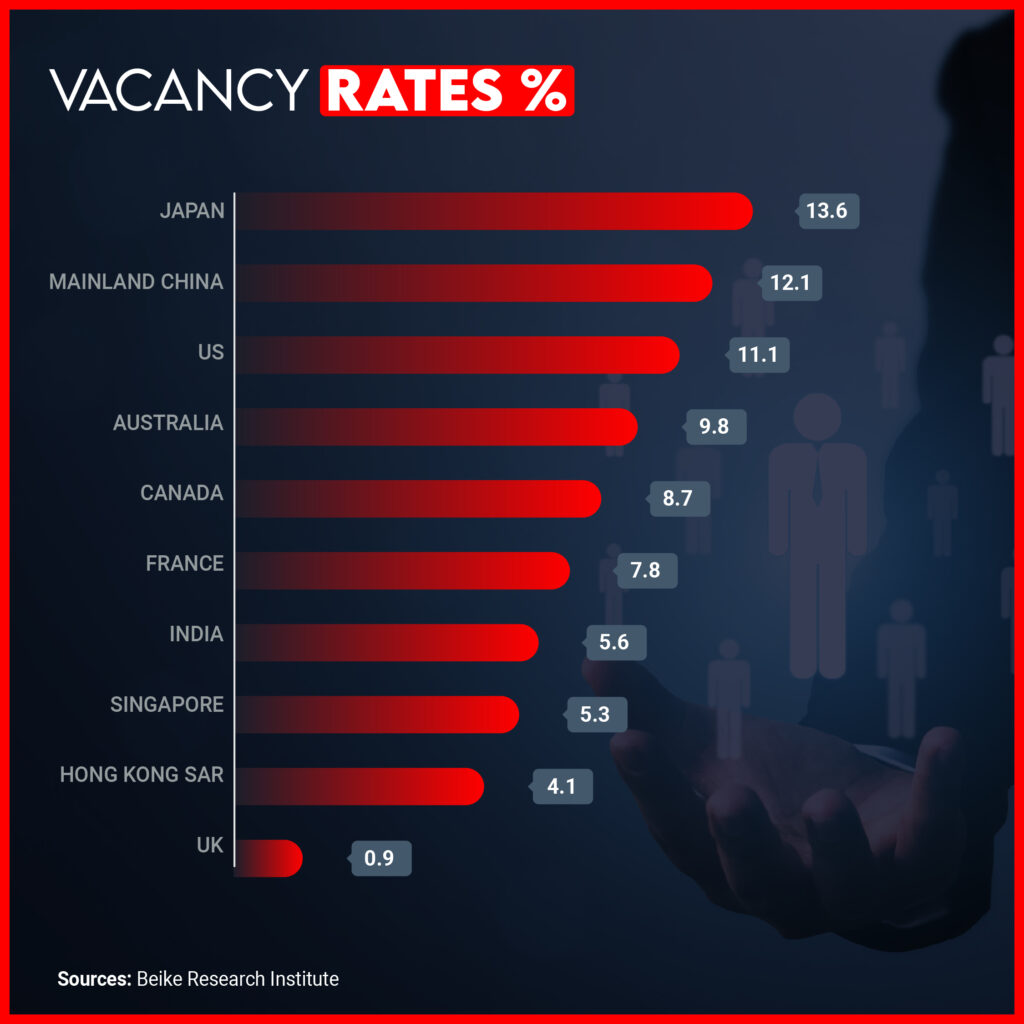 Simply put, this figure from mainland China translates to over 50 million unoccupied apartments. And that number might not be whittled down any time soon; S&P Global Ratings expects national property sales to fall by as much as a third from last year to between 12 trillion and 13 trillion yuan in 2022, while average home prices could end up 7 per cent lower.
The spectre of ghost towns
Measures to reinvigorate the sector has seen approximately three billion square meters of housing in China put on hold or destroyed recently, according to research by Fathom Consulting.
As funds dry up for construction companies, the Chinese government is putting in motion plans to destroy tower blocks and suspending construction on buildings that could house 75 million people. To put it in perspective, that's more than the entire population of the UK.
So how did it come to this? China's aggressive urban development model can be pinpointed as a factor, as also its stringent "zero-COVID policy". As reported by Vice last year, Yang Yang, an assistant professor of real estate at the Chinese University of Hong Kong, said Chinese developers tended to sell apartments years before construction finished (as seen in the Evergrande crisis), and use the pre-sale revenues to fund the construction. But a troika of factors, such as population outflow, lethargic economic growth, and land oversupply, meant developers faced a cash crunch and the abandonment of projects. Yang expects fewer unfinished buildings in the future as the government puts more restrictions on how much developers could borrow, although disputes caused by past projects could take a long time to resolve.
And that, in a slightly large nutshell, is why a spate of demolitions in China that went viral across the web. It all comes down to a deadly cocktail of massive amounts of debt taken on by developers, as they bet on property prices rising further still, which did not come to be.
What does this mean for the Chinese economy?
According to some estimates, Chinese GDP is said to have grown by a mere 4.9 per cent in Q3, with systemic issues stemming from the troubled sector (with the government cracking down on excessive borrowing), COVID lockdowns, and power shortages. Oxford Economics was even more pessimistic in its outlook for Q4, revising its forecast for Q4 to 3.6% from 5%. Even more alarmingly, the latest report of the World Bank projected China to grow by just 2.8 per cent in 2022, which means that its growth would lag behind the rest of the Asia-Pacific region for the first time in three decades.
And with the deep linkages between the real estate sector and the Chinese economy, the decline could well be a lasting one. In absolute numeric terms, real estate accounts for 10% of the Chinese workforce, 25% of total fixed asset investment, besides almost a third of the GDP. The ripple effect is clear to see for all.
Some of these woes could be alleviated by instituting a nationwide property tax, which currently does not exist. But while Chinese President Xi Jinping has repeatedly tried to usher in this regulatory framework, it has faced steady opposition from officials, politicians, and businessmen whose property ownership would run contrary to China's socialistic economic model.
The sense of gloom could well deepen, too. Monthly data from August showed declining Chinese retail sales, with a further decline expected in September. Reduced consumer demand (both foreign and domestic) inevitably impacts profits and growth figures, and with the US Federal Reserve implementing another 75 bps rate hike to control inflation, and Europe straining under the burden of high inflation and slow growth, the Chinese economy and real estate sector could well be brought down to Earth in the months to come.