CHINNA THALA, WALKS OUT OF CRICKET!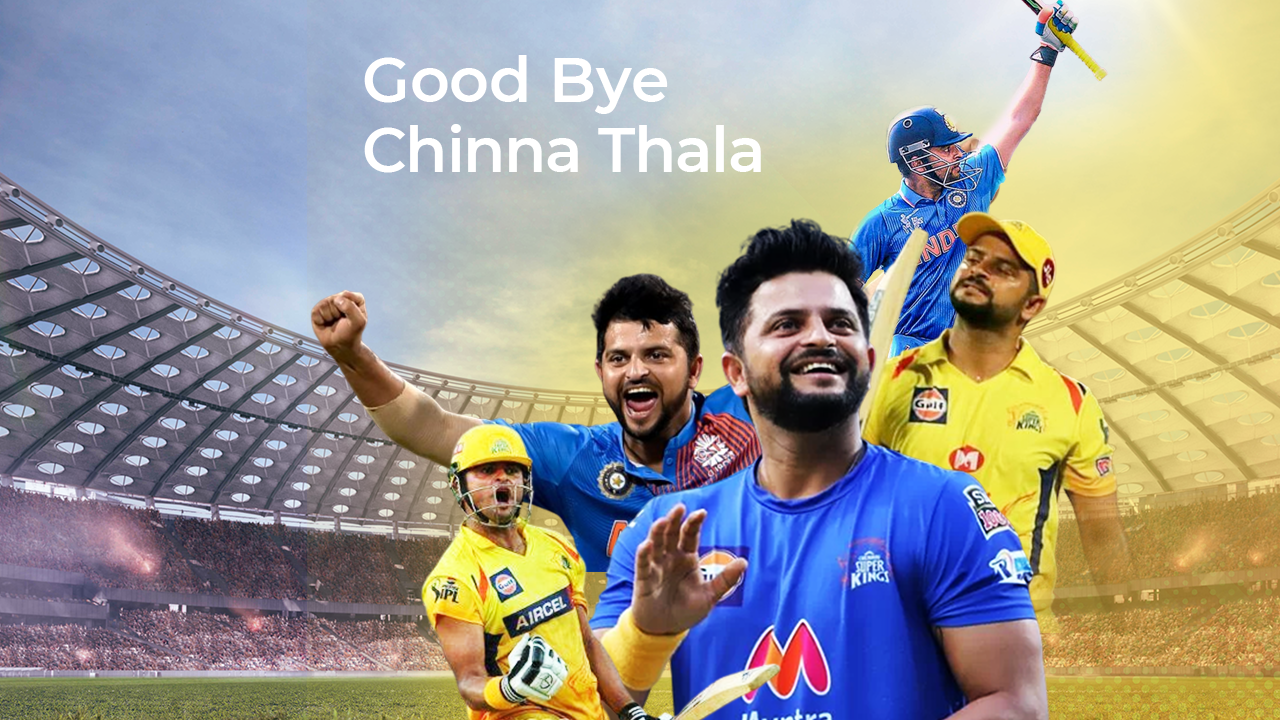 CHINNA THALA'S RETIREMENT STIRS EMOTIONS IN THE CRICKET FRATERNITY. WE LOOK BACK ON HIS RECORD IN CRICKET, HIS ACHIEVEMENTS, AND MOMENTS OF GLORY AS WE BID FAREWELL TO THIS STAR PLAYER.
It is only necessary that you hit pause on what you think you have done enough, before you venture into another part of your life. When you read a book, you complete a page before reading the next. In life, you tackle an obstacle before you begin your next adventure. It leaves us with tears in our eyes, but it's time to say goodbye to one of India's most revered cricketers – Suresh Raina.
With dreams that rose from a small village in Ghaziabad, to emerging as the only player to have scored centuries in all formats of cricket – he's left a piece of him to revere everywhere he's been. We explore his life after his announcement, the fraternity's response to his retirement, and parts of Raina that we'll always love.
It was in August 2020, soon after our Captain Cool's retirement that Suresh Raina announced his retirement. Things got trickier when on 6th September 2022 – ace Indian cricketer Suresh Raina, formally announced his retirement from 'all formats of cricket'. Taking to his Twitter handle, to break the news he said, "It has been an absolute honour to represent my country & state UP. I would like to announce my retirement from all formats of cricket."
Having played in 226 ODIs, 78 T20Is, and 18 Tests ever since he made his international debut in 2005 – Raina leaves us with a heavy yet proud heart.
If bidding adieu to this star player is tough for us from our homes, there are many from the fraternity that is going to miss him too. Soon after Raina broke the news, several notable personages shared their heartfelt wishes for his future.
Fellow player, Irrfan Pathan reminisced their days of playing for the U-19 and he hopes there is more 'cricket' to come from Raina's side in the future. He said, "My first memory of @ImRaina was when we played for U-19 India. That batting charm was so special to start with. Wishing you a great life ahead brother. I'm sure we will see you play some more cricket."
A special tweet came from Raina's beloved IPL team Chennai Super Kings. The Annas & Akkas of Chennai expressed their love by saying, "The streets of Anbuden will never forget what Chinna Thala meant to every one of us! Thank You, Mr. IPL!"
Former teammate Gautam Gambhir encouraged him to embrace this new phase of life that's about to begin while praising his potential as an excellent cricketer.
"An all-rounder for all seasons! Welcome to the next season of life! #SureshRaina," he wrote via Twitter.
Junior cricketer KL Rahul, with great admiration expressed, "Thank you for all the wonderful memories on and off the field. Wishing you the best for your future endeavors."
Several other contemporary IPL teams like Punjab Kings, Lucknow SuperGiants, and Gujarat Titans have sent their best wishes to Raina's way.
What a marvellous career, beloved Chinna Thala has had. From sweeping sixes that left the stadium cheering their lungs out, to centuries that no one could ever imagine. After all, he was the first one to have scored a century in every format of cricket from India. Rohit Sharma and KL Rahul are known to have followed in his footsteps to achieve this incredible feat. Through the 226 ODIs that Raina battled through, he managed to score 5615 runs at a commendable average of 35.1, when compared to middle-order batters. His fleet of achievements through IPL brought him the title of MR. IPL. Having scored the most runs for CSK in IPL (4687).
If Dhoni was the Thala, Raina was Chinna Thala. If the bat were a guitar, Raina's swing was a melodious note. This star was born in Muradnagar, Uttar Pradesh in a Kashmiri Pandit family. It was in 2000 when he decided to play cricket formally that he moved to Lucknow to attend the Guru Gobind Singh Sports College, Lucknow. Not very long after, he was ranked as the captain of the U-16 and was spotted by selectors in 2002 at a young age of 15 and a half years.
Before he knew it, Raina was on his way to play as part of the U-19 tour to England. His skills were applauded as he scored several half-centuries across the test matches. His Ranji Trophy debut came in the year 2003 when he was 16 in Assam. After some other successful stints in the U19 and U16 arena, Raina was awarded a 'Border-Gavaskar' scholarship to train at the Australian Cricket Academy.
Two years later, in 2005 Raina made his first-class limited overseas debut and scored 645 runs that year at an average of 53.75. During the iconic World Cup of 2011, Raina sat on the benches till the first half. It was when he replaced an injured Virendra Sehwag, in a game against West Indies that Raina's true potential beamed to skipper Mahendra Singh Dhoni.
Dhoni went on to replace Yusuf Pathan with Raina, in the quarter-final match against defending champions Australia. A well-formed partnership with Yuvraj Singh, helped Raina chase Australia down as India emerged victorious, with him scoring 34 from 28 balls.
Tales of Dhoni & Raina bromance are not new. When in 2014, our Captain Cool at the time announced his sudden retirement from test cricket, Suresh Raina like everyone else was left numb. He paid homage to his friend, mentor, and brother by wearing his jersey for the final test match of the series.
Later when asked about it, he recalled how Dhoni came up to him and said he had an XL jersey and this one (the jersey) was double XL and so he (Suresh Raina) could keep it. Isn't that very sweet?
Raina's numerous records and matches have always left the crowds in the stadium and watchers at home cheering for him. When he was on strike, there was always hoped to win which says a lot about the belief he has instilled in the hearts of cricket lovers.
Being the only Indian player to have scored more than 6000 runs in T20 matches – Suresh Raina has set a benchmark for all cricket novices that are now entering the game. It wouldn't be an exaggeration to say that many would have his posters adjacent to that of MS Dhoni and Sachin Tendulkar in their bedrooms.
The one and only Chinna Thala – Our hearts are full! We will always remember the first time he led us to victory in 2011 against Australia. That day a star was born, who would shine bright – undeterred who would stand through any obstacles.
Thank you for the sixes, fours, and victories. We will never forget and always love.
Here's wishing him a life fuelled by adventures, and that you continue to hit out of the stadium at everything you choose to do.