Income Tax Probe At Former NSE Chief Ramkrishna's Place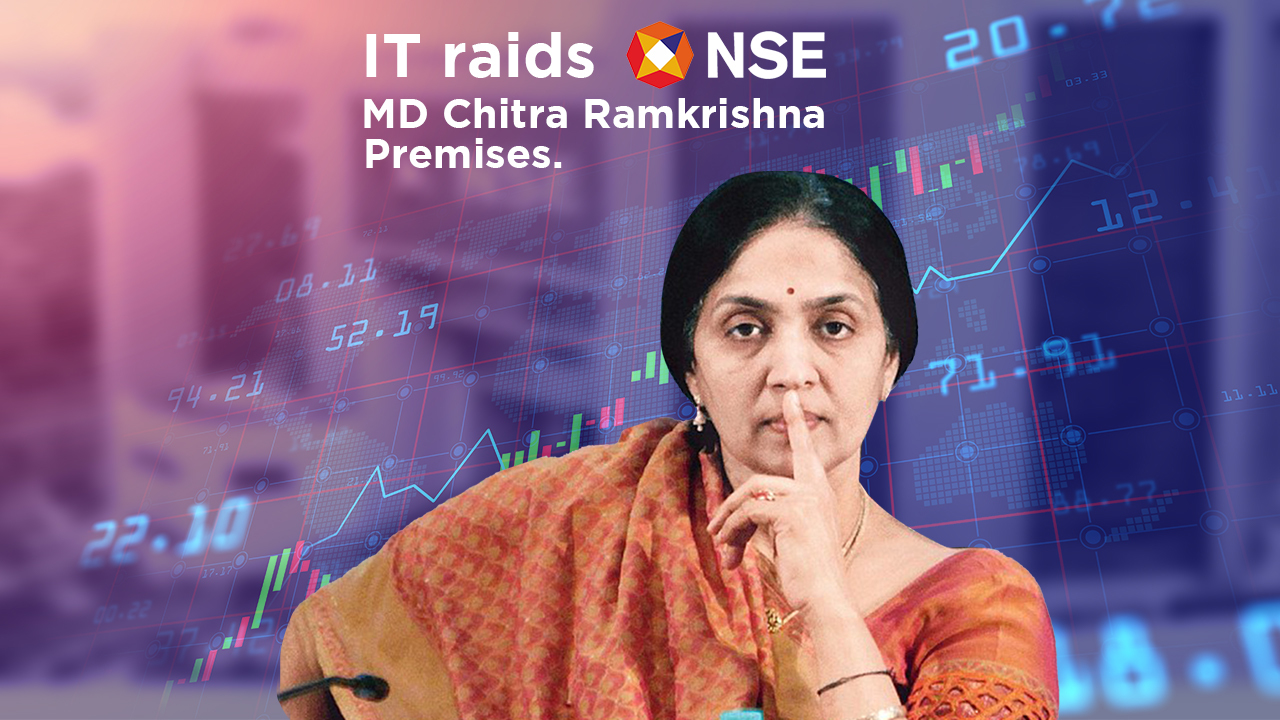 Former NSE MD Chitra Ramkrishna recently made headlines for sharing confidential information and seeking advice to make crucial decisions with a Himalayan-based Yogi. After these allegations were put by the Centre and Securities Board of India (Sebi) for tax evasion, The Income Tax Department conducted raids on her premises on Thursday.
Former Group operating officer of NSE, Mr. Anand Subramanian, is also under the radar of the IT department as his residence was also raided in Mumbai on the same day.
According to the probe conducted by Market regulator Sebi, Chitra Ramkrishna was in touch with some spiritual gurus in the Himalayas and shared crucial information like financial projections of NSE plans for the business and board agenda, which is strictly confidential.
The probe further disclosed that this purported guru highly influenced the decision to appoint a mid-level executive as an advisor to Ramkrishna. Many eyebrows were raised at hiring a non-eligible and non-experienced person at a post without any accurate documentation and a salary higher than most senior officials in NSE.
Sebi has said that Ramkrishna was "merely a puppet in his hands," referring to the guru running the exchange.
A number of emails were exchanged with rigyajursama@outlook.com between the years 2014-2016. Further inquiries led to discovering this Yogi being a Subramanian, who Ramkrishna brought to NSE. The Yogi also had direct access to the mail ID on which the emails were exchanged.
While the probe is undergoing, a few of the appointments on board are under the lens, along with some government functionaries during the UPA regime. Anand Subramanian was appointed as the CSO (Chief Strategic Officer) in 2013 without having any vacancy for a non-existent post. Ramkrishna was interviewed without any panel, making assumptions about his closeness to her and internal complaints at NSE. This followed the exit of Ramkrishna. 
Sebi considered the complaint, and a detailed investigation was launched. Soon after, a show-cause notice was served to Ramkrishna, Narain, the successor of Ramkrishna, and other key leaders at NSE.
Ramkrishna was levied a fine of Rs 3 crore by the market regulator, and NSE, Subramanian, former NSE MD, and CEO Ravi Narain were asked to pay a fine of Rs 2 crore each.
Sebi is also investigating the role of NSE in the matter. Her resignation in 2016 followed many questions, but NSE never bugged her and even allowed her laptop to be destroyed as e-waste. It could have been crucial evidence in the case. Not only this, but the board also permitted "excess leave encashment" for Ramkrishna for her contribution to the growth of NSE.
Now that the IT department has raided her residence, various transactions and digital records are scanned. Statements of her employees are also being recorded. As the matter is further investigated, the aim is to check and gather evidence on the alleged financial irregularities and tax evasion.