Jeff Bezos has supercharged the growth of electric truck manufacturer Rivian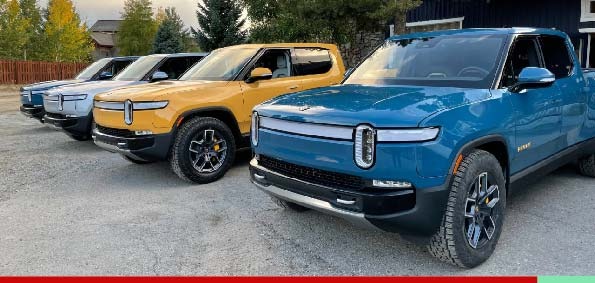 Rivian, the electric truck manufacturer that has gone from relative obscurity to a $100 billion Wall Street favourite overnight, owes much of its meteoric rise to one very influential fanboy: Jeff Bezos.
And, less directly, to Elon Musk.
Rivian trucks shuttled Bezos and his fellow astronauts to and from the West Texas launch site when the Amazon founder became the first American entrepreneur to fling himself to the edge of space on his own private company's rocket this summer.
The Rivian shuttles during the widely publicized event were, of course, strategic product placement by Bezos for his hand-picked contender to take on Tesla. At the time, Rivian was still a private company with no actual products on the market. But Amazon had made a big bet on Rivian in 2019, taking a 20% stake in the company. The famously (or notoriously) shrewd Bezos was bringing two of his pet projects — Blue Origin and Rivian — onto the global stage at the same time.
Bezos and Musk have alternated as the world's richest and second-richest people for much of the past year. Their tug-of-war dates back years and is centred on their rivalry for space exploration. Blue Origin, founded by Jeff Bezos, has been challenging NASA over the agency's decision to hire Musk's SpaceX to develop a lunar lander that will return humans to the moon.
All of Blue Origin's efforts to overturn NASA's decision have so far failed.
Rivian's record-breaking IPO — the best by a US business since Facebook went public in 2012 — provides Bezos a little victory in his proxy battle with Musk.
Two years ago, Amazon led an investment of $700 million in Rivian and announced it was ordering 100,000 of its electric vans. At the time, the EV field was crowded with upstart brands such as Nikola, Lordstown, and Fisker, all of which were vying to position themselves as the next big thing. Since then, Rivian has emerged as the heavyweight (helped as much by investments from Amazon and Ford as by serious regulatory investigations into would-be rivals Nikola and Lordstown).
Rivian can also thank Musk for fuelling the EV hype, and bringing more investors to the party. Many analysts say Tesla, with a market cap of around $1 trillion, is wildly overvalued, but investors keep climbing on to the joyride as the stock keeps on climbing. FOMO is a powerful force on Wall Street, and those who missed out on Tesla a decade ago may be trying to make up for it by buying Rivian, a 12-year-old startup that hasn't yet delivered any products to customers and somehow is worth more than Ford and GM.
It's anyone's guess if Rivian will live up to the expectations. For an investor, knowing that Rivian has the backing of someone with Bezos' deep pockets is reassuring. Investing is an inherently risky proposition, but one thing we can bet on is that rather than going to therapy, ultrarich billionaires are in a totally different playing field to mere mortals, literally buying entire firms to punish and take on their adversaries.