Diwali sales light up the coffers of India Inc.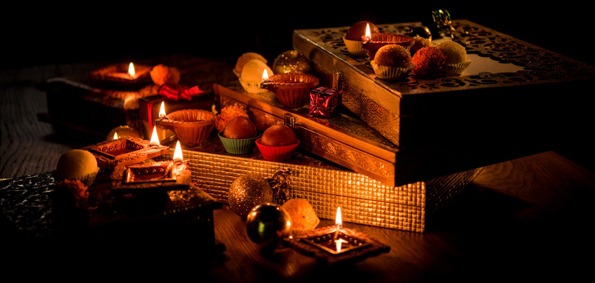 Shoppers in India purchased goods worth Rs 1.25 lakh crore, setting a new sales record for comparative figures over the last ten years. According to the Confederation of All India Traders (CAIT), Diwali 2020 sales totaled around Rs 72,000 crore. The increase was prompted by a 'Sustainable' demand trend, according to the confederation, as improving vaccination levels and decreased transmission levels increased confidence in consumers.
The business was estimated to be worth Rs 25,000 crore in Delhi alone. Retailers are preparing for the wedding season, which begins on November 14th. "Some of the causes for this year's high Diwali sales were pent-up demand as well as less Covid-related limitations," stated CAIT Secretary General Praveen Khandelwal.
What's in demand?
Small potters, craftsmen, and handicraftsmen made a lot of money selling clay lamps, candles, and paper mache lamps. Sweets, dry fruits, shoes, watches, toys, home décor, and stylish clothing were all in high demand. FMCG items, consumer durables, toys, electrical appliances and goods, electronic appliances and white goods, kitchen articles and accessories, sweets, and home furnishings, among other retail verticals, performed well.
What about gold?
Over Rs, 9,000 crores were spent on gold jewelry and silverware by consumers.
Gadgets a popular choice as well
Despite a shortage of devices, there is a pent-up demand for mobile phones. A shortage of devices in the market forced customers to grab the first phone available. Consultancy firm Counterpoint Research said ASP for phones in online sales was Rs 19,000 this year against Rs 17,000 in 2020 and Rs 13,000 in 2019. Rs 68 crore of smartphones were purchased every hour across platforms during the first week of festive sales.
Xiaomi claimed to have sold over 2 million smartphones in the festive sale's five days, while rival realme claimed to have sold over a million handsets in the first three days. According to Counterpoint, around $7.6 billion in smartphones will be sold over the current holiday season.
This year, the average cart value via CashKaro was over Rs 3020 per order, with Tier 2 cities accounting for nearly half of all transactions. Mobile phones were clearly the most popular, accounting for 45 percent of all orders. The Apple iPhone 11, the Redmi Note 10 Pro Max, and the Samsung M32 were among the most prominent mobile phone releases.
This year, the second most popular category was home appliances, with LG and Whirlpool emerging as the top-selling air conditioner manufacturers. Laptop sales increased significantly, with the best performers being the Asus A15, Dell Inspiron, Asus Vivobook, and HP 14. BoAt earbuds, RealmeBuds, and the OnePlus Bullets were among the best-selling devices.
Sales are also being driven by new buyers from Tier 2 cities
In the first week of online festival sales in October 2021, sales increased by 23% year over year. Online sales were Rs 32,000 crore, with Flipkart taking the lead with a 64 percent market share. Amazon's offer drew 99.7% of pin codes, while local Amazon stores reported a 2x increase in sales and sold over 10 things every minute.
Flipkart claims to have sold enough smartphones to stack them vertically higher than 1,000 Burj Khalifa structures. Every two seconds, a watch was sold, and the amount of tea sold in an hour could brew nearly 50 lakh cups of tea. The credit granted during the Big Billion Days auction, according to the business, can support 11 Chandrayaan trips to the Moon.
Demand in the BNPL segment has increased by 25-35%
Festival sales are being fueled by purchases now, pay later loans, which are estimated to account for 15% of internet sales this year. According to Redseer, the BNPL market in India would grow to $45-50 billion by 2026, up from $3-3.5 billion presently. "All the main e-wallets are now offering clients microloans to help them enhance their spending power while balancing their monthly costs with interest-free installments," the company said. This Diwali has surely lit a fire under consumers and businesses, and it seems the fire will rage on long after the last Diwali lights get taken down.