Asian Paints has a supercomputer to thank for its meteoric rise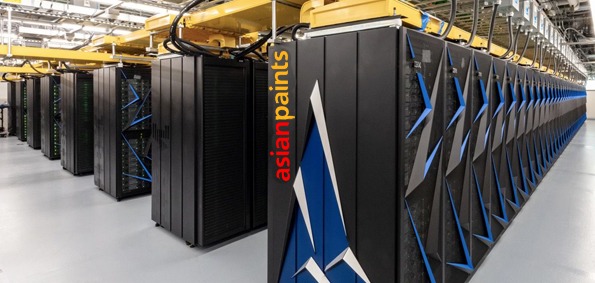 Asian Paints is a storied company that's firmly a part of India's business and social landscape. It has been a staggeringly good investment too, with the company growing at a CAGR of 28% and providing stockholders with 1800x returns since its IPO in 1982.
Every three years, the value of the stock nearly doubles, an incredible record stretching back years. This has been built on the back of ruthless business manoeuvres, such as the time the company removed its distributors and wholesalers to save 20% on the margins being earned. Today, the company directly transports stock to the dealer, saving a huge amount of money in the process.
But an often ignored aspect of Asian Paints' relentless rise can be put down to the company buying the first-ever supercomputer in India in 1970 for ₹8 crore. This was a very princely sum back then, and it would be 10 years before ISRO & IIT Powai bought their first supercomputers, and 21 years before any other company followed suit.
Even an unnamed SAP consultant said that the best ERP implementation was not by Amazon or any other US corporation, but India's Asian Paints.
For a span of 50 years, Asian Paints Ltd has collected data on:
What color is being sold the most?
What quantity is being sold?
What tin size is being sold the most?
The proof of this methodical, data-first approach (the company collects 6-20 times more data than any other company) is in the financial numbers. The Return on Capital Employed of Asian Paints is 40%. For Berger Paints, it is 25% and Akzo Nobel is 16%.
Asian Paints sells its products to 55% of the country's population, and with the company continuing to take a granule, data intensive approach to growing its share of the pie, the company is set to continue painting the town red for the foreseeable future.