The Taste of Success: Engineers part-time Biryani Thela pays off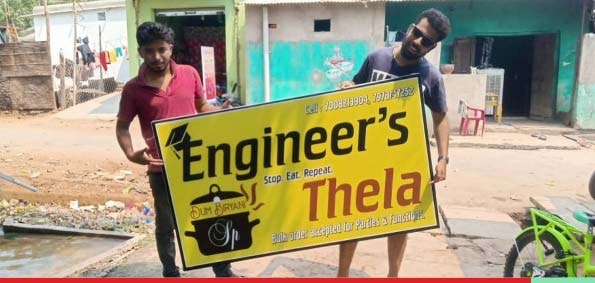 A food cart is positioned on the roadway opposite the town collector's office in Malkangiri, Odisha, every evening. Since March 20, 2021, this cart has been serving a limited menu of biryani and chicken tikkas. It's worth noting that the individuals behind this now-famous cart aren't chefs. They are two corporate employees who want to make a change in their town's dining culture.
Catering to a problem
Priyam Bebarta and Sumit Samal, both engineers, have been buddies since childhood. While the COVID-19 outbreak forced them to work from home, the pair would hit the streets in the evenings for a fix of biryani from local street vendors.
For folks who can't afford to buy fresh, healthful, and sanitary food, street food cart vendors are often their only option. When the duo saw poor quality street food on offer, they were inspired to start their own business. The goal was to create healthy food with equally delightful flavours that could be enjoyed by individuals from all walks of life.
Setting up the street cart
They came up with a tiny menu with fixed dishes after exhaustive research on numerous recipes, how ingredients match, and how menus are constructed. The next step was to hire someone to carry out the recipes and a location to do so in.
A plate of chicken biryani would set you back Rs 120, while half a plate will set you back Rs 70. To get the firm off the ground, the two pooled their funds for an initial investment of Rs 50,000. "We wanted to serve foods that were comparable to home-cooked dinners," says Sumit.
Engineer's Thela now sells over 100 plates of biryani every day, in addition to chicken tikka side orders. They make a monthly profit of roughly Rs 45,000 after subtracting operational expenses. Due to an increase in COVID-19 cases, the model is currently operating on a delivery system, but the beloved cart with its eye-catching yellow hoarding is set to return to the streets soon.