A World of Personalisation and Fun: Dive into iOS 17's Thrilling Upgrades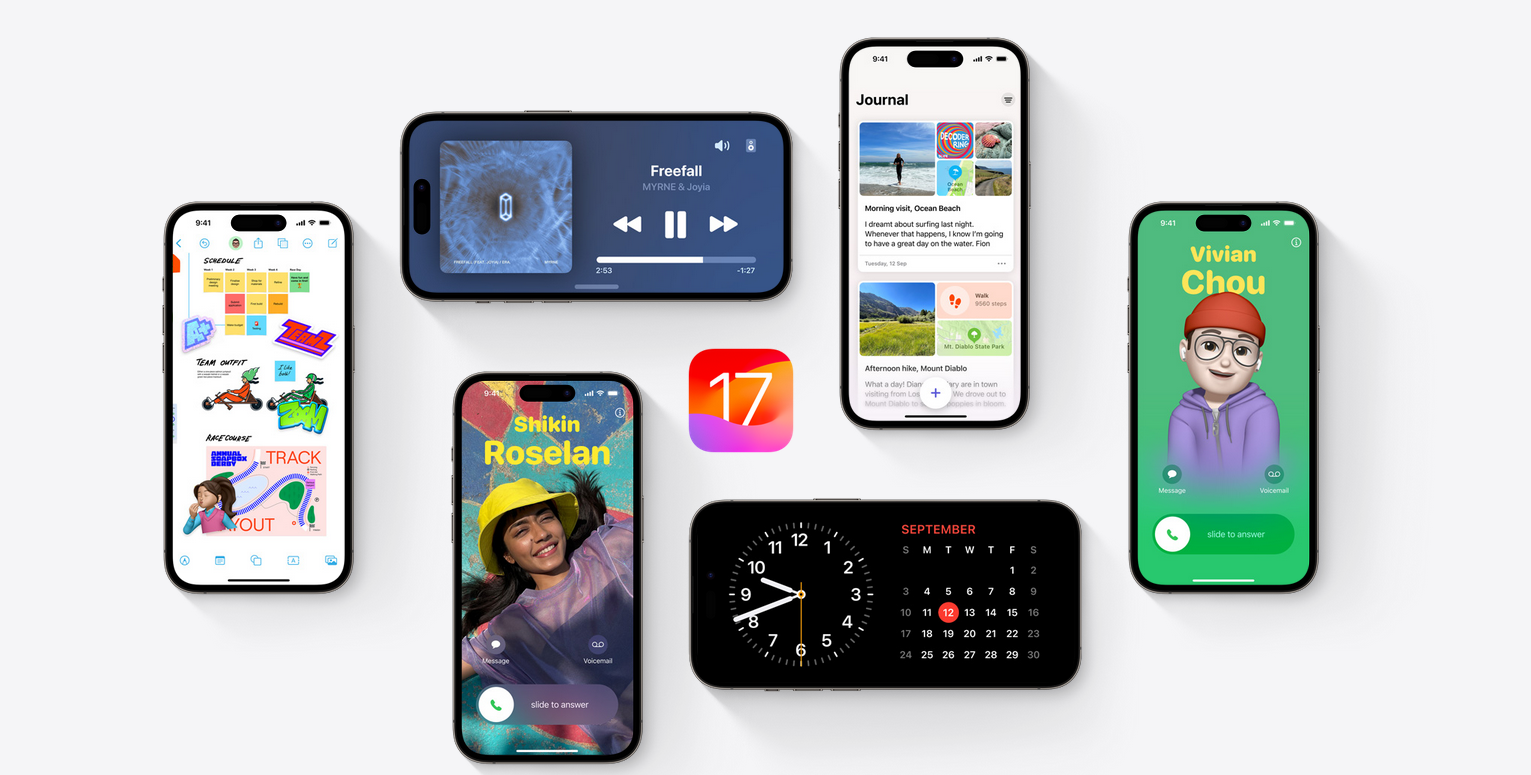 "With iOS 17, we've made the iPhone more personal and intuitive by deeply considering the features we all rely on every day," said Craig Federighi, Apple's senior vice president of Software Engineering.
Apple has released iOS 17, a big update that improves the communications experience across Phone, FaceTime, and Messages, makes sharing even easier with AirDrop, and enables more intelligent input to boost typing speed and accuracy. In addition, iOS 17 includes new experiences such as Journal, an app that makes it simple to practice gratitude, and StandBy, a new method to access glanceable information when the iPhone is placed down and charging.
Major upgrades to the phone experience – Everything you need to know
The Phone app is crucial to the iPhone experience, and it gets a significant boost with customised Contact Posters, giving users a new option to express themselves. Users may change how they appear, giving incoming calls an entirely new look, and select stunning treatments for photographs or Memoji, as well as eye-catching typeface and font colours. Third-party calling apps will also be able to use Contact Posters.
Live Voicemail allows users to see real-time transcription when someone leaves a voicemail and picks up while the caller is leaving their message. Calls flagged as spam by carriers will not appear as Live Voicemail and will be denied immediately. The power of the Neural Engine is used to perform Live Voicemail transcription.
FaceTime and Apple TV – Audio, Video Messages and Reactions Added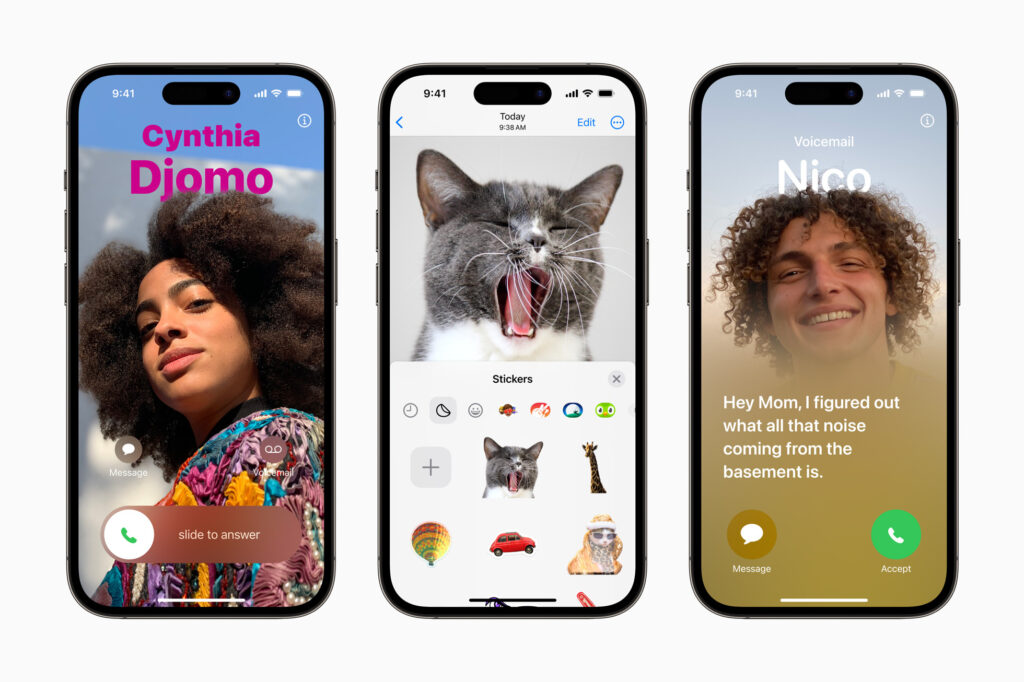 FaceTime offers both audio and video messages, so if you don't answer the phone, the person on the other end can leave a video or audio message for you. FaceTime also has Reactions such as hearts, balloons, fireworks, laser beams, and rain. Gestures are used to activate effects, which will also work in third-party apps.
For FaceTime on the TV, an iPhone or iPad can now connect to an Apple TV 4K. When making a FaceTime call with Continuity Camera, an iOS smartphone acts as the camera, but the video is seen on the TV's bigger screen. It supports Handoff for transferring calls between an iOS smartphone and the TV, Centre Stage framing, and all other FaceTime capabilities.
New Design, Major keyboard updates and live stickers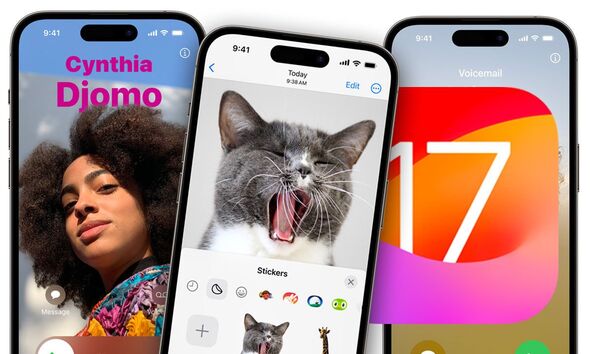 With iOS 17, Messages receives substantial upgrades, such as a brand-new sticker experience with new emoji stickers and the capability to create Live Stickers by removing objects from photographs. Live Stickers can also have effects added by users to make them come to life, and a new keyboard drawer organizes all of a user's stickers for simpler access across iOS.
Features in New Messages improve user communication. Messages now has a more streamlined appearance thanks to an expanding menu that can be opened with a single swipe and displays iMessage apps. With the use of search filters, search becomes more effective and accurate. If a user provides their location, the chat will immediately change in real time.
Messages introduces Check In, a feature for notifying loved ones when you arrive at your destination safely. After initiating Check In, your friend or family member will be alerted once you arrive. If you're not moving, useful information like device location, battery level, and cell service will be temporarily shared.
Quick Sharing with AirDrop
In iOS 17, you can now share contact information by simply bringing your iPhones together. You can also start a SharePlay session with another iPhone user by bringing your devices together.
StandBy mode, just 'Siri' and offline Apple Maps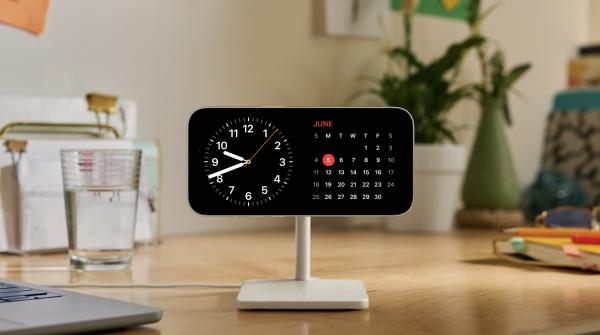 The innovative Standby mode transforms your iPhone into a compact smart display when placed in landscape orientation while charging. This mode provides convenient access to essential information like the time, widgets, photos, and even Siri interactions at a glance. Additionally, a new option simplifies Siri activation by eliminating the need for "hey" before saying "Siri," enabling seamless back-to-back requests without repeating the wake word.
In the Apple Maps app, a new feature allows you to store specific map areas for offline access, including directions, business hours, and related details, mirroring the popular functionality long associated with Google Maps.
Furthermore, Apple's Safari browser now offers user profiles, bringing it in line with competitors like Chrome and Firefox. These profiles enable you to maintain distinct sets of bookmarks, settings, websites, and cookies, accommodating different browsing needs, whether for work or leisure.
Kickstart your day with Gratitude Journaling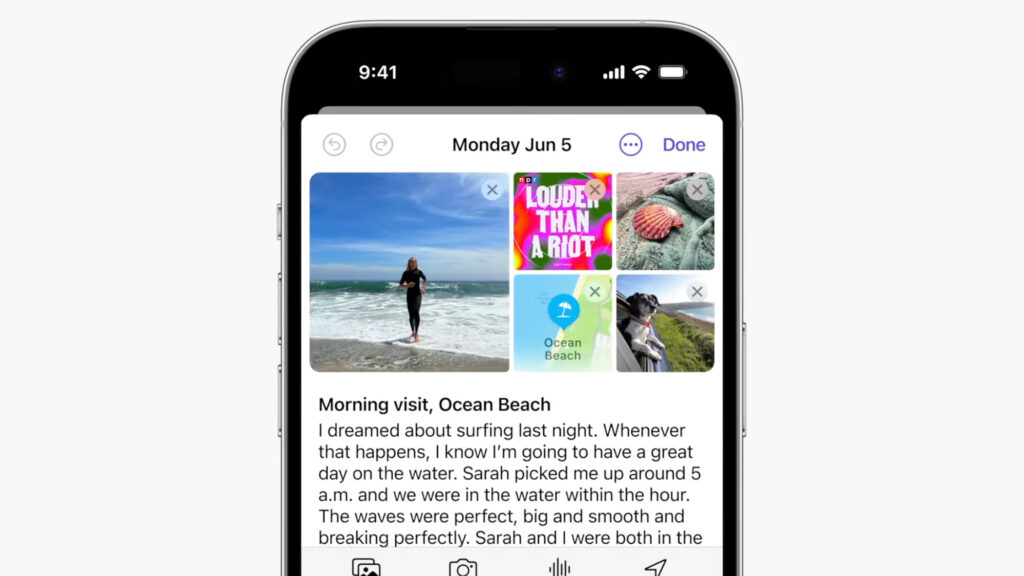 The new Journal app for iOS 17 helps users practice gratitude journaling, which has been shown to improve well-being. The app uses on-device machine learning to provide personalized suggestions for journal entries, based on recent activity like photos, people, places, and workouts.
Scheduled notifications can also help users build a journaling habit. Journal is designed to protect user privacy, with end-to-end encryption, the ability to lock the app, and on-device processing. Developers can also add journaling suggestions to their apps with the new Journaling Suggestions API.
In addition, iOS 17 has the following features:
Password- You can allow trusted contacts to have access to shared passwords by sharing passwords and passkeys in iCloud Keychain with friends and family.
Health- There are new mental health features in the Health app, including a mood tracking feature. Using the Health app on iPhone, you can select your mood at the moment or your mood for the overall day.
Screen Distance – The Health app can alert you if you're holding an iPhone or iPad too close to your face, which raises your chance of developing myopia.
Maps– In iOS 17, Maps can be downloaded for offline use for the first time. The maps software allows users to bookmark and explore a certain location while offline.
AirTag- Share AirTags with up to 5 people to track missing items together.
Apple Music– Collaborate on playlists and share music with others in the car, even if they don't have a subscription.
AirPlay is smarter, learning your preferences and working with hotel TVs.
AirPods receive powerful new features, including Adaptive Audio, Personalised Volume, and Conversation Awareness, that redefine the personal audio experience. Plus, improvements to Automatic Switching and call controls make AirPods even easier to use.
Home- View up to 30 days of activity history for door locks, garage doors, alarm systems, and contact sensors.
Reminders- Grocery list automatically groups items into categories, which can be customized.
Siri- Say "Siri" to activate, then issue multiple commands without reactivating.
Photos- People album now includes cats and dogs. Visual Look Up now supports food, so you can tap the "Info" button on a picture of a meal to look up related recipes.
Communication Safety– Expanded to AirDrop, Contact Posters, FaceTime messages, and Photos picker, and now covers video content.
Sensitive Content Warning- Helps adult users avoid unwanted nude images and videos.
With that said, it's important to note that iOS 17 will introduce additional features through upcoming updates later this year. One of these new features is "Journals," an application designed to assist users in documenting their daily experiences. Journals will encourage self-reflection by incorporating content sourced from users' photos and other usage records.
iOS 17 is currently accessible for iPhone models ranging from generations 11 through 15, as well as XS, XR, and SE (2nd generation). However, it's worth mentioning that certain features may have limited compatibility on older devices.