Revolutionising Connectivity: Reliance launched lightning-speed Jio AirFiber with an array of exciting features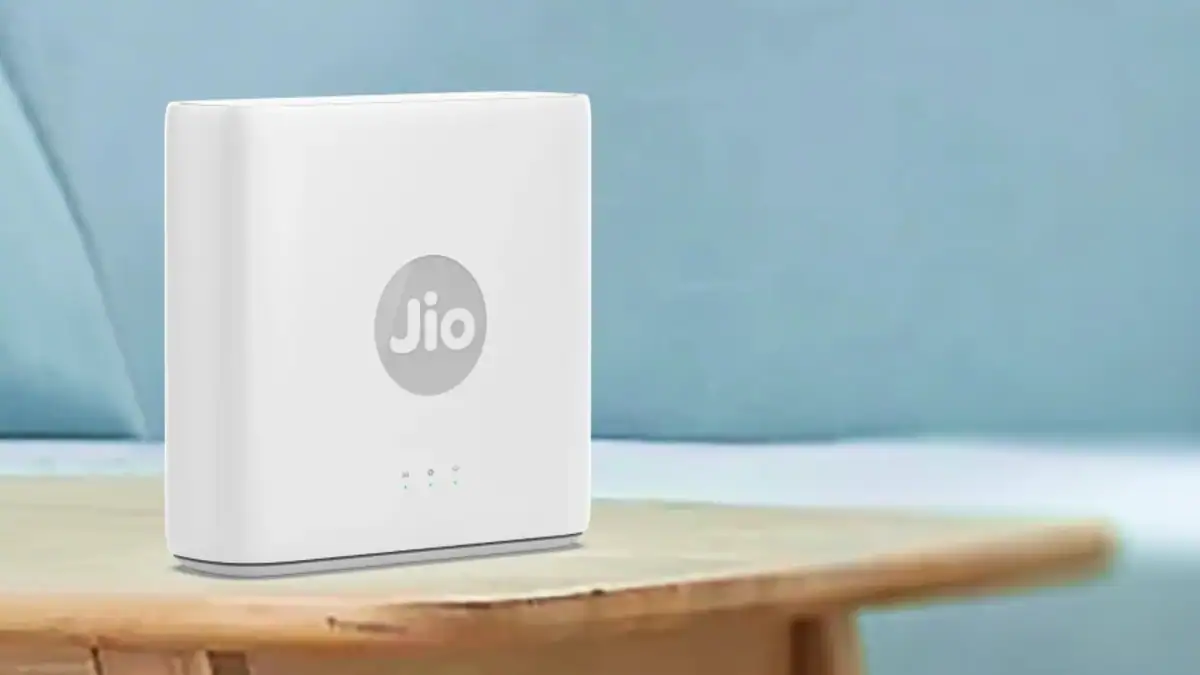 Reliance Jio, on the auspicious occasion of Ganesh Chaturthi, launched its Jio AirFiber wireless broadband service. This device boasts impressive speeds of up to 1.5 Gbps, contingent upon geographical location, rendering it ideal for bandwidth-intensive activities such as high-definition video streaming, online gaming, and seamless video conferencing.
The announcement of this launch coincided with the 2023 Annual General Meeting, as revealed by Mukesh Ambani, Chairman and Managing Director of Reliance Industries. The service is currently launched in eight metro cities across the country: Ahmedabad, Bengaluru, Chennai, Delhi, Hyderabad, Kolkata, Mumbai, and Pune.
Jio AirFiber encompasses an array of features, including parental control options, support for WiFi 6 technology, and an integrated security firewall, further enhancing its utility and appeal.
How Jio AirFiber is Revolutionising Connectivity in India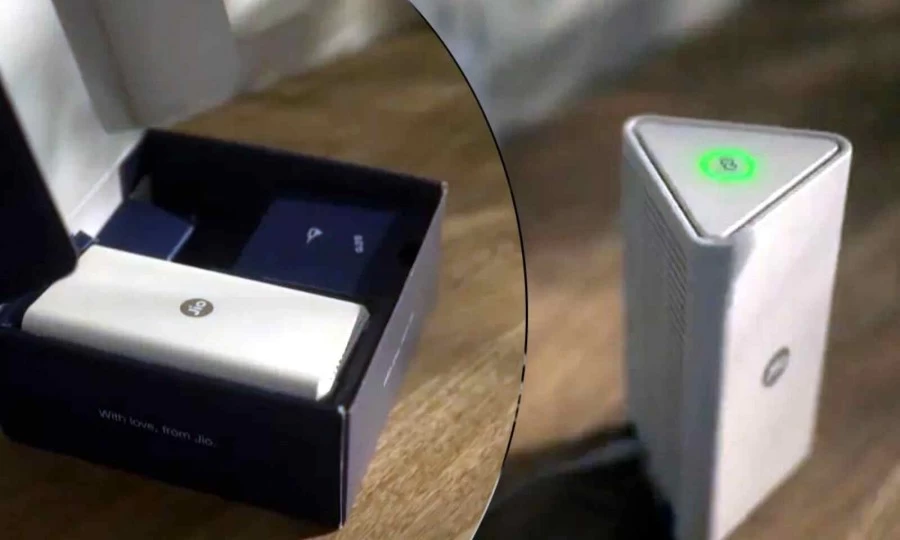 Jio AirFiber offerings
Jio AirFiber uses 5G technology to provide high-speed internet connectivity without the need for wires or installation. JioFiber will additionally offer consumers free access to more than 16 OTT apps like as Netflix, Disney+ Hotstar, Sony Liv, Zee5, JioCinema, SunNXT, Hoichoi, Discovery+, Universal+, ALTBalaji, Eros Now, Lionsgate Play, ShemarooMe, Docubay, and EpicOn. In addition, the company is providing a no-cost Wi-Fi router, a 4k Smart Set Top Box with a remote boasting voice control.
High-speed wireless broadband
Jio AirFiber is an innovative wireless internet device that harnesses the power of 5G technology to deliver high-speed internet connectivity. This plug-and-play 5G broadband router, introduced by Reliance Jio, eliminates the necessity for intricate wiring or cable installations, specifically for Jio Fiber services.
Mukesh Ambani highlighted during the Annual General Meeting that Jio AirFiber leverages the extensive reach of their pan-India 5G network along with advanced wireless technologies, obviating the requirement for fiber-optic connections in the last mile.
While optical fiber currently facilitates the connection of approximately 15,000 premises daily, Jio AirFiber's introduction has the potential to significantly boost this capacity to accommodate up to 150,000 connections daily.
The company offers a remarkable speed of up to 1.5 Gbps depending on region, making it appropriate for high-resolution video streaming, online gaming, and lag-free video conferencing.
In contrast to Jio Fiber, AirFiber eliminates the physical infrastructure constraints associated with optical fibers, enabling it to offer more expansive coverage. Furthermore, AirFiber is poised to surpass the 1 Gbps speeds provided by Jio Fiber.
This innovative device sets the stage for Jio's comprehensive Smart Home Solutions, encompassing the Jio Home Router, the Jio Set-top box, and the Jio Home smartphone app.
As per Jio's official website, AirFiber is capable of delivering high-speed internet "wirelessly," replicating the performance typically associated with fiber-optic connections.
Easy installation
Jio AirFiber is a plug-and-play device that functions much like a standard router but operates wirelessly, eliminating the need for cumbersome optical cable connections. It only requires access to an AC plug point for setup.
Unlike traditional routers, Jio AirFiber is devoid of any optical cable connections. Once connected, users can easily configure the device using the Jio app, which offers various customization options. It's worth noting that Jio AirFiber can effectively cover an area of up to 100 sqft within the same floor.
Affordable Pricing
Jio AirFiber offers six affordable plans with unlimited internet, starting at ₹599 per month. JioAirFiber might be a bit more expensive than comparative wired broadband connections as it includes a portable device unit.
The plans will offer an extensive selection of 550+ digital TV channels and OTT apps. Jio assures users that they can acquire the 4K Smart Set Top Box, along with the voice-activated remote, at no additional charge.
Bridging the Digital Divide
Jio AirFiber is helping to bridge the digital divide in India by connecting underserved regions and rural areas. This is enabling people in these areas to access the same benefits of the internet as people in urban areas. Its reliable connectivity makes remote jobs and education possible and convenient.
Driving Innovation
Jio AirFiber is driving innovation in the Indian telecom sector by encouraging other operators to launch similar services. This is leading to increased competition and better services for consumers. Jio AirFiber can be used to power a variety of smart home devices, such as smart thermostats, lights, and security cameras.
Speaking at the launch of JioAirFiber, Akash Ambani, Chairman, Reliance Jio Infocomm Limited, said, "Our extensive fiber-to-the-home service, JioFiber, already serves over 10 million customers, with hundreds of thousands more getting connected each month. But there are still millions of homes and small businesses to be connected at a rapid pace. With JioAirFiber, we are expanding our addressable market to rapidly cover every home in our country with similar quality of service. JioAirFiber will enable millions of homes with world-class digital entertainment, smart home services and broadband, through its solutions across education, health, surveillance, and smart homes."