Indian Wearable Market Sees 53% Growth: What's Working for India?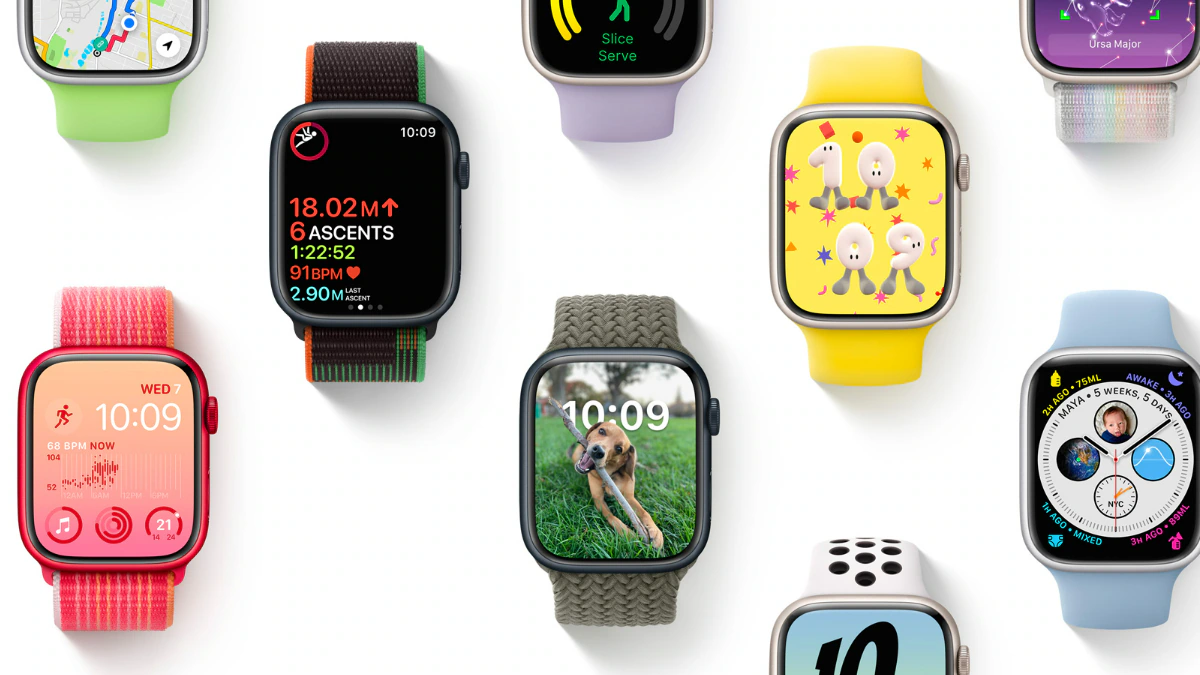 Do you know what is the next big thing in the wearable market? It's India.
The rise of wearable technology in India has been nothing short of remarkable. With increasing digital integration into daily lives, wearables have gained substantial traction across the country.
From fitness trackers that monitor physical activity to smartwatches that facilitate seamless communication and health monitoring, these tech-savvy accessories have transcended their functional roles to become fashion statements and lifestyle companions. It's clear that wearable technology is everywhere and it's booming.
According to IDC, India's market size has now surpassed that of China and the US and will keep expanding while Counterpoint stated in the report that a smartwatch was also sold in India for every smartphone.
As the market continues to evolve, the Indian market for wearables has experienced a positive trajectory during the initial half of this year, showcasing a remarkable 53% year-on-year expansion over the first six months of 2023, with a total shipment of 57.8 million devices.
As per a study conducted by the International Data Corporation (IDC), the second quarter of 2023 witnessed the shipment of 32.8 million wearables, marking a significant year-on-year increase of 37.2%. Among these, earwear constituted a substantial portion, amounting to 19.96 million units.
Indian wearable shipments in Q2 2023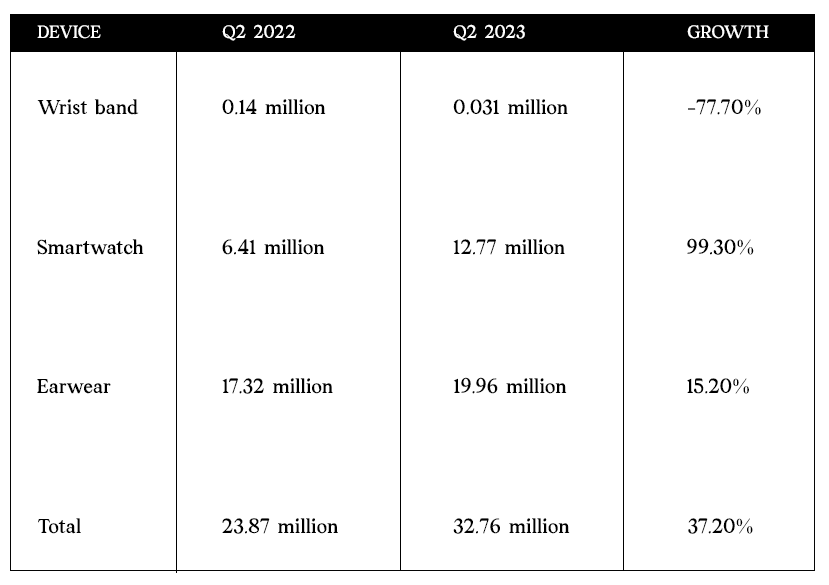 Source: IDC
In the second quarter of 2023, there has been a considerable 77.7% reduction in the wristband segment, possibly indicating a shift towards smartwatches due to their increased affordability. Notably, the average selling price (ASPs) of smartwatches experienced a significant decline of 44.9%, reaching $25.6 (approximately INR 2,120) from the previous figure of $46.6 (approximately INR 3,860) in the same quarter.
Earwear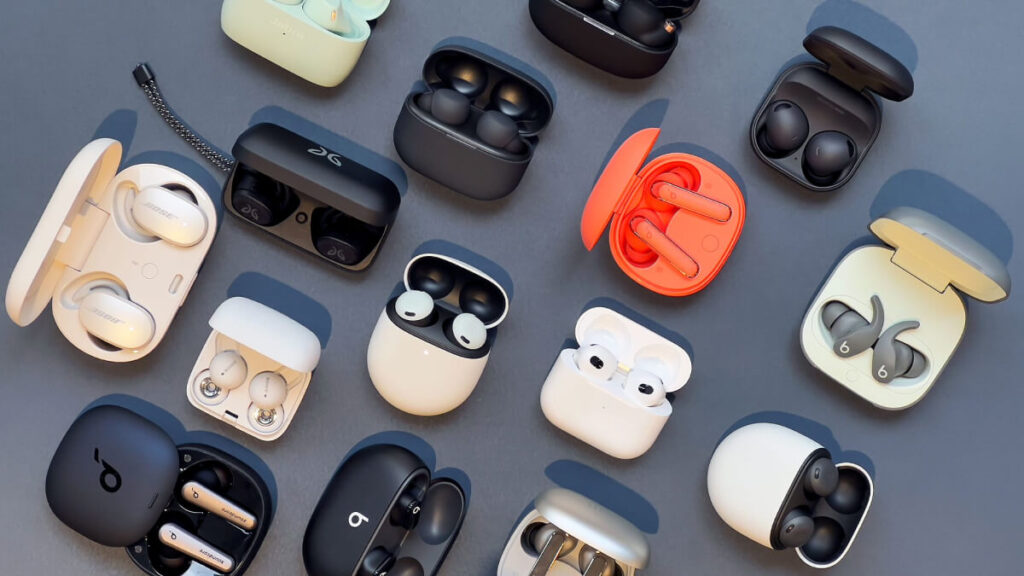 Earwear continues to lead the segment with 19.96 million sold in Q2 2023. Within this segment, truly wireless earbuds (TWS) registered a record share of 65.5%, growing by 52.9% year-on-year, while neckbands declined by 22.5%.
"The high-end capabilities that have been exclusive to premium products are now gradually making their way into affordable models. These include features like advanced ANC (active noise cancellation), multiple microphones, minimal delay or low latency, simultaneous dual device connection, and advanced sound chipsets," said Vikas Sharma, senior market analyst, wearable devices, IDC India.
Indian wearable shipments in Q2 2023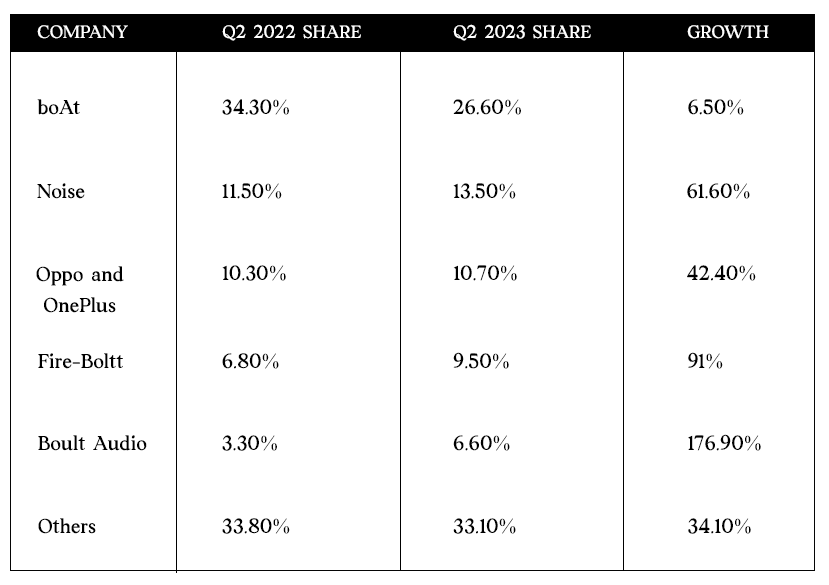 Source: IDC
While some companies recorded a decline in their overall market share, there was a growth in shipments across all companies. Boult Audio's shipments increased the most, registering a 176.9% growth. boAT reported a modest growth of 6.5% in shipments but continued to lead the market with a 26.6% market share.
Smartwatches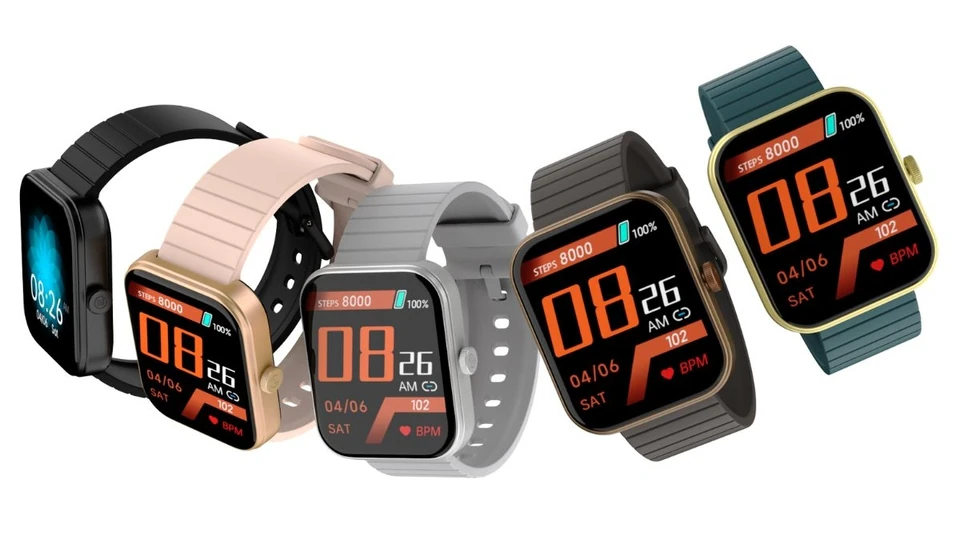 In the realm of smartwatches, Noise surged to the forefront, commanding a dominant market share of 27.6% and achieving a remarkable shipment growth of 93.2%. Following closely, Fire-Boltt secured the second position, boasting a market share of 23.8% and showcasing impressive shipment growth of 91.1%. Claiming the third position, boAt garnered a respectable 15.2% market share and displayed a commendable shipment growth of 54.3%. Boult Audio has recorded the highest growth in shipments at 1922.1%. It occupied a 3.4% market share in smartwatches in Q2 2023.
"The first half of 2023 saw hundreds of smartwatch model launches with premium finishing, sporty appearances, rugged builds, and a variety of strap finishes like metal, silicon, leather, etc. The second half of 2023 will see aggressive festive offers and discounts, while brands remain cautious for supplies. Furthermore, we should expect more launches in the smart ring category at affordable pricing," said Upasana Joshi, Research Manager, Client Devices, IDC India.
Top TWS Companies in India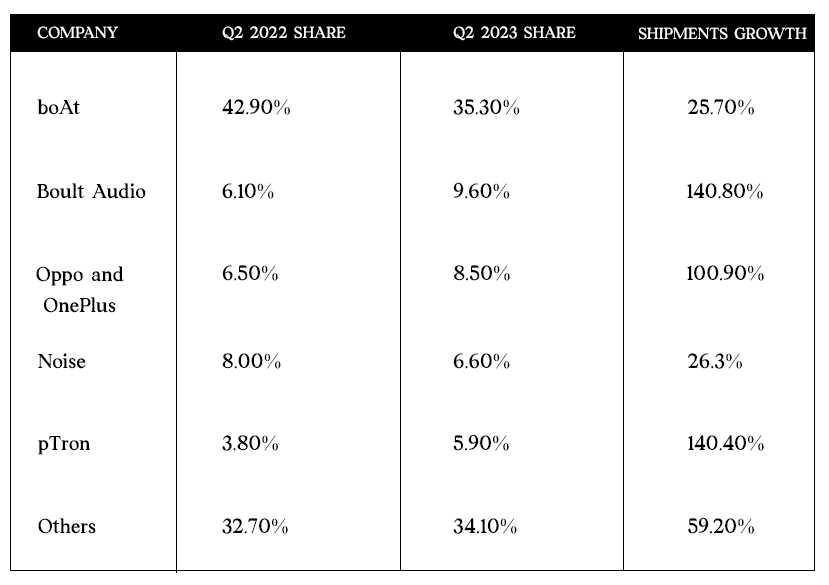 Source: IDC
boAt maintained its market leadership, capturing a market share of 35.4%, which was a slight decline from its 42.9% share in the same period of 2022. Despite this, the company demonstrated a noteworthy growth in shipments, marking a 25.7% increase.
On the other hand, Boult Audio showcased the most substantial growth in shipments, soaring to an impressive 140.8%. This surge was mirrored in their market share, which expanded from 6.1% to a robust 9.6% in the second quarter of 2023.
Oppo and OnePlus doubled their shipments in Q2 2023 to record an 8.5% market share, up from 6.5%.
boAt loses market share across segments
boAt, while continuing to dominate the TWS segment and leading the overall wearables segment, has lost a huge chunk of market share, hinting that it is losing its stronghold over the market. The company's market share in wearables has declined from 34.4% in Q2 2022 to 26.6% in Q2 2023.
Future ahead
Owing to its surging demand, the market now boasts a plethora of contenders. While established names like Apple, Samsung, Garmin, and Fossil provide high-end selections with cutting-edge functionalities, brands such as boAt and Noise are strategically targeting budget-conscious consumers by delivering an expanding array of features at affordable prices.
The market is constantly changing, consumers today are open to trying new things, experimenting and evolving. The catalyst for growth, driven by competitive pricing, has propelled the market to its current cost-efficient state. Consequently, Indian brands must be compelled to devise innovative strategies to capture a broader customer base, keep up with the pace of the changing market and ultimately lead to the emergence of an innovative product category.