Mahindra unveiled 5 electric SUVs: Futuristic cabin, designs and much more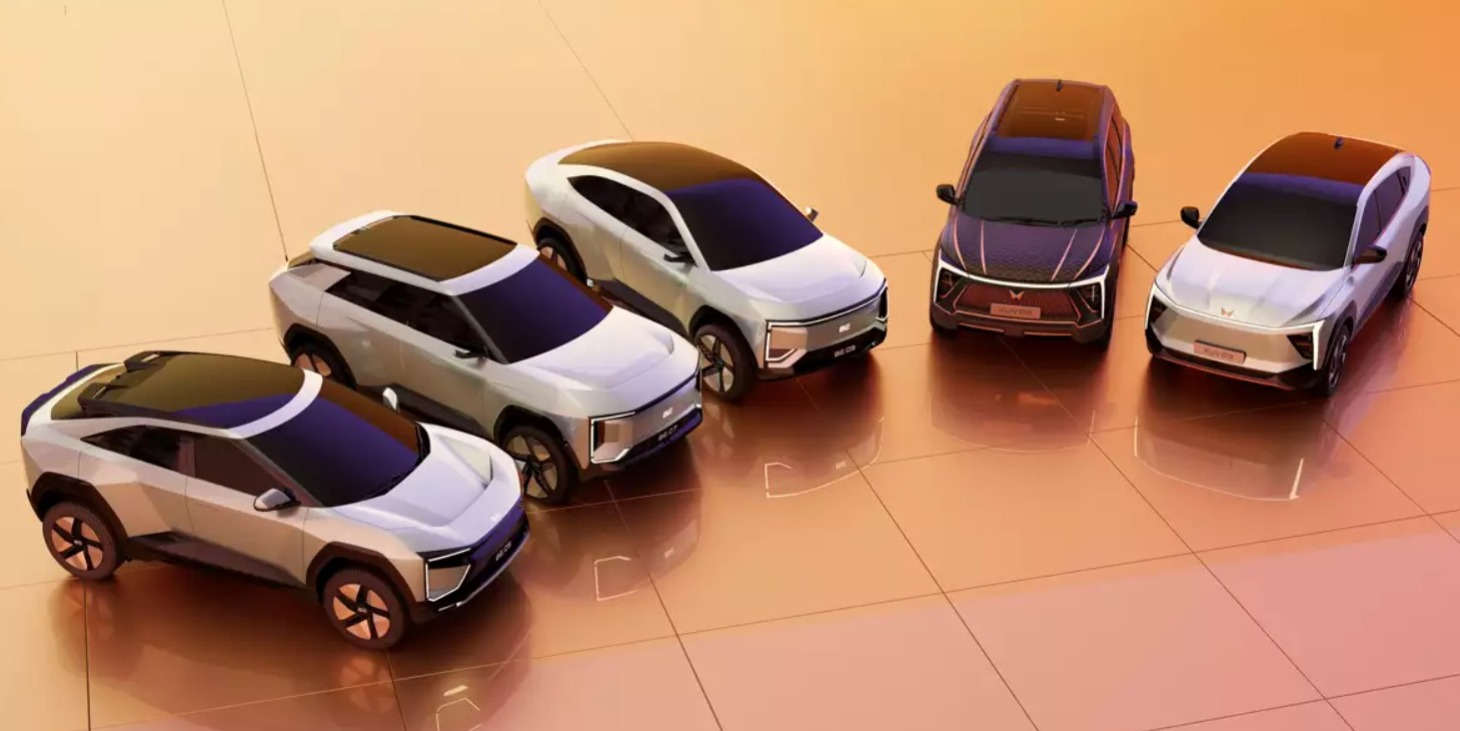 Mahindra has just raised the curtain on a thrilling lineup of not one, not two, but five sensational electric SUVs, all part of their electrifying Mahindra Born Electric Vision. And the excitement doesn't stop there.
These incredible SUVs are all set to take the roads under Mahindra's dynamic duo of EV brands – XUV and the electrifyingly fresh, all-new electric-exclusive brand, Born Electric (BE). These avant-garde EVs were sculpted to perfection at Mahindra's innovation hub, MADE (Mahindra Advanced Design Europe), nestled in the heart of Oxfordshire, UK.
The SUVs marvels are based on Mahindra's purpose-built INGLO platform, using components from the Volkswagen MEB platform. Since the agreement with Volkswagen was not exclusive, Mahindra was also talking to BYD for their blade cell technology. Mahindra's upcoming electric vehicles will use two battery sizes: one is a 60 kWh battery pack, and the other is an 80 kWh battery pack, with both supposed to be using LFP technology.
From jaw-dropping designs to cutting-edge technology, these SUVs are gearing up to shatter all expectations. Buckle up, because this isn't just a ride, it's a high-speed journey into the future of performance, range, and sheer excitement.
Mahindra Born Electric: 5 e-SUVs under two brands
To simplify things for you, Mahindra has unveiled 5 e-SUVs and these SUVs will be positioned under the carmaker's two new electric brands, called XUV and BE. The XUV brand will continue forward with the Mahindra Twin Peaks logo as we know it today, and have EV versions of ICE cars.
The BE brand is an altogether separate brand that will be EV-only and will attempt to bring in new buyers to the Mahindra fold. The XUV has two e-SUVs to begin with: the XUV.e8 which will be launched by December 2024 and the XUV.e9 which is slated to launch by April 2025.
Mahindra BE.05
Launch: October 2025
Dimensions: L x W x H: 4370 x 1900 x 1635 mm
Wheelbase 2775 mm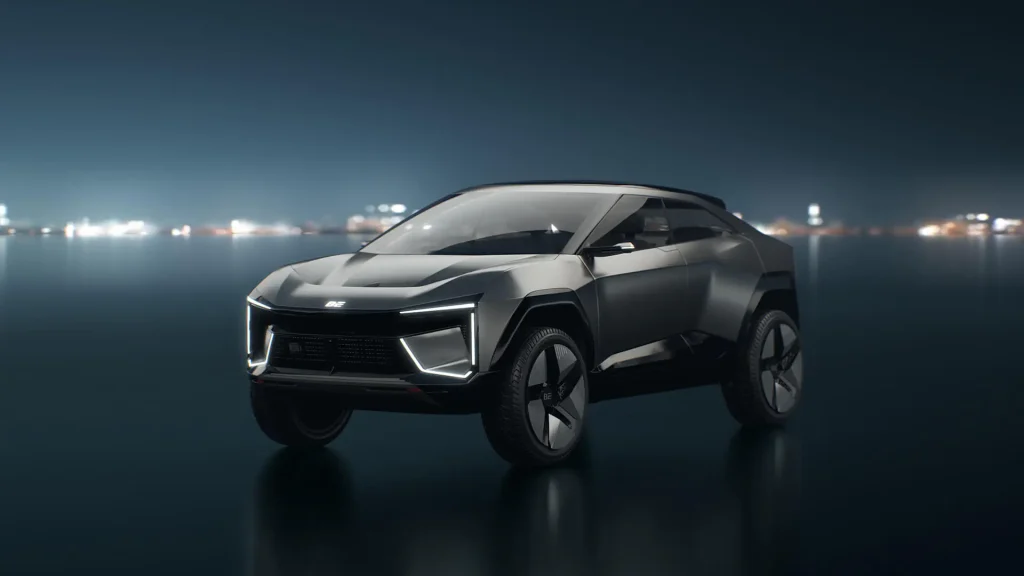 Kicking off the BE lineup with a bang is the stunning BE.05 coupe-SUV, ready to roll out in its production form by October 2025. This electrifying beauty, proudly dubbed a Sports Electric Vehicle (SEV), comes charged with an unmistakably bold aura.
Prepare to be mesmerized by its fierce front-end featuring angular C-shaped headlights and generously sized air dams. With captivating design details all around, including sharp contours and creases, the hood showcases a commanding air-duct, setting the stage for a true showstopper.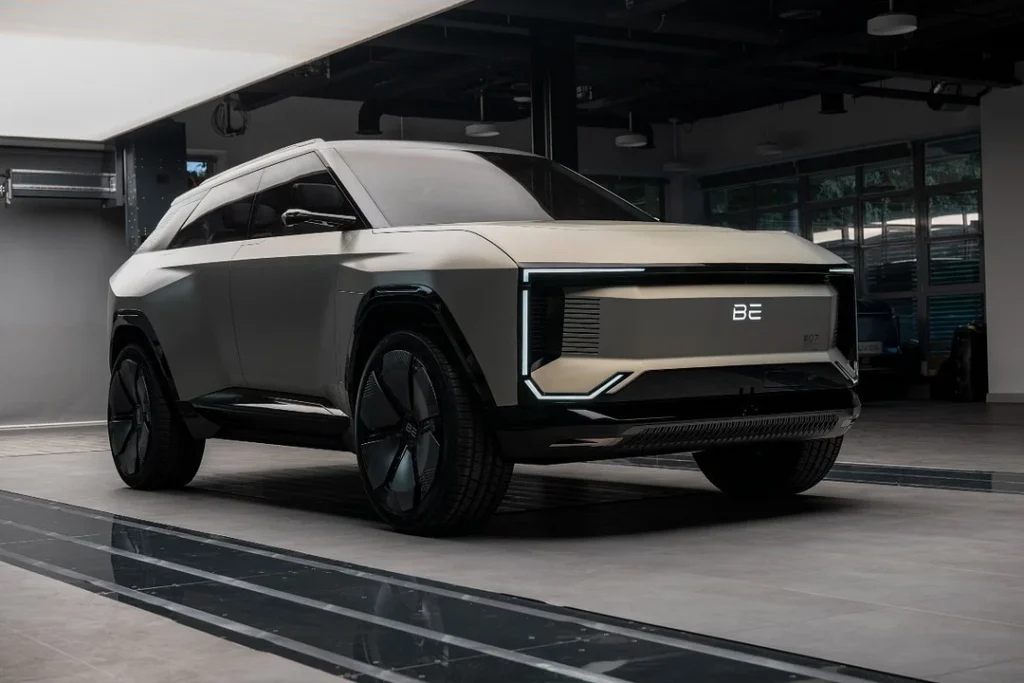 From the side, the BE.05 shows off large wheels and squared-off wheel arches with a generous use of black to give it a rugged look. It features flush door handles placed at the very top of the door, placed in a way so as not to interrupt the prominent shoulder line. This SUV-coupe marvel wears a distinctive sloping roofline, seamlessly converging into the substantial rear end. The rear view offers an upright stance, embellished with C-shaped tail-lamps and a meticulously sculpted bumper.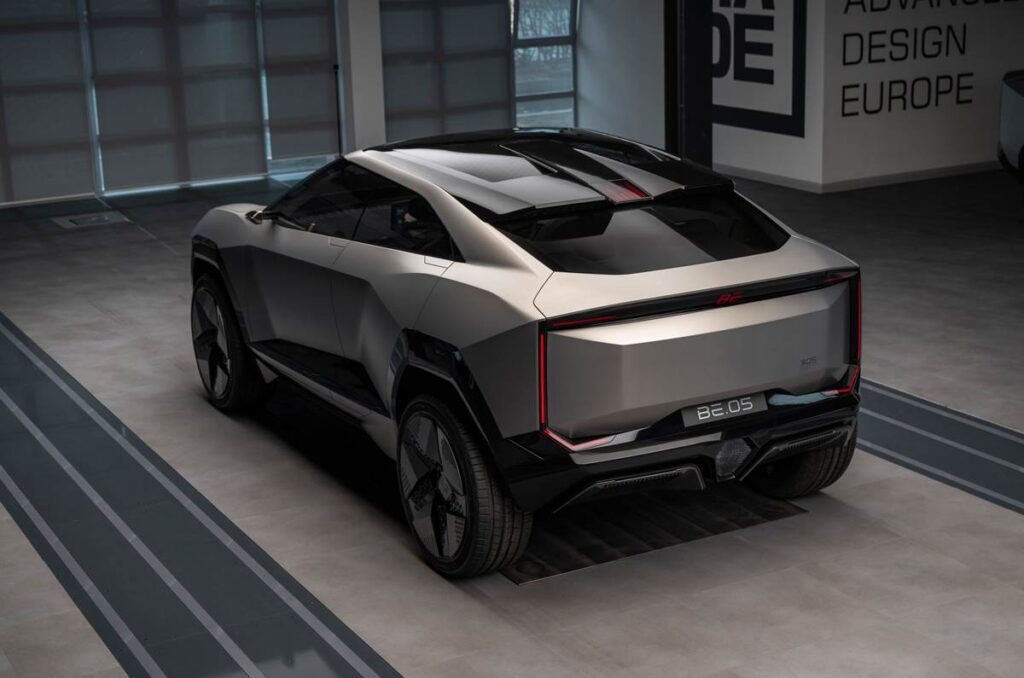 As you step inside the BE.05, a cockpit designed with the driver in mind awaits, skillfully divided by the centre console that stands as a testament to the car's driver-centric essence. The cabin's spotlight is seized by the expansive twin touchscreens and a sleek two-spoke steering wheel. The interior exudes control with a rotary control and a prominent gear selector, ensuring you're in charge every step of the journey.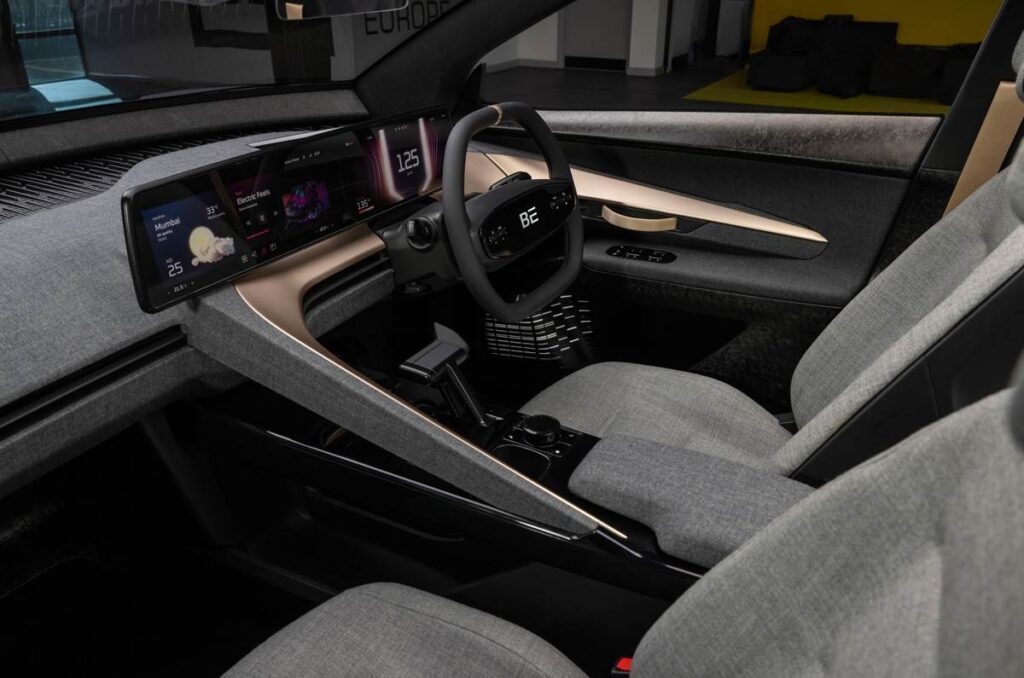 The four-metre-plus SUV is likely to sit above the XUV400 in Mahindra's EV line-up, and will take on the production version of the Tata Curvv, which is set to arrive in 2024.
Mahindra BE.07
Launch: October 2026
Dimensions: L x W x H: 4565 x 1900 x 1660 mm
Wheelbase: 2775 mm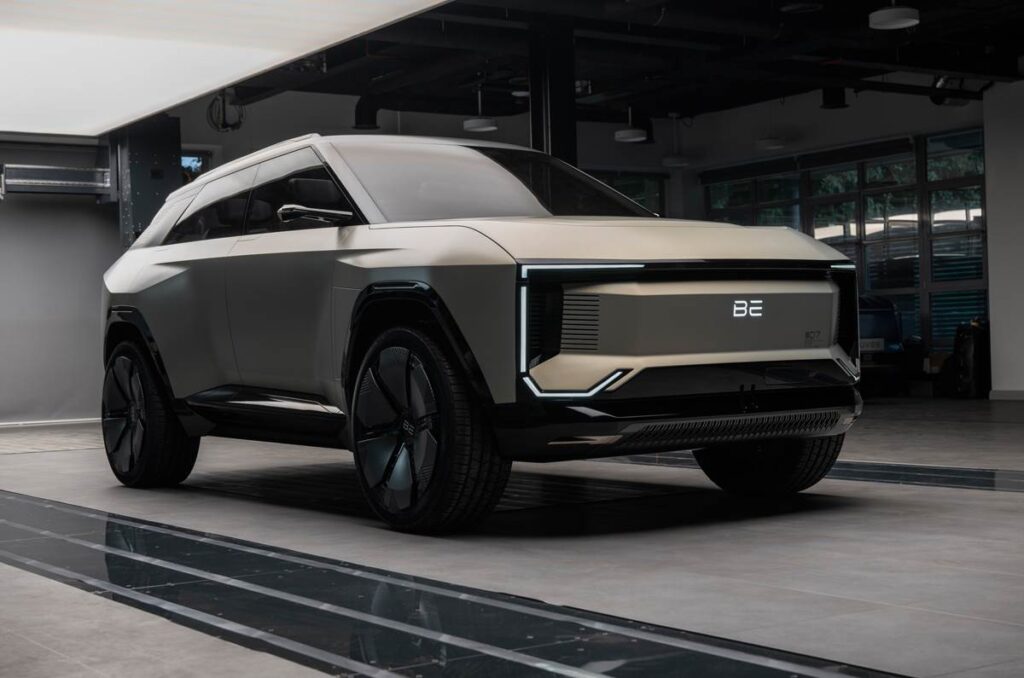 The eagerly anticipated production variant of the BE.07 SUV by Mahindra is set to make its debut in October 2026. In contrast to the coupe-SUV styling of the BE.05, the BE.07 embraces a classic SUV design, offering a more conventional look.
While the signature C-shaped headlights and taillights persist, they exhibit a less pronounced angularity compared to the BE.05. When viewed from the side, the BE.07 showcases a design that is slightly less bold than the BE.05, yet certain features, including the expansive wheel arches and sleek flush door handles, remain consistent.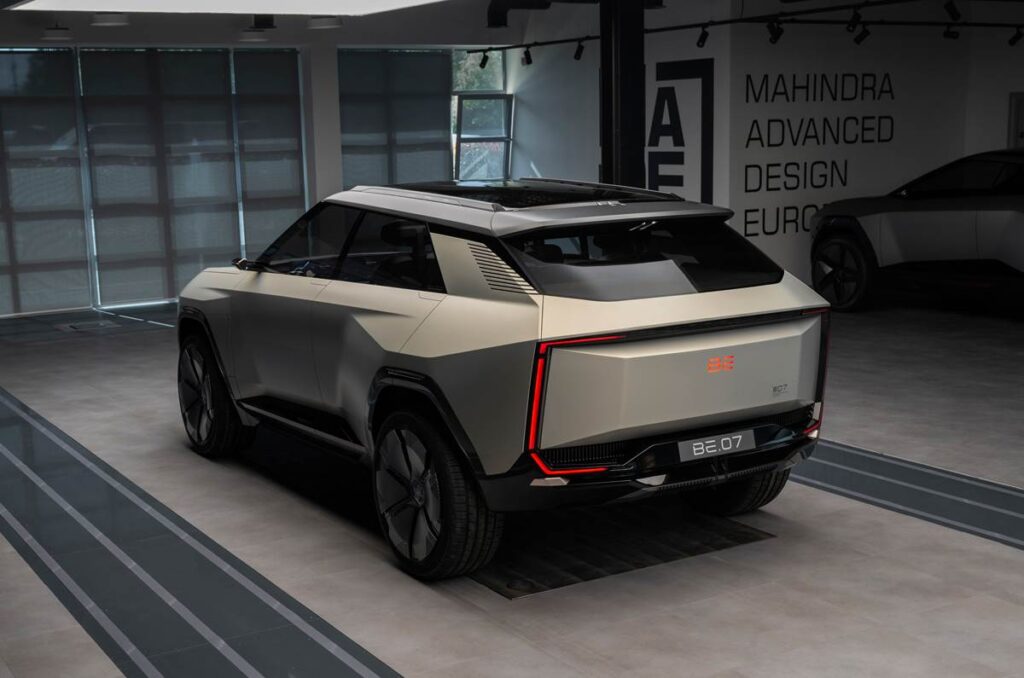 Offering a glimpse into a cabin brimming with cutting-edge technology and pragmatic design, the BE.07 showcases a colossal screen that stretches across the entirety of the dashboard, creating a visually immersive experience.
Another standout feature within the BE.07's interior landscape is the expansive panoramic sunroof, which promises to infuse the cabin with natural light and breathtaking views. An intriguing departure from convention, Mahindra has opted to eliminate physical controls entirely within the BE.07, opting instead for a reliance on touch functionality and haptic feedback, epitomizing a futuristic approach to control and interactivity.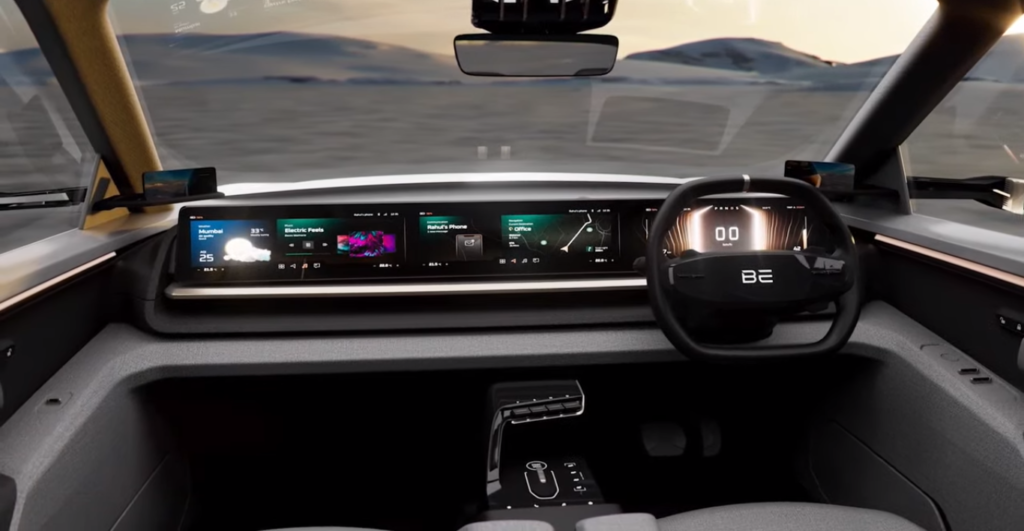 Given its midsize SUV dimensions, it will sit between the current Hyundai Creta and the Mahindra XUV700.
Mahindra BE.09
Launch: To be announced
Dimensions: To be announced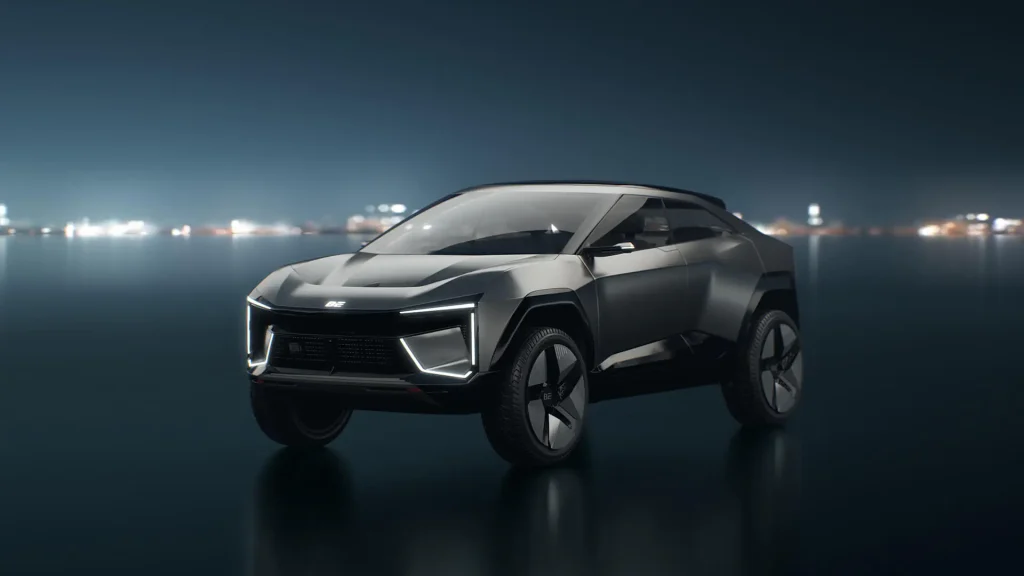 Marking the grand finale within Mahindra's BE series, the BE.09 makes its entrancing debut as yet another coupe-SUV gem. In a parallel fashion to the BE.05, it embodies the captivating coupe-SUV architecture. Nevertheless, Mahindra has chosen to keep the dimensions and anticipated timeline of the BE.09 concept shrouded in anticipation.
A closer inspection hints at the BE.09 potentially emerging as the coupe counterpart of the BE.07, standing proudly at the zenith of the BE lineup. Drawing parallels with the BE.07, it showcases an upright front design, coupled with a striking coupe-like sloping roofline that exudes prominence, outshining even the BE.05. With Mahindra's assertion, the BE.09 promises to accommodate four passengers, adding an extra layer of allure to its mystique.
XUV.e8
Launch: December 2024
Dimensions: L x W x H: 4740 x 1900 x 1760 mm
Wheelbase: 2762 mm
The XUV.e8 will also get an intelligent all-wheel-drive system and from the dimensions, we deduce that this will likely be an electric equivalent of the Mahindra XUV700.
XUV.e9
Launch: April 2025
Dimensions: L x W x H: 4790 x 1905 x 1690 mm
Wheelbase: 2775 mm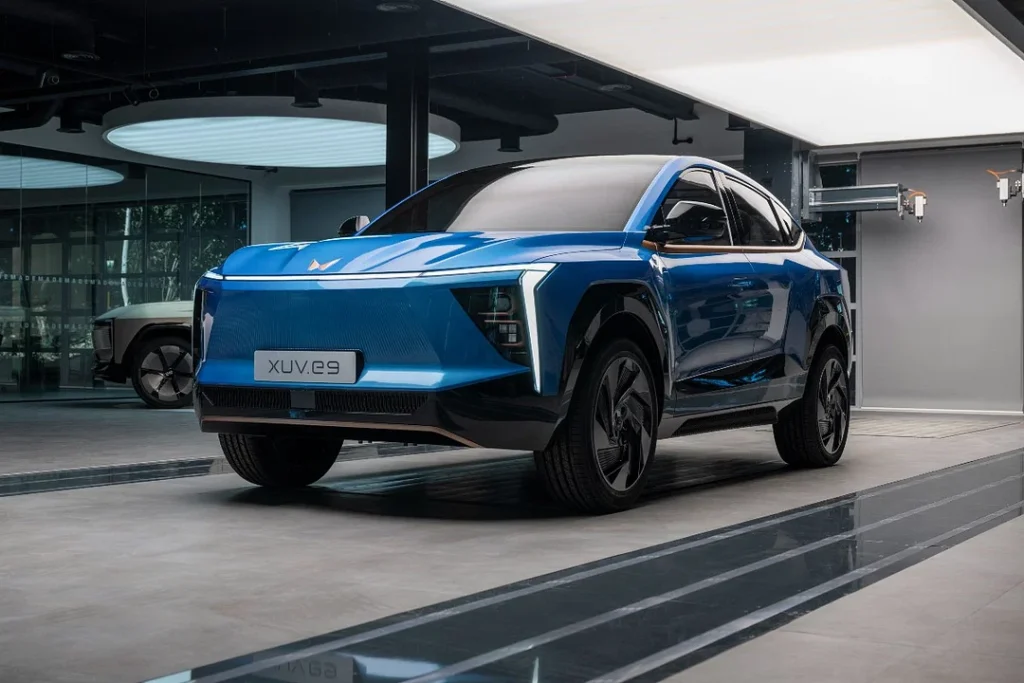 The XUV.e9 is styled along the lines of an SUV-coupe, and it will be getting a panoramic sky roof. By the dimensions, we suspect it will likely be a Toyota Fortuner rival and it will be longer and wider than the XUV.e8.
Mahindra is staging a dazzling comeback in the electrifying realm of electric vehicles. Despite facing fierce competition, they're revving up their engines to take the lead once again. We are all ready to witness an electrifying revolution as Mahindra gears up for a thrilling lineup of electric vehicles that are set to outpace the competition and redefine the EV landscape. The countdown begins because the first of these game-changers is set to roar into the scene by the end of 2024. And trust us, Mahindra is aiming for the stars.