Danish Khan and Neeraj Vyas take up new roles ahead of Sony-ZEE merger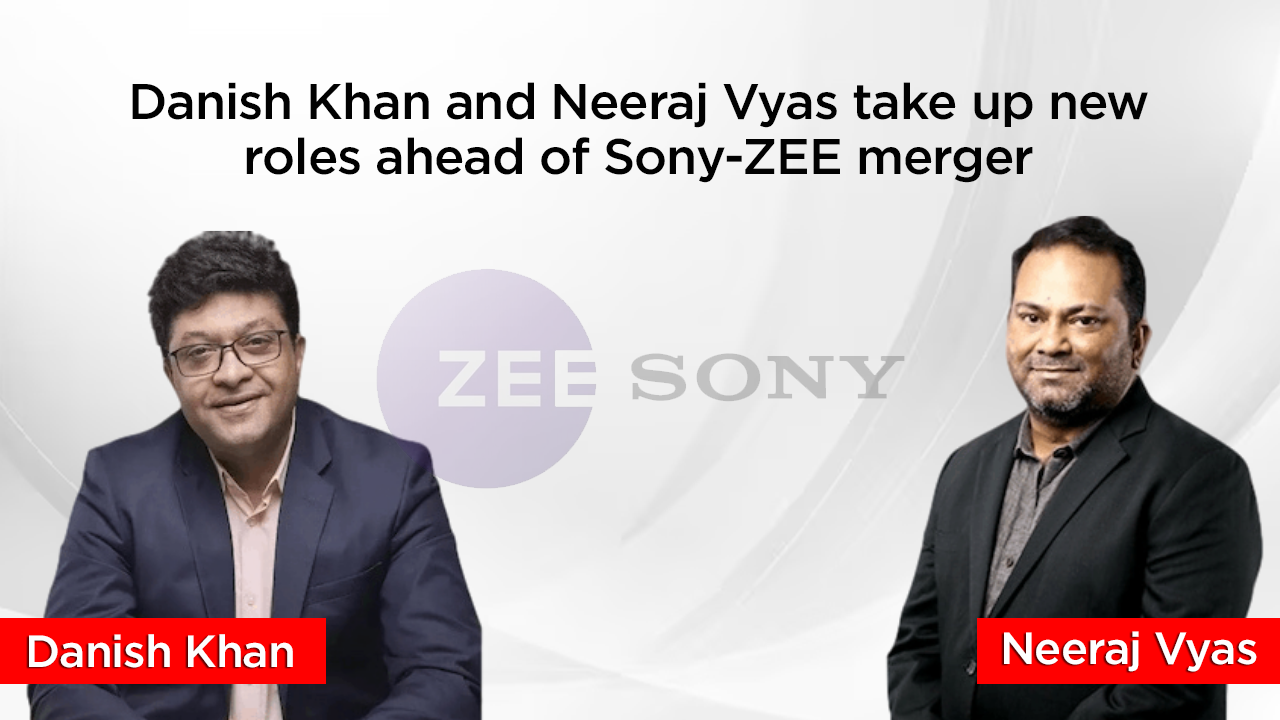 Sony Pictures Networks India (SPNI) has undertaken strategic leadership changes in order to align with its future vision and effectively navigate the dynamic media and entertainment industry.
Under the new structure, Danish Khan will serve as business head for Sony LIV and Studio NEXT, exclusively focusing on digital offerings. Meanwhile, Neeraj Vyas will oversee SPNI's Hindi language entertainment as Business Head for SET, SAB, PAL, and Hindi Movies. These leadership changes will take effect on June 1, 2023.
NP Singh, managing director & CEO, SPNI commented and says, "As we increase our focus on digital and prioritise our DTC (direct-to-consumer) services, I'm excited to share that Danish will lead Sony LIV's growth and oversee Studio NEXT's expansion. Moreover, Neeraj will enhance the value proposition of SPNI's Hindi General Entertainment channels, including Sony Entertainment Television (SET), to drive growth and momentum in Hindi language entertainment. I wish them the best in their endeavours."
Danish Khan, who has had two significant tenures with SPNI accumulating nearly eighteen years of experience, will be instrumental in driving the company's growth. Currently serving as the Business Head for Channel SET, Danish has successfully led Studio NEXT and Sony LIV since 2019, showcasing his exceptional leadership skills and industry expertise.
Danish has achieved remarkable success in the digital business over the last three years following the launch of Sony LIV 2.0. Under his leadership, the top line has grown by more than 300%, and the monthly active users have increased fourfold, making it one of the most impressive turnaround stories in the industry. He aims to expand the digital business's footprint in domestic and international markets to ensure long-term sustainable growth for the network.
Neeraj Vyas, a seasoned veteran of SPNI for over twenty-seven years, will assume a new role as part of these changes. Taking on the responsibility of leading SET's overall business strategy, Neeraj will collaborate closely with the team to further strengthen the brand and expand its market presence.
Neeraj has been instrumental in heading SAB, PAL, and Hindi Movies for the past six years, guiding the movie cluster to maintain a dominant position in the market while driving SAB's exceptional growth with over 200% EBIT and close to 300% topline growth. With his impeccable leadership, SAB has consistently remained among the top three channels in its genre and underwent a remarkable brand reorientation, making it one of the most successful brand transformations in recent times.