ONDC- The new player in the food delivery realm takes on Zomato & Swiggy!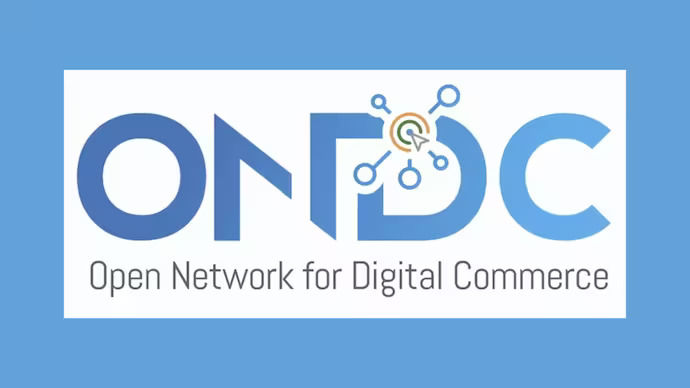 In a dynamic landscape where food consumption patterns are continually evolving, online food delivery giants like Swiggy and Zomato have revolutionized the industry, forming a powerful duopoly. However, amidst this rapidly expanding market, the Indian government has entered the fray with its own platform called Open Network for Digital Commerce (ONDC), aiming to claim its share of the pie.
Since its inception in September 2022, ONDC has garnered significant attention by reportedly surpassing the milestone of processing over 10,000 daily orders. Notably, many users have captured screenshots of their ONDC experiences, comparing prices with those offered by Swiggy and Zomato, revealing that ONDC often provides more cost-effective options.
Zomato and Swiggy have faced criticism for the additional "middleman cut" that drives up prices. Open Network for Digital Commerce or ONDC is all set to change this by cutting down the middleman between the business and the consumer. Although the service is currently available in limited cities like Bengaluru, ONDC is poised to benefit both businesses and customers. However, it is important to note that this convenience may come at the expense of sharing personal information.
Here is an in-depth analysis of ONDC and how it is different from conventional food or grocery delivery services.
What Is ONDC?
ONDC, an initiative empowered by the Government of India, enables restaurants to directly sell their products and services, particularly food, to consumers. However, restaurants are just one facet of this initiative. According to the Press Information Bureau (PIB), it is an initiative aimed at promoting open networks for all aspects of exchange of goods and services (even restaurants) over digital or electronic networks.
With the entrance of numerous private players into the e-commerce arena, ONDC emerged as a government-backed endeavor aiming to enhance accessibility and affordability in the e-commerce space. Its open specifications and network protocols have been meticulously designed to ensure independence from any specific platform(s).
ONDC is not an App
ONDC breaks the mold of traditional apps or services and presents itself as a government-designed platform. Its primary goal is to facilitate the digitalization and connection of businesses with customers.
Within the ONDC platform, there are notable partners such as Paytm, Meesho, Magicpin, Mystore, Craftsvilla, and Spice Money. These partners serve as online storefronts, enabling users to conveniently order food or various other products from businesses listed on the ONDC platform.
When using a payment app like Paytm to place an order for food or a product through the ONDC platform, a small commission is charged, and subsequently, the order is forwarded to the respective business. In contrast to Zomato or Swiggy, Paytm shares all user details with the business, ensuring a more direct relationship.
Brands and businesses have the opportunity to establish their services on the ONDC platform, gaining visibility to customers nationwide. It's important to note that this service extends beyond food or grocery delivery and can encompass various other services, including e-commerce. In fact, it may even present competition to renowned brands like Flipkart and Amazon.
ONDC presents its own set of challenges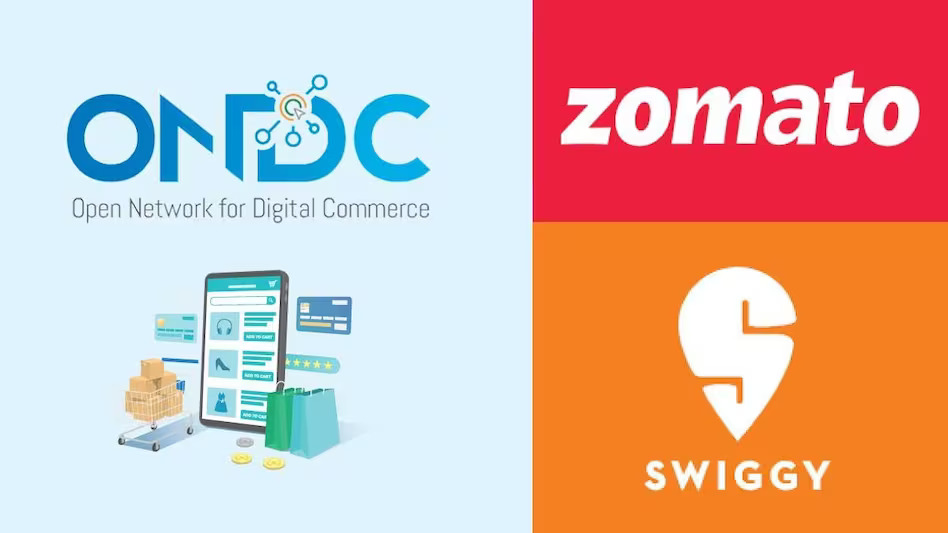 Paytm currently offers a range of ONDC services, including food, groceries, and home decor. While ordering food through Zomato or Swiggy, or groceries via Amazon or Paytm, these platforms rely on their own delivery executives. However, when placing an order through ONDC, the restaurant itself is responsible for dispatching their own runner, which poses certain challenges.
If a restaurant receives multiple orders simultaneously, it may face difficulties in serving all of them promptly. Additionally, unlike Zomato or Swiggy, ONDC does not provide specific details such as estimated delivery time. As per social media posts, ONDC appears to offer more affordable food delivery options compared to Swiggy and Zomato.
Is ONDC a Better Alternative to Swiggy and Zomato?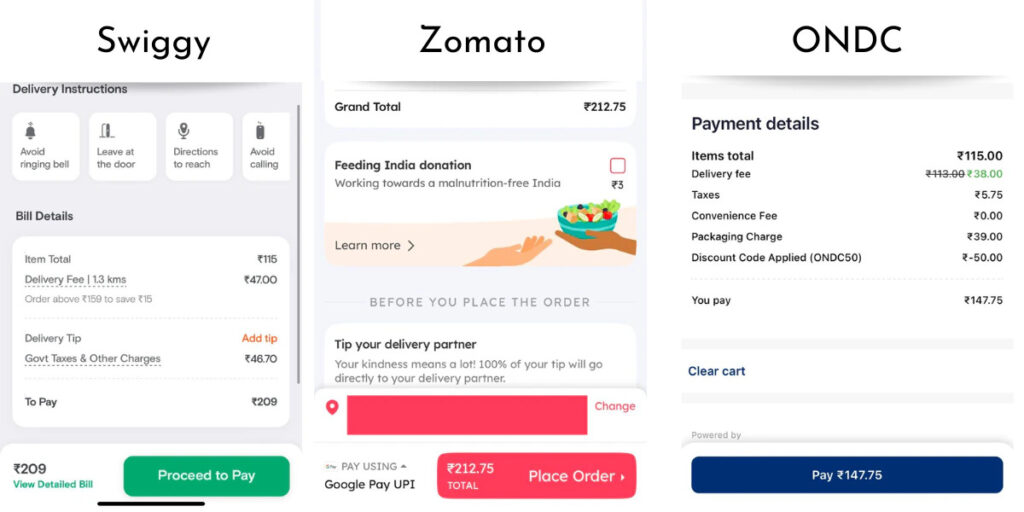 In the realm of online food delivery, both businesses and customers are finding ONDC to be a strong contender against Swiggy and Zomato. Users have reported that when it comes to ordering food online, ONDC offers more cost-effective options compared to Swiggy and Zomato. For example, an order that costs approximately Rs 150 on ONDC may range between Rs 200-215 on the other two platforms.
While it remains to be seen whether ONDC can truly challenge Swiggy and Zomato's dominance, it is undeniably gaining popularity in India's price-sensitive market.
How And Where To Use ONDC?
To use ONDC, one needs to access the UPI platform Paytm. For this, one needs to simply type ONDC in the search bar and then choose the purpose of using ONDC in order to complete the action they have initiated.
For those wondering how to order food via ONDC, please note that for starters, one will have to type ONDC Food on Paytm. Now, one can easily check out the cuisine one wishes to order, choose the restaurant and place the order. It must also be noted that since ONDC is relatively new, many restaurants are still not available on it. However, the scope is expansive.
ONDC is in a nascent state, and it is likely to get better in the coming days.