Air India seals record-breaking aviation deal; 250 Airbus, 220 Boeing aircraft to take to the skies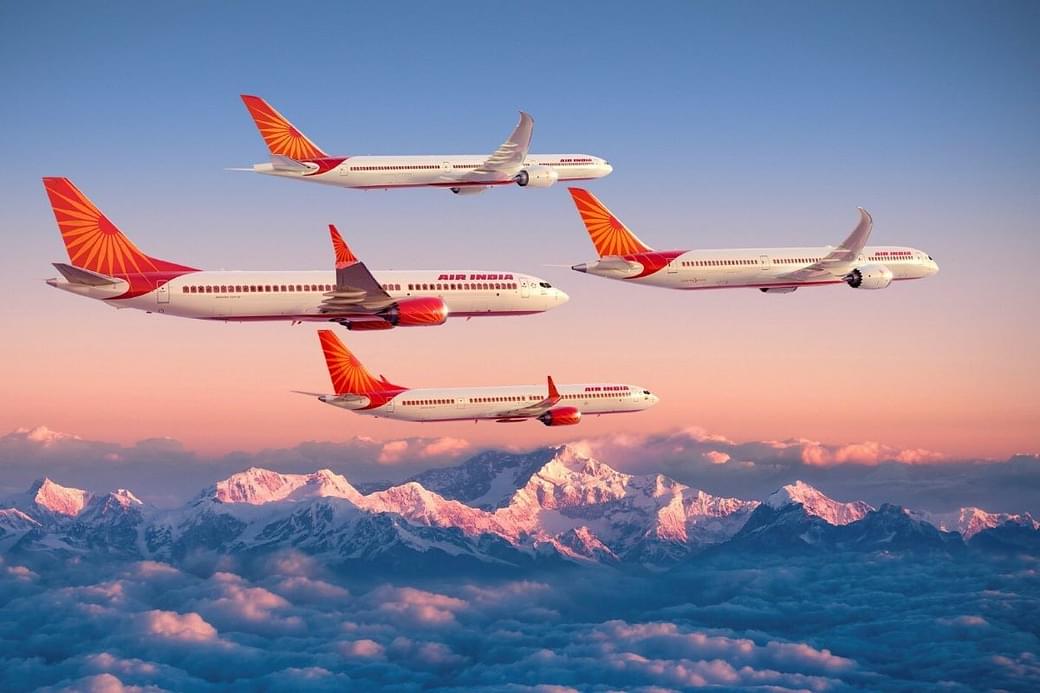 A year after acquiring Air India, Tata Sons has finally unveiled its comprehensive transformation plan to re-establish itself as a world-class global airline with a mega aircraft deal.
Tata Group's Air India Ltd., the flag carrier airline of India, sealed the world's largest-ever single-tranche aircraft purchase, placing an order for 470 planes comprising of 250 from France's Airbus and 220 from American giant Boeing. This underlines the surging demand for taking to the skies in a nation with a burgeoning middle class and upwardly mobile aspirations.
This order is the largest ever placed by the airline and one of the largest in the history of the aviation industry. The deal is worth an estimated $80 billion, making it one of the most significant purchases in India's aviation history.
The announcement comes as Air India aims to expand its fleet and modernize its aging aircraft. The airline has been struggling to compete with low-cost carriers and international airlines, which have a more modern fleet and offer better in-flight services. The new planes will not only help the airline to become more competitive but also help India to become a major hub for international air travel.
The order includes a mix of narrow-body and wide-body planes from Airbus and Boeing. The deal with Boeing includes the purchase of 218 737 MAX planes, while the order with Airbus consists of 321 A320neo and A321neo planes. The order also includes 10 787 Dreamliners from Boeing and 30 A350 planes from Airbus.
The Airbus A320neo and A321neo are fuel-efficient planes that offer a range of up to 7,000 km and 6,850 km respectively.
The Boeing 737 MAX, which has been in the news recently for safety issues, has a range of up to 3,850 km.
The Boeing 787 Dreamliner is a long-range wide-body aircraft that offers a range of up to 14,800 km, while the Airbus A350 is a newer wide-body aircraft with a range of up to 15,000 km.
Air India has a long history with both manufacturers, having operated both Airbus and Boeing planes in its fleet for many years. The airline currently has a fleet of over 120 aircraft, including Airbus A320s, A321s, A330s, and Boeing 747s, 777s, and 787s. The new planes will not only replace the older aircraft but also help to expand the airline's capacity and reach.
'Landmark deal', says PM Modi
"India is going to be the world's third-largest market in the aviation sector," Modi said. Over the next 15 years, it's estimated that India will need more than 2,000 aircraft and "today's historic announcement will help in meeting this growing demand," he said.
Joe Biden hails the multi-billion dollar deal
"I am proud to announce today the purchase of over 200 American-made aircraft through a historic agreement between Air India and Boeing. This purchase will support over one million American jobs across 44 states, and many will not require a four-year college degree," US President Joe Biden said in a statement issued by the White House.
Both PM Modi and President Biden welcomed the announcement of the landmark agreement between Air India and Boeing as a "shining example of mutually beneficial cooperation that will help create new employment opportunities in both the countries."
Macron calls it a 'milestone'
France President Emmanuel Macron called the deal a "new success" in the strategic partnership between India and France and an opportunity to "develop new areas of cooperation with India."
PM Narendra Modi and Macron applauded the deal, with both saying it's a sign of the strengthening "strategic partnership" between their countries.
"It is a historic moment for Airbus to help script Air India's revival," Airbus chief executive Guillaume Faury said in a virtual event held to announce the partnership that was attended by Prime Minister Narendra Modi, Ratan Tata, French President Emmanuel Macron, and other leaders.
Industry reaction
The announcement of the massive order has been met with mixed reactions from industry experts. Some analysts have praised the move, calling it a much-needed step towards modernizing the airline's fleet and improving its competitiveness.
Others, however, have raised concerns about the financial viability of the deal, given the airline's struggling financial situation. Air India is currently heavily in debt, and the purchase of such a large number of planes is a significant investment that may not yield immediate returns.
Despite the concerns, the purchase of a massive 470 aircraft is a significant move for Air India and for India's aviation industry. The move will help to position India as a major hub for air travel and provide a much-needed boost to the country's economy. The new planes will not only help to improve the airline's competitiveness but also provide a more comfortable and modern flying experience for passengers.
Tata Sons, India's oldest and largest conglomerate, regained ownership of the debt-laden national carrier last year. The Tata Group pioneered commercial aviation in India when it launched the airline in 1932. It was taken over by the government in 1953.
Since re-acquiring the airline, Tata sons have been continuously making attempts to re-establish Air India as a world-class carrier and is expected to win back some of the market share it has lost over the years to Gulf and western airlines.
Tata is also integrating Air India with Vistara, which it jointly runs with Singapore Airlines, and with Air Asia India, which it runs with Malaysian discount operator Air Asia. This move will have major ramifications for India's aviation industry, which has seen a sharp recovery post pandemic, as domestic traffic grew by 48.9% year-on-year according to government figures, with more than 122 million Indians taking internal flights in December 2022.
Globally too, this could be a trigger for growth, with domestic carriers expected to place orders for 1,500-1,700 aircraft over the next two years according to Centre for Asia Pacific Aviation India (CAPA India) estimates. Clearly, these are exciting times for Indian aviation, with goof times on the radar.