Will Brahmastra Part One: Shiva help multiplexes like PVR and Inox survive in a season of flops?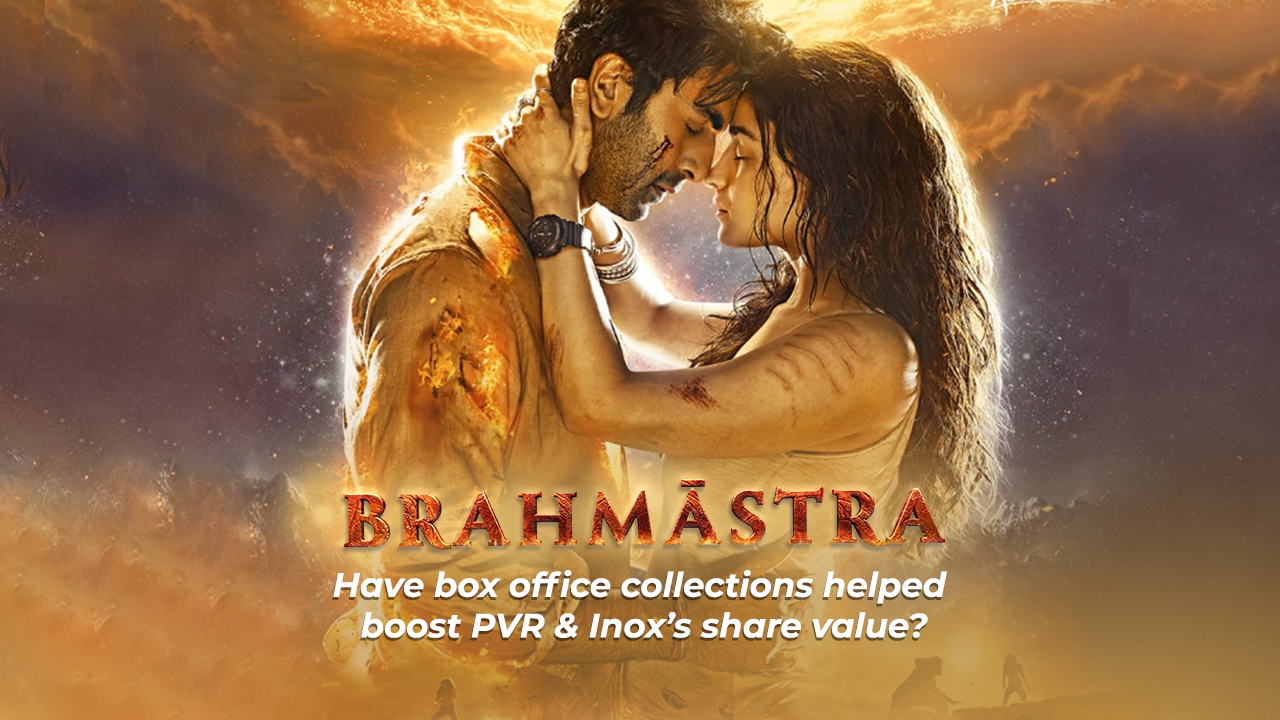 Brahmastra – Part One: Shiva, is touted to be an experience for Indian cinema lovers – solely because there has been nothing like it in Indian cinema. This anticipation among audiences has only further deepened the likelihood of people actually going to theatres to enjoy the film rather than waiting for its OTT release. We look at how Brahmastra – Part One: Shiva's release has helped multiplexes like PVR and Inox earn higher profits, as their shares have also seen an increase in price.

Last Friday, 9th September 2022 saw the release of one of India's most anticipated films in recent times. Originally slated for a release in 2017, the film was delayed multiple times for multiple reasons. It finally saw the light of the day, and the anticipation that had been held in for so long was visible.

Pre-bookings thrived, as Brahmastra – a Part One: Shiva crossed Kartik Aaryan's Bhool Bhulaiya 2's previously secured mark. Everyone was curious to see what was so different about this Ranbir Kapoor-Alia Bhatt starrer, that hadn't been seen before.

Earlier this year, several other films with big celebrity names did not deliver at the box office. Some of these include Aamir Khan's adaptation of Forrest Gump – Laal Singh Chaddha and Yashraj Films' Shamshera. Failures like these took a severe hit on multiplex majors, as they saw their profits dwindle. Among these were big names like PVR and INOX that generally see a huge crowd of cinema lovers coming their way.

But if a film is not enjoyable, why would people go to watch it anyway?

Many feared that something similar would happen with Brahmastra, considering its idea itself was so different. Moreover, there was huge speculation on whether Ayan Mukherjee would be able to deliver the vision he had and the visual spectacle he had promised the audiences.

With the release of three songs before the film, special cameos by south superstar Nagarjuna and king khan, Shah Rukh Khan – there was a lot of buzz around the film. This might be one of the reasons the film crossed the anticipated pre-booking mark.

Over its first weekend itself, the film was able to cross the 100-crore mark at the box office. The movie collected Rs 31.5 crore on Friday, Rs 37.5 crore on Saturday, and Rs 39.5 crore on Sunday, as per film critic and trade analyst Taran Adarsh.

Keep in mind that despite a growing buzz and a lot of public uproars there was a call to boycott the film by a certain group of activists. While such calls generally tend to affect the overall performance of the film, fate seems to have played a different role when it came to Brahmastra – Part One: Shiva.

Shares of PVR gained as much as 4.06 percent or Rs 74.45 to trade at Rs 1,908.60. During intra-day trades, the shares hit a high of Rs 1,926.20. Inox Leisure saw its shares surge more than 4.5 percent or Rs 22.55 to trade at Rs 516.95. On Friday, shares of PVR had slumped 5.27 percent to settle at Rs 1,834.15, while Inox Leisure had declined nearly 5 percent close at Rs 494.40.

Brahmastra – Part One: Shiva, traces the story of a young man named Shiva who has a divine, powerful connection that he is yet to discover. Through the course of the film, we are introduced to several 'Astras' or weapons that together protect the most powerful 'Astra' – Brahmastra. Apart from Ranbir Kapoor and Alia Bhatt, the film also stars Amitabh Bachchan and Mouni Roy in pivotal roles. Nagarjuna and Shah Rukh Khan play cameos that will further incite the audiences' interests.

The film has been receiving a wide range of reviews. Several have found the VFX the best Bollywood has ever seen but have complained about the film's screenplay and dialogues.
Directed by Ayan Mukerji this is his third directorial venture, the first two being Wake Up Sid and Yeh Jawaani Hai Deewani. Both Wake Up Sid and Yeh Jawaani Hai Deewani were critically acclaimed for their underlying thoughts that connected with the audiences, which only made Brahmastra even more exciting.

Brahmastra – Part One: Shiva, has been released in several languages – Hindi, Telugu, Kannada, and Malayalam in 2D, 3D, and 3D Imax. Those who have seen this film emphasize that watching it in 3D is a treat to the eyes. It has been produced under the label of Dharma Productions, Prime Focus and Starlight Pictures and Karan Johar, Apoorva Mehta, Namit Malhotra, and Ayaan Mukherji himself. This is also Ayan Mukerji's first-ever production. The film has been produced with an elaborate budget of over 400 Crore. Filmmaker SS Rajamouli and actor Dhanush served as presenters for the film's South Indian versions. Those who have seen this film emphasize that watching it in 3D is a treat to the eyes.

Few know that the film was initially titled Dragon but was later renamed Brahmastra. The film's first look was its logo reveal, during the Kumbh Mela. 150 drones were used to replicate the logo in the sky overlooking the river. The entire film fraternity has raved about the experience of watching Brahmastra – Part One: Shiva, because as many have reiterated there has been no such film ever in Indian cinema. It is definitely a visual spectacle that grows onto you as you delve deeper into the film.

Ranbir Kapoor plays Shiva, who is in love with Alia Bhatt's character Isha. Shiva struggles to understand his relationship with fire, which slowly unfolds as he meets people who explain parts of the puzzle to him. The film also happens to be the first-time fans will watch recently betrothed Ranbir Kapoor and Alia Bhatt, as this is their official debut as a couple on the big screen.

With great reviews pouring in and the film gaining raging numbers at the box office, multiplexes and cinema halls can be prepared to see their profits surge further in the coming days.