A DEPARTURE THAT GOT US THINKING -CYRUS MISTRY'S DEATH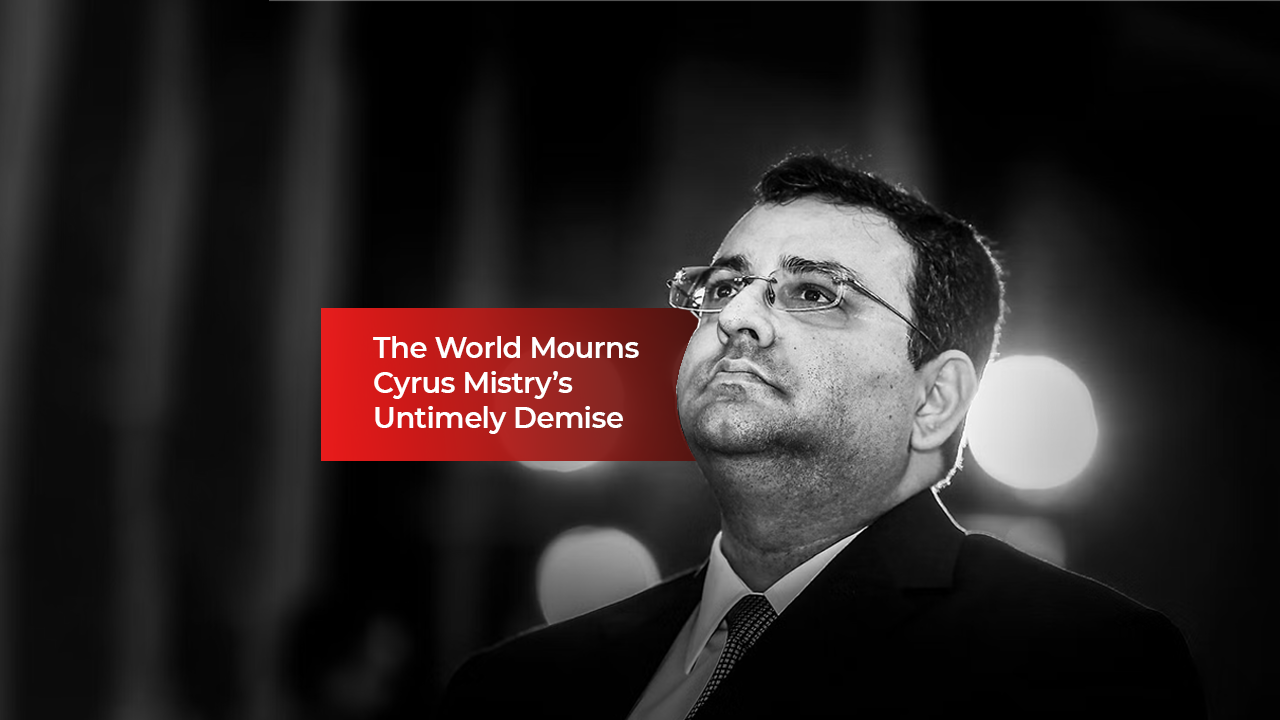 IT IS ONLY WHEN YOU'VE HAD AN IMPACT ON THE LIVES OF PEOPLE THAT YOU'RE REMEMBERED BEYOND LIFE. AND FOR CYRUS MISTRY THAT IS EVEN TRUER, CONSIDERING THE DEBATE AROUND IMPORTANCE OF SEAT BELTS THAT HIS DEATH SPARKED. WE LOOK AT IT ALL IN DETAIL HERE.

To be praised when you're alive is great, that means your work is worth appreciating. But to be remembered for posterity is a graceful blessing. It's a testament of your time on Earth and vouches for your character beyond the uncertain devil death.

An otherwise normal Sunday afternoon was struck by gloom with the news of former Tata Sons' Chairman Cyrus Mistry's death in a car crash. He was one of the four passengers travelling in a Mercedes GLC 220d 4MATIC when the car hit a divider in the Palghar district of Maharashtra. Both Cyrus and Jahangir Pandole were in the back seat and succumbed to their injuries, while Anahita Pandole who was at the wheel with her husband Darius Pandole in the rear seat suffered injuries and were admitted to a private hospital. The business magnate was cremated on Tuesday at an electric crematorium in Worli, Mumbai.

An investigation was launched into the death and accident and Luxury automaker Mercedes Benz have maintained that they are cooperating with the required authorities. In a statement to the media the auto brand said, "As a responsible brand respecting customer privacy, our team is cooperating with the authorities where possible, and we will provide any clarifications to them directly as required."

The German brand also assured that their team was dedicated to equipping their vehicles with latest safety features and technologies, while making continued efforts to increase road safety awareness.

They also expressed their condolences for Cyrus and Jehangir's deaths while wishing Anahita and Darius a speedy recovery. They said, "We are deeply saddened by the untimely demise of Cyrus Mistry and Jehangir Pandole in the unfortunate road accident. At the same time, we are glad to learn that Anahita Pandole and Darius Pandole are recovering. We wish them a speedy recovery."

When PTI spoke to the investigating officer Sanjay Mohite, he highlighted details that will be looked into through the course of the investigation. Parameters like the 'car's tyre pressure' and 'brake fluid level' are some that could have caused the accident to be fatal.

Even after four days since the tragedy, conversations about the accident are still all over the place. It is mysterious to know that a vehicle like the 2017 GLC 220d 4MATIC that has 7 airbags for safety lead to the death of two passengers on the back seat. The car also comes with a 'pre-safe system' front seat belts can be electrically pretensioned in hazardous situations.

A preliminary probe has revealed that the victims weren't wearing their seatbelts, which lays emphasis on the importance of seatbelts even if you're sitting in the back. When quizzed about the accident, Union Minister for Road Transport and Highways said that he will formally make it compulsory to wear seatbelts for all passengers – even in the ones sitting in the back.

In his words, "After the death of Cyrus Mistry, today the government has taken a big decision for the safety of the backseat passengers. A seat belt is required for the back seat. He also added that any defaulters will be levied a fine and an order will be implemented within 3 days.

It's interesting that this rule and Mistry's death comes at a time when cars and their technologies are progressing towards safer and less hazardous travel. The Global NCAP crash tests have awarded marvellous ratings to the Tata Punch, Mahindra 700, Tata Nexon among several others. It probably boils down to the fact that the minimal details are important – just like wearing a seatbelt.

You can't complain you don't like a minister, if you've never voted. Similarly, you can't say your car isn't safe enough, if you chose to opt out of wearing a seatbelt.
Mistry's death has also left a sudden void in the world of business tycoons that knew his family and himself.

Reactions came in from the Tata group that expressed their deep grief on the incident. "I am deeply saddened by the sudden and untimely demise of Mr Cyrus Mistry. He had a passion for life, and it is really tragic that he passed away at such a young age," said the current chairman N. Chandrasekaran in a statement.

Finance minister Nirmala Sitharaman also offered her condolences to his friends and family. "Shri Cyrus Mistry's death comes as a shock. He was committed to carrying forward and strengthening his business in infra and infra projects. He desired to keep contributing to India's economic progress. Condolences to his family and friends," she tweeted after his death.

Minister of Commerce & Industry, Consumer Affairs & Food & Public Distribution and Textiles, Goyal also tweeted to share his grief in these difficult times. He said, "Deeply anguished & shocked by the sudden passing away of Cyrus Mistry. Indian industry has lost one of its shining stars whose contributions to India's economic progress will always be remembered."

The richest Indian Gautam Adani also said, "Shocked and saddened to hear of the passing of Cyrus Mistry. One of the finest gentlemen I have known, he was one of the best business minds of his generation. It is a tragic loss. He was called away too soon. My thoughts and prayers are with his family. Om Shanti."

The grief was shared amongst all of the twitterati and words of assurance and condolence kept pouring in from business magnates, contemporary businesses and ministers.

Only those who've lived their life with benevolence and grace, are revered after their passing. It is no understatement that this is true for Cyrus Mistry. Born into a Parsi Business family, Cyrus made his way through a world of moguls before rising to the position of Tata Sons' his chairman – the epitome of his career.

Survived by a wife and two sons, the grief shared amongst the family is unimaginable and we pass our heartfelt condolences to them. We hope the words of praise and greatness from peers in the industry, businesses themselves and ministers will help them understand what a great life Mistry lived. Surely, his role as a husband and father cannot be replace, but some relief in trying times might come from words of hope that we share with the family.