Rashmika Mandanna Turns Investor With A Vegan Skincare Brand, Plum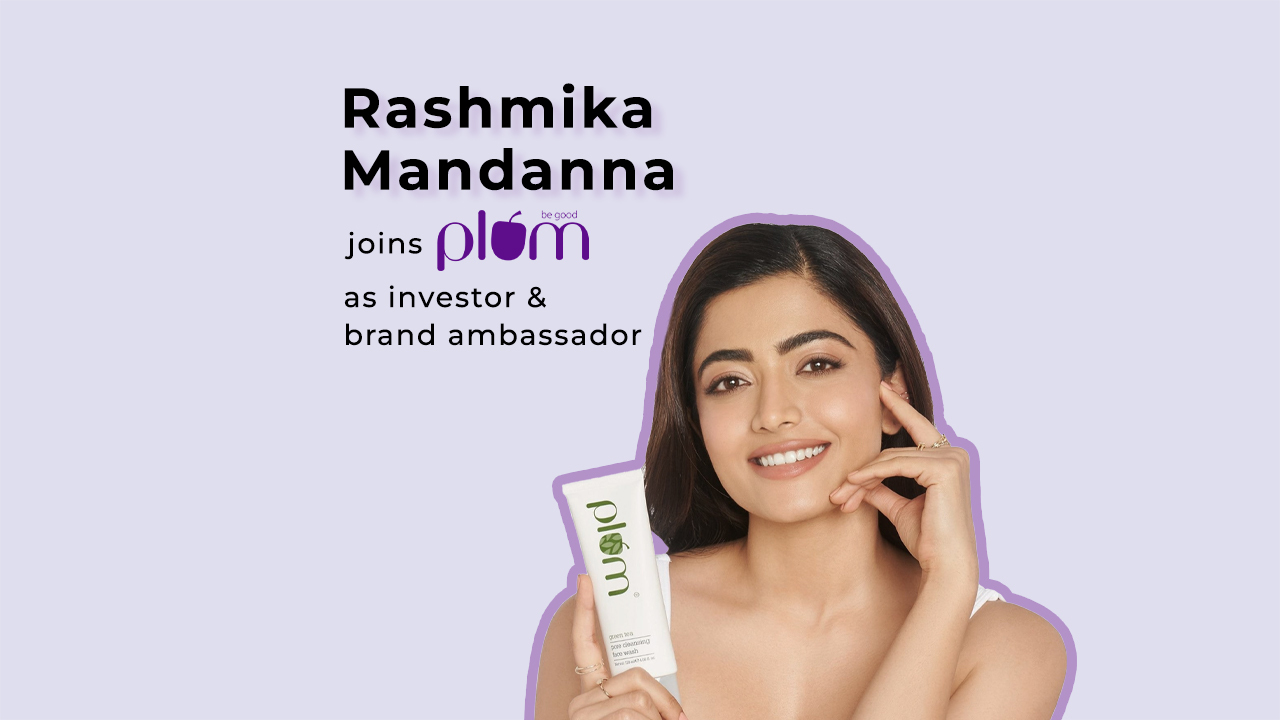 Rashmika Mandanna, the Indian actor, joins Plum, India's top cruelty-free, vegan, and toxic-free cosmetics and personal care business, as an investor, brand ambassador, and supporter. This collaboration between a well-known actor from Pushpa: The Rise and one of the fastest-growing personal care and beauty brands is anticipated to further Plum's status as a fan favorite and open up new channels for client acquisition, particularly with Indian Gen Z and millennial audiences.
A strong leadership & investor team focused on creating value for People, the Planet, and Profit-Sharing Participants has helped Plum grow 15 times since its first investment round in late 2018. Thanks to its high-quality product ranges, endearing brand personality, and robust Omni-channel presence, it continues to be one of the new-age beauty industry's fastest-growing brands. In addition to being among the top brands on important eCommerce sites like Amazon, Flipkart, Nykaa, and Purplle, the brand is currently offered in over 250 Indian towns and cities through over 10,000 unassisted and over 1,000 assisted retail shops, with monthly growth.
The brand is currently well-liked across platforms and categories, including skin, hair, body, men's care, and now makeup, enhancing its potential for domination in the quickly expanding clean beauty goods industry. Plum's objective is to quadruple its existing ARR over the following 12 months, which is INR 300 crores on a net revenue basis. The company intends to increase both its online and offline visibility across India, scale up manufacturing, introduce fresh new goods, and hire top talent for its leadership team.
Thrilled about this new collaboration, "Plum has been one of my favorite brands because it does what it says," Rashmika Mandanna continued. I'm thrilled to represent and join as an investor a company that is devoted to bringing genuine compassion to the world we live in. Over the past several years, Plum has experienced astounding growth, and I have no doubt that in the near future, the company will overtake all other vegan brands as the "go-to" one. With our hectic lives, exposure to the sun, and pollution, Plum makes the straightforward products that our skincare actually needs right now. I have personally been utilizing Plum's goods and I am in love. I can't wait to spread some skincare joy and kindness into everyone's homes!
Shankar Prasad, CEO and Founder of Plum, commented on the news, saying, "We are thrilled to have Rashmika on board as we look forward to cementing our brand link with consumers. With her genuine, friendly persona, she is a well-known young idol and suits Plum's brand ethos well. This partnership represents a significant turning point in Plum's development as a beloved brand that promotes keeping things nice, clean, and real.