Who has received the Padma Awards in the field of business in 2022?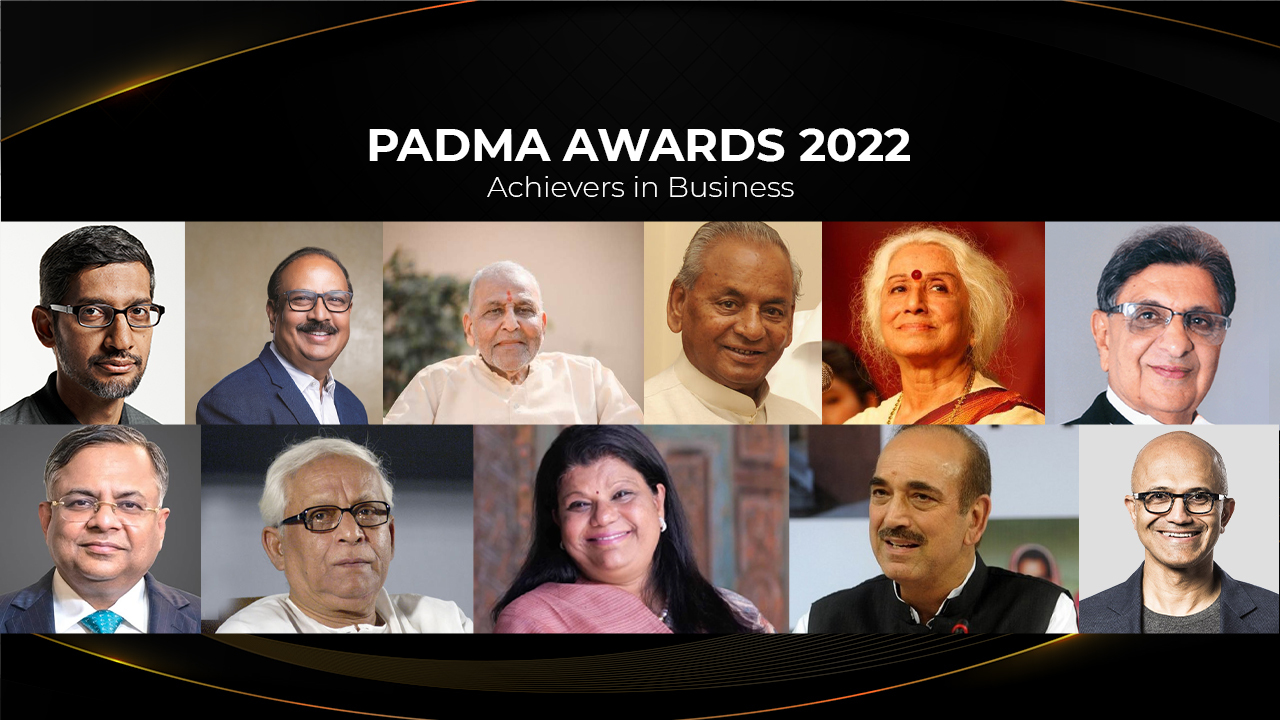 President Ram Nath Kovind announced the list of Padma award winners on January 25, ahead of Republic Day celebrations.
While India's first Chief of Defence Staff, General Bipin Rawat, will receive the Padma Vibhushan — India's second-highest civilian award — Bharat Biotech's Chairman posthumously Krishna Ella and his wife and co-founder Suchitra Ella will receive the Padma Bhushan.
N Chandrasekaran of Tata Sons – Chandrasekaran is also the chairman of Tata Consultancy Services (TCS), India's second-largest company in terms of market capitalization, after Reliance Industries Ltd. (RIL). The Tata Group has acquired Air India under his leadership, and the country's largest conglomerate is poised to become a major player in the aviation industry.
Cyrus Poonawalla of Serum Institute – He joins a list of other veterans from science and business who have been recognized.
The founder and chairman of the Poonawalla Group, which includes the Serum Institute of India, is Dr. Cyrus Poonawalla. The Serum is India's top biotech company and the world's largest vaccine manufacturer (more than 1.3 billion doses).
Satya Nadella of Microsoft – Microsoft's chairman and Chief Executive Officer (CEO) joined the company in 1992. He held executive positions in the company's enterprise and consumer businesses, before being named CEO in February 2014.
Sundar Pichai of Alphabet – Sundar Pichai, or Pichai Sundararajan, is an Indian-born American business executive. He is the founder and CEO of Alphabet Inc. and its subsidiary Google. Pichai was born in Madras, India, and received his metallurgical engineering degree from IIT Kharagpur.
All of these eminent individuals will receive the Padma Bhusan. They were given the award in "trade and industry."
Ghulam Nabi Azad, a Congress leader, will receive the Padma Bhushan, a former West Bengal Chief Minister Buddhadeb Bhattacharjee. The earlier Chief Minister of Uttar Pradesh, Kalyan Singh, will be awarded the Padma Vibhushan.
Vocalist Prabha Atre and late Radheshyam Khemka, the President of Gita Press, are among those who have received the Padma Vibhushan.
The Padma awards are distinguished by Padma Vibhushan, Padma Bhushan, and Padma Shri. The awards are given in various disciplines/activities, including art, social work, public affairs, science and engineering, trade and industry, medicine, literature and education, sports, and civil service, to name a few.
The Padma Vibhushan is given exceptional and distinguished service. In contrast, the Padma Bhushan is given for exceptional performance of high order, and the Padma Shri is appreciated for distinguished service in any field. Every year, at the event of Republic Day, the awards are presented. They are given out by the President of India at celebratory functions held at the Rashtrapati Bhawan every year around March/April.
The President has approved the presentation of 128 Padma Awards this year, including two pair cases. There are four Padma Vibhushan awards, 17 Padma Bhushan awards, and 107 Padma Shri awards (including Olympic gold medalist Neeraj Chopra and Bollywood playback singer Sonu Nigam).