Ramesh Babu: A Story Of Rags to Riches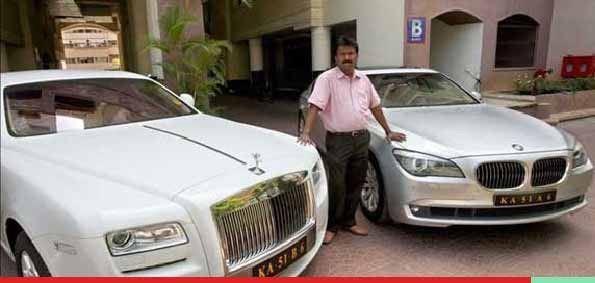 Some people are born billionaires, some have to work hard and stay dedicated to achieve their dreams. In the latter case, the stories of how they rise from nothing are inspirational and truly spark a sense of respect in the eyes of the people.
One such story is of Mr. Ramesh Babu. This barber who came from nothing is now a billionaire in India who owns a series of cars including a Rolls Royce. From a rental car business to owning 75 high-end luxury cars, Ramesh Babu's story is truly inspiring.
The Rough Start
Ramesh Babu was born in an extremely poor family. His father was a barber. However, tragedy struck when Ramesh's father passed away when he was just 7 years old.
To make ends meet, Ramesh's mother began working as a maid in houses. The family business was a barbershop. Babu's uncle took over the store after the death of his father.
During his pre-university days, Babu decided to take over the saloon while continuing his education to help his mother run the home.
The idea that turned Ramesh Babu's world upside-down
In 1993, Ramesh Babu decided to buy a second-hand Maruti van. Settling the loan was a big deal and this was when Ramesh was blessed with an idea to rent the car out to earn some extra money
After this, Ramesh began taking the rental business extremely seriously and he started adding more cars to his business. By 2004, he had six cars. However, the competition in the market was high and Ramesh had to think big. This is when he decided to move into luxury cars.
Ramesh Babu: The Barber with a Rolls Royce
In 2011, Ramesh Babu hit the peak of his business. He bought his very own Rolls Royce in 2011. A lot of people warned him about the risks and the possible downfall of all his income as he purchased an extremely expensive car. However, Ramesh Babu kept his head high and his feet on the ground, he believed in himself and moved forward with his business.
Mr. Babu has plans for the future but it all depends on planning and how the organization decides to pay the road taxes. Ramesh Babu was also a part of a TED Talk where he gave students and budding entrepreneurs some great advice on how to start and stick to a business plan.