Tongawala to Masala King: How a School Dropout Became the Crorepati face of MDH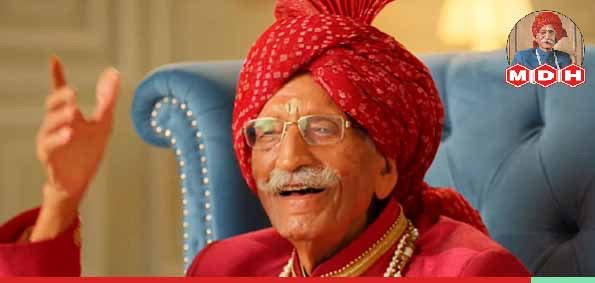 Almost a century ago, a man without a college diploma or a team to advise him took a major call for his then-fledgling business; he inserted his own photo on the cover. Thanks to an aggressive but simple ad campaign, Dharampal Gulati's MDH masala business grew by leaps and bounds.
Mahashay Chunni Lal Gulati formed MDH, short for 'Mahashian Di Hatti,' a century ago, in undivided India's Sialkot district. Gulati worked tirelessly over the years to grow his little family firm into a multi-billion-dollar conglomerate that promised only one thing: fragrant Indian spices that tickle the senses. They have eight lakh retail dealers and 1,000 wholesalers and export to over a hundred countries. In 2017, this FMCG company raked in Rs 924 crore in sales.
The Beginnings of a Class 5 Dropout
Gulati grew up in a modest household in Sialkot, Pakistan, where he was born in 1923 to Mahashay Chunnilal and Mata Chanan Devi. He got out of school in fifth grade and went into business with his father, selling mirrors and then soaps. As a teenager, he had an experience that shaped his future consumer-centric outlook.
Gulati Deggi Mirch's family was forced to leave everything behind and go to Delhi overnight during Partition. He bought a tonga for Rs. 650 and began ferrying passengers for two annas from New Delhi Railway Station to Qutab Road and Karol Bagh. The father-son team also ran a spice shop called Mahashian Di Hatti and was known as 'Deggi Mirch Wale' for a short time.
So he sold his tonga and went to Ajmal Khan Road in Karol Bagh to buy a little wooden khokha (store). The Mahashian Di Hatti of Sialkot's Deggi Mirch Wale banner was raised once more. He and his younger brother, Sat Pal, made a name for themselves through word of mouth and local advertisements. The brothers launched further businesses in locations like Khari Baoli, estimating the market potential of spices in India. In 1953, they also opened the first modern spice store in Delhi.
What Makes MDH Unique?
They used cardboard packaging that read, "Hygienic, Flavorful, and Tasty." Surprisingly, the packaging has remained largely unchanged over the years, with a few exceptions.
Gulati, the founder of MDH, made sure that the taste and quality of the masalas remained consistent. There are no artificial colours or preservatives in MDH's masalas. Clove, mustard, and curry leaves are already included in the MDH designed mixture masalas. They also have quality control laboratories that inspect their items for compliance with quality standards.
Retaining Flavor and Position in the Market
Most corporations would increase the value of their products after acquiring notoriety in India and overseas, but not this spice behemoth. It hasn't strayed from its primary idea of reasonable pricing. MDH has also not been afraid to embrace change, creating unique flavours such as MDH Chunky Chat, Biryani Masala, and Amchoor Powder. Variety is the spice of life.
What began as a need to progressively overcome financial hardship grew into a large spice business with admirers all over the world, and a timeless brand for the ages.