From Rs. 80 to Rs. 1,600 Crore: The 7 women behind Lijjat Papad's rise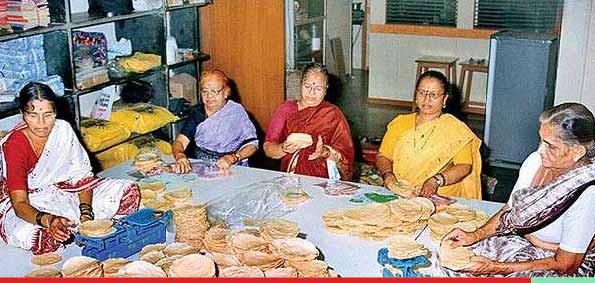 The Khurram Kharram jingle was one of the most memorable jingles of the 90s' when television sets were just beginning to make their way into Indian homes.
With a meagre loan of Rs. 80, Lijjat Papad was founded by seven Gujarati housewives. It later developed enormously to a firm worth Rs.1,600 crores. Ingredients like urad chillies, garlic, moong, Punjabi masala, pepper, and jeera are just some of the mouth watering flavours on offer.
Lijjat Papad packets provide a sense of security and reliability. Aside from its customers, the business has made an indelible imprint as a proud swadeshi enterprise that has changed the lives of thousands of people. In more ways than one, this papad brand has managed to become a silent yet essential part of everyone's life.
How It All began
It was summer in Bombay (now Mumbai) in 1959, and seven women were feverishly talking to each other on a terrace. The goal of the informal gathering was to alleviate financial hardship on their separate families by establishing a source of income. They decided to rely on their culinary skills to make papad in the hopes of securing a steady livelihood.
Jaswantiben Popat, Jayaben Vithalani, Parvatiben Thodani, Ujamben Kundalia, Banuben Tanna, Chutadben Gawade, and Laguben Gokani marched to the local market to sell papads and to start the process. "We realised we could utilise our papad-making expertise to make little amounts of money to help our husbands lessen their financial responsibilities," Jaswantiben explains. Purushottam Damodar Dattani was their tutor, and he sold the products from one shop to the next before selling them to a local retailer.
According to Jaswantiben, they sold one kilo on the first day and made eight annas. Dattaniji spent an entire day at their shop, selling all of the packets in a matter of hours. The team grew to 200 people in the next three to four months, and the co-operative opened its second location in Wadala. The annual sales reached Rs 6,000, which was a significant sum in 1959.
Chhaganlal Karamsi Parekh, who also served as their guru, loaned the seven sisters' money. He was a well-known social worker who participated in a number of relief efforts, including the earthquakes in Assam and Kutch in the 1950s. It was time for the founders to seek official recognition. The Bombay Public Trusts Act, 1950, and the Societies Registration Act, 1860, were used to register them as a Society in 1966.
Lijjat opened its first branch outside of Maharashtra in Valod, Gujarat, in 1968. The pan-India venture now has 82 subsidiaries and exports to 15 nations, over 62 years later. This papad business grew in popularity because of its consistency in taste and quality. The institution also sells masalas, gehu atta (wheat flour), and chapatis in addition to its star product.
The secret behind its consistency in taste & quality
The taste of raw materials varies by state due to climatic conditions, terrain, water quality, and other factors. While urad dal (a lentil type) is from Myanmar, asafoetida (hing) is from Afghanistan, and black pepper is from Kerala. Hing, a common component in Indian cuisine, is meticulously sifted and crushed into powder. In the second round, the powder is filtered through a channi (sieve) and the residue is ground.
The flour is mixed with hing and pepper powder, and saltwater is made in the last phase. The dough is then made and distributed among the workers. To ensure that papads from all regions are the same size, everyone is given a common base and rolling pin. Finally, the items are examined and coded in a Mumbai laboratory.
Women empowerment
Lijjat Papad was a master of 'work from home' long before it became a popular way of working. One of the main reasons behind this was to provide financial independence to women without asking them to leave their homes. This option allowed a stay-at-home mom to provide for her family while also earning money. The overall supervision is overseen by the Central Managing Committee in Mumbai, which has a staff of 21 people.
The Shri Mahila Griha Udyog Lijjat Papad (SMGULP) movement displays Indian women's true strength. It's no surprise that mass production by machine-operated systems is a no-no. The co-operative ensures a steady livelihood by not replacing women with technology. "Self-reliance is crucial, but so are self-empowerment and self-dignity," argues prominent scientist Raghunath Mashelkar.
Every ben, for example, has the freedom to pick her field of work and can apply for a loan or scholarships for her children. The company appreciates and rewards its contributions. Employees in Rajkot were given a monetary incentive of Rs 4,000 each in 2002. Bens in Mumbai and Thane were given 5-gram gold coins in the meantime.
Minimalism always works
There are no celebrities or larger-than-life shooting settings pushing you to buy the papads if you look closely at the intriguing advertisement. It's a really simple and minimalistic ad that emphasises only one point: how papad may help you at any time of day. The company has purposefully avoided brand launches, social media presence, and lavish celebrations. In today's tech-savvy world, where one is bombarded with advertisements, such minimalism is rare.