This couple delivers healthy Tibetan food essentials to your home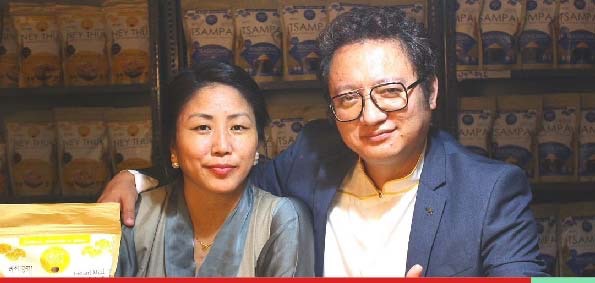 Tsampa, also known as 'Tsamba,' is a nutty-tasting flour prepared from roasted barley that has helped prior generations survive severe climates. Tsampa is what many Tibetans consider their 'real cuisine,' rich in nourishment and a vital part of their heritage. It's sometimes served with salted butter tea or cheese, salt, and yak milk. Because it's high in fibre and important minerals, tsampa provides a lot of health benefits.
Dekey Wangdue Dorjee, who grew up in a Tibetan colony in Himachal Pradesh's Bajinath Valley, founded Tibet Foods. Wangdue was never a big fan of Tsampa as a kid, but after 15 years of caring for her ageing and diabetic parents, she's had a change of mind.
Tsampa is abundant in fibre and important minerals, as well as being prebiotic, which means it aids in the formation of good intestinal bacteria. After all, according to some sources, it's what His Holiness the 14th Dalai Lama eats for breakfast every morning. Two years after their marriage, Dekey and Wangdue would discuss Tsampa, its health benefits, and the possibility of starting a business around it.
Tibet Foods now manufactures and distributes packets of traditional Tsampa and Ney-Thuk (Barley Porridge) throughout India, as well as a variety of Tsampa Cookies and Barley Tea.
Origin Stories
Dekey and Wangdue are both graduates of Jetsun Pema, the 14th Dalai Lama's sister, who constructed Tibetan Children's Village (TCV) schools in India. Thousands of Tibetan Buddhist refugee children from Tibet and other Himalayan regions received education and preserved their Tibetan Buddhist origins in these institutions. Dekey became a public relations professional after graduation, freelancing and working for companies in Delhi, while Wangdue worked in the United States before returning to India to care for his parents.
Wangdue fashioned face shields out of bookbinding sheets and delivered them to frontline workers across India during the first wave of the COVID-19 outbreak. During the second wave of Covid-19, which began in May 2021, he assisted in the distribution of oxygen concentrators, ventilators, oxygen cylinders, and other medical equipment to several Tibetan communities. "We spoke about starting a company like this even before we got married," says Dekey.
Tibet Dishes' main goal is to adapt old Tibetan and traditional Himalayan foods to modern tastes and lifestyles while maintaining the original flavour. Simultaneously, they intend to create jobs in Tibetan refugee settlements and support farmers in Ladakh and Spiti, where they get 100% high-grade organic barley.
For this Tibetan couple, it's more than just promoting healthy eating; it's about introducing an intimate part of their culture and heritage to the wider world.