Jio MAMI and Royal Stag Barrel Select Large Short Films come together to celebrate cinema excellence in short film formats.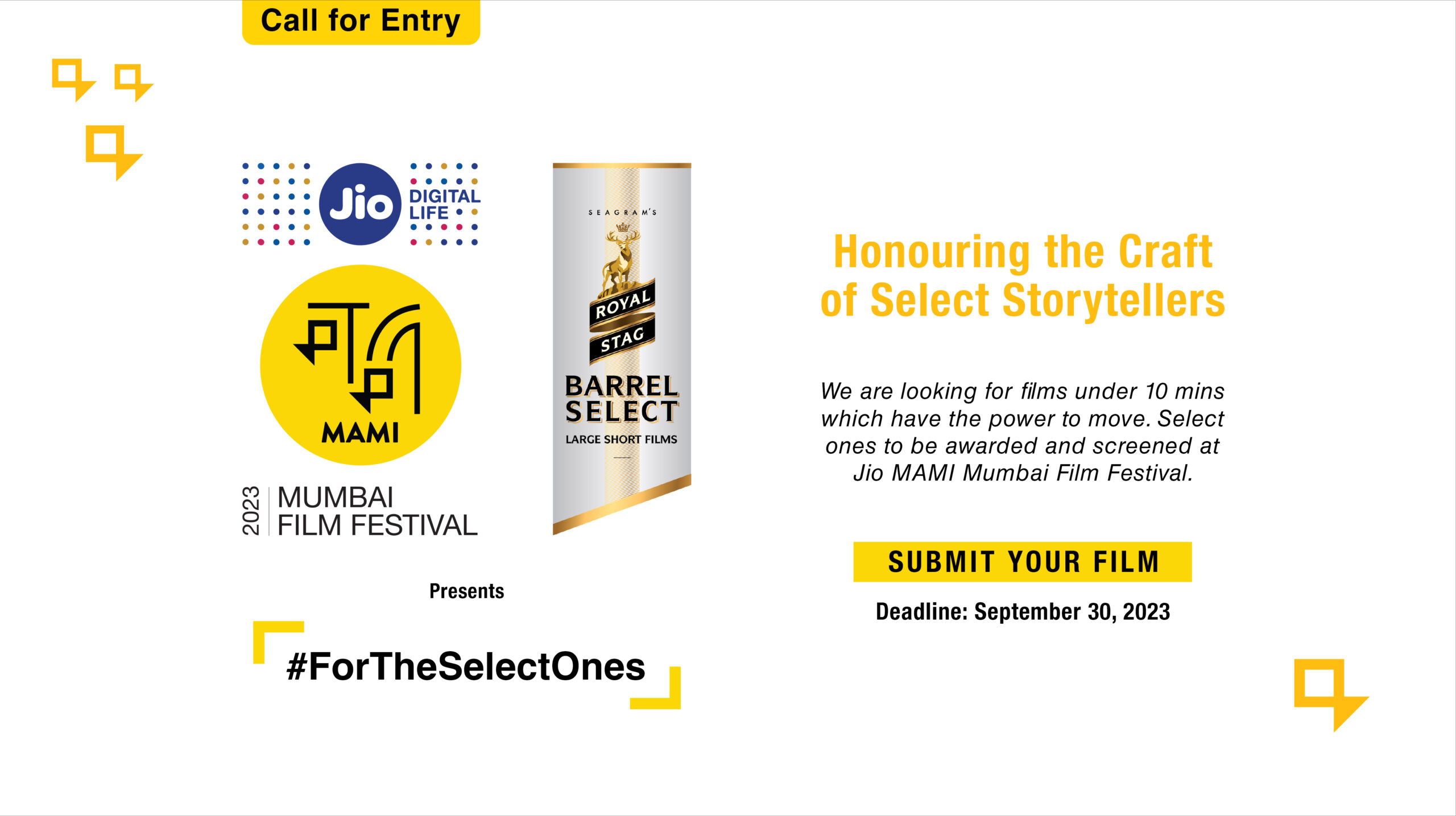 Mumbai, India, September 8th 2023: Jio MAMI Mumbai Film Festival partners with Royal Stag Barrel Select Large Short Films to create a platform that gives an opportunity to new and established filmmakers to tell authentic stories in the short film format. The bigger idea is to encourage and nurture the enthusiasm of filmmakers in the short film format. Thispartnership comes at a time when short films are gaining immense popularity and recognition for their brave storytelling and for questioning the status quo.
It's a competition category that's applicable to filmmakers across India. The top 10 entries will be shortlisted by the selection committee, which in turn will be evaluated by a panel of judges to arrive at winners in two categories. The top 10 shortlisted entries will premiere on the big screen at the festival, and the winners in two categories will be rewarded with cash awards. This collaboration aims to provide a global platform to budding filmmakers while offering unparalleled visibility and recognition amongst industry professionals, peers, and film enthusiasts worldwide.
Commenting on this, Head of Marketing, PR, and Partnerships, Abhishek Kumar, said, "This is a very special partnership for us, and we are thankful for the continued support by Royal Stag Barrel Select Large Short Films to Jio MAMI. We are excited to discover incredible films by some established and new talent from different parts of the country and give them an opportunity to showcase their film on the big screen to a diverse set of audiences. We look forward to these filmmakers becoming a part of our filmmaker programme at the festival and networking with some of the top global and South Asian talent. The idea is to make it an enriching experience for the filmmakers who are part of this category. Our partnership with Royal Stag Barrel Select Large Short Films is a natural extension of this commitment. We collectively strive to provide a stage for filmmakers to showcase their authentic stories and further bolster the rapidly growing demand and appetite for the short film format in India."
The short film format is becoming increasingly popular across the world and has created a dedicated and loyal audience base. It allows the filmmaker room to experiment with narratives that don't follow the beaten path. These are also a springboard for filmmakers to start their cinematic journey. Established filmmakers often find this an interesting medium to experiment with storytelling and convey exciting ideas, as short films can be showcased across various mediums and have the ability to reach the consumer faster. One of the most talked-about films of the year, "Strange Way of Life" by Pedro Almodovar, is a short film format. At Jio MAMI, audiences have always loved and supported short films, and many of the short film winners at Jio MAMI have gone on to become big filmmakers in the mainstream industry. Jio MAMI X Royal Stag Barrel Select Large Short Films promises to bring some engaging films to the festival this year and surprise the audiences.
Below are a few competition rules that must be followed.
The candidate should be an Indian citizen.
The participating short film needs to be just under 10 minutes.
The premiere of this short film, if selected, will only take place at the Jio Mami 2023 film festival.
The short film would need a CBFC certificate; in case the certificate is not available, the screening will be subject to an exemption from the Ministry of I&B, Govt. of India.
More details are available on the Jio Mami website, www.mumbaifilmfestival.com I www.fortheselectones.com
About Royal Stag Barrel Select Large Short Films:
Royal Stag Barrel Select Large Short Films has become 'the' destination for Indian short films where viewers can experience the taste of great films. The platform has collaborated with successful storytellers from Bollywood who truly stand for originality and creativity. Large Short Films has evolved to create an ecosystem for aspiring and established directors alike to bring world class storytelling to curious and deciphering audiences.
Royal Stag Barrel Select Large Short Films has released some of the most prodigious and award-winning short films with renowned artists and directors from the industry which truly reflects originality, imagination and perfection. Ahalya, Chutney, Devi and Anukul are just some of the phenomenal films that have been released on this platform. Royal Stag Barrel Select Large Short Films as a platform for original short films has been the pioneer in popularizing this genre of filmmaking.
About Jio MAMI Mumbai Film Festival
Jio MAMI Mumbai Film Festival, organised by the Mumbai Academy of Moving Image (MAMI), has brought the best of contemporary world cinema and talent to the city of Mumbai since 1997. With its new expanded vision to spotlight South Asian and South Asian diaspora filmmakers, Jio MAMI becomes the hub for South Asia, discovering and connecting emerging talent to the worldwide festival ecosystem.
Along with celebrating cinematic excellence and bringing joy to our audiences, we aim to facilitate the exchange of ideas and provide easy access to information related to filmmaking, funding, film distribution, business opportunities, and strategic marketing support for films and filmmakers. The festival also conducts a robust Year Round Programme that acts as a hub for creators and cinephiles through screenings, networking opportunities, access to labs and workshops for skill development, masterclasses, and, very importantly, creating a community of cinema lovers.
More on Jio MAMI Mumbai Film Festival & Royal Stag Barrel Select Large Short Films:
Website: www.mumbaifilmfestival.com I www.fortheselectones.com
IG, FB & YT: @mumbaifilmfestival I Twitter: @MumbaiFilmFest
Media Contact: Abhishek Kumar (Jio MAMI Mumbai Film Festival): Handheld – +91-9967710732 | Email id – abhishek.kumar@mumbaifilmfest.com
Rhea Virmani (PR Pundit): Handheld – +91-9920531262 | Email id – rhea.v@prpundit.com
Prathamesh Kulkarni (PR Pundit): Handheld: +91 98709 67225 | Email id – prathamesh.k@prpundit.com