Embarking on an Unprecedented Journey: RedBeryl Sets New Standards in Luxury Living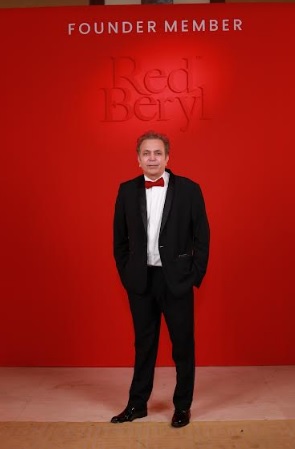 RedBeryl Lifestyle Services Private Limited, a pioneer in luxury lifestyle and personalized services, marked its debut with an extravagant launch event, "RedBeryl Unveiled", held on August 5th, 2023, at the Oberois, Gurugram. The brands grand unveiling marked the beginning of a world that transcends the ordinary, presenting a vision of luxury that redefines materialism by crafting bespoke experiences.
The occasion served as an indelible display of opulence, refinement, and an unwavering commitment to service excellence, setting a new standard in the luxury lifestyle industry. The exclusive gathering featured a curated guest list of the creme de la creme of society including Bonny Kapoor, Kapil Dev, and Mandira Bedi, among others, epitomizing a rare fusion of elegance and eminence. The evening witnessed an enthralling ensemble of performances, with the legendary Stewart Copeland, renowned for his association with the iconic band "The Police" and a recipient of three Grammy Awards, and Ricky Kej, a three-time Grammy Award Winner, mesmerizing the audience with their artistic brilliance.
In a world where luxury has become synonymous with material possessions, RedBeryl Lifestyle Services emerges as a beacon of transformation. From offering VIP access to exclusive events like Wimbledon Finals and Paris Fashion Week to handpicked dining, sports and entertainment experiences that set a new standard for sophistication and elegance, the brand anticipates every need of its customers. At its core, RedBeryl introduces the novel concept of DreamWeaver. This unique feature empowers cardholders to transform their wildest aspirations into tangible experiences. From witnessing rare cosmic events to reliving moments of historical significance (read exploring the wonders of Pharaohs Land in Cairo), the DreamWeaver unlocks the door to a world where imagination knows no bounds. With a vision to empower positive lifestyle choices.
The brand intends to foster a community of like-minded individuals ardently committed to leading a harmonious and meaningful life. The cornerstone of this endeavor is RedBeryls Lifestyle Card, catering to a diverse spectrum of lifestyle requisites, encompassing Mobility, Immersive travel, Concierge, and a plethora of other personalized services. The RedBeryl Lifestyle Card beckons with the promise of a devoted relationship manager, meticulously dedicated to fulfilling your desires with impeccable attention. More than just a service, its a commitment to turn your wishes into reality.
Manoj Adlakha, Founder and CEO, RedBeryl Lifestyle Services Private Limited
Manoj Adlakha, Founder and CEO, RedBeryl Lifestyle Services Private Limited expressed, "At Redberyl, we are committed to redefine luxury living by crafting bespoke experiences for our clientele. The RedBeryl Lifestyle Card is more than just a card; its your gateway to a world where luxury knows no bounds. It was our endeavour to move away from conventional extravagance while paving the way to a holistic approach to luxury living. Whether its witnessing a solar eclipse in Japan, renewing vows atop the Great Wall of China, or emulating Shahrukh Khans bucket-list moment of reading "Papillon" in a serene hideaway, RedBeryl makes the impossible possible. As we extend our offerings, we invite you to embark on a journey with us – a journey that transcends the ordinary and embraces the exceptional."
With strategic alliances spanning 85 cities in India and 25 international destinations, RedBeryl opens doors to exclusive cars, private jets, yachts, and cruises for its discerning patrons. The immersive Travel division curates bespoke travel packages, elevating journeys into unforgettable odysseys. With collaborations at over 600 global airports and a network of over 3000 elite clubs worldwide, RedBeryl ensures a seamless, lavish lifestyle, where every detail is taken care of.
The launch event, "RedBeryl Unveiled", impeccably showcases RedBeryl as the epitome of luxury services. It not only caters to the exclusive needs of High-Net-Worth Individuals (HNIs) and Ultra High Net Worth Individuals (UHNIs) but also underscores the brands steadfast dedication personalized and experiential offerings.
About RedBeryl
RedBeryl is a luxury services provider catering to the creme de la creme of society – the High Networth Individuals (HNI) and the Ultra High Networth Individuals (UHNI). Their esteemed clientele consists of individuals who embody a rare blend of discernment and distinction, seeking nothing short of an extraordinary level of services and experiential offerings par excellence. Their audience demand & expect a level of excellent services and experiential offerings, with rational & emotional values and would be the first of its kind of services that curate a world of unparalleled luxury fused with emotions that hitherto remains untouched by conventional offerings.