Danube Properties Launches INR 1800 Crore Elitz 3 Project Amidst High Demand from Indians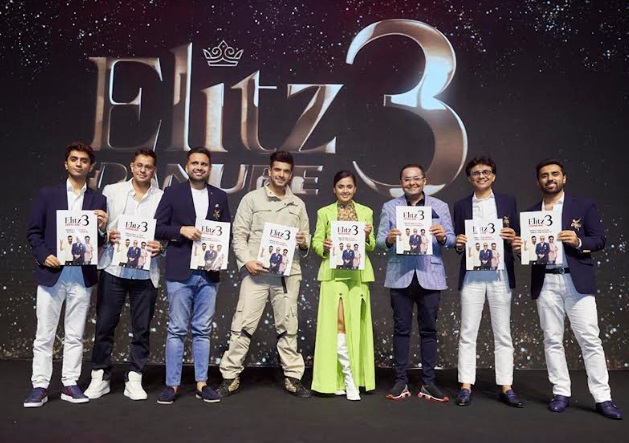 Danube Properties, the fastest-growing private real estate developer in the UAE, announces the launch of Elitz 3 at the Jumeirah Village Circle (JVC), with a development value exceeding INR 1800 Crore. The project will be in the same area as Elitz and Elitz 2 towers – which are currently under construction at the JVC – and help meet the growing demand from Indians for quality homes. Danube Properties is also witnessing an increased number of Indians opting for the famous 1% plan, where the monthly payment is set at just one percent per month while the balance payment is collected after the building is ready. Elitz 2 has witnessed over 42% of Indians investing in the project and 100 % of them opting for the one percent plan.
Danube Properties launches Elitz 3 Project
"Dubai's real estate market continues to defy global economic slowdown due to its dynamism and attractiveness and we see sustained growth in the near future, which reinforces our firm belief in the market. This is what has encouraged us to launch Elitz 3 within just a month after launching Elitz 2 at the Jumeirah Village Circle (JVC). With Dubai becoming the global hub for the real estate market, Indians have been at the forefront of investing in the UAE market as Dubai has become their favourite destination for property investments," Rizwan Sajan, Founder and Chairman of Danube Group, said.
"The UAE's leadership in handling the COVID-19 pandemic and managing the post-pandemic recovery has drawn the attention of the global investor community who have started to relocate their resources to the UAE, as evident in the growing number of tourists, businessmen, new business set up and purchase of both off-plan and ready-to-move-in apartments and villas. The launch of the Elitz 3 comes after Dubai's real estate market has seen an unprecedented surge in the number of real estate transactions reaching 60,440 worth Dh 177.3 billion being recorded during the first half of the year. The value of real estate sales recorded in the first six months of the year exceeds the annual sales value recorded each year in Dubai from 2009 to 2021. Real estate is currently the biggest driver of Dubai's economy that is attracting a large pool of domestic and foreign investment," Rizwan Sajan added.
When completed in the fourth quarter of 2026, the twin-tower project Elitz 3 will rise 40 and 46 floors high and deliver 750 residential units including studio apartments, 1-bedroom, 2-bedroom, and 3-bedroom apartments, and a few retail stores. Like most other Danube projects, homes at Elitz 3 also come with more than 40 community, health, and lifestyle amenities including a health club, swimming pools, sports arena, tennis court, barbecue area, and jogging track, among other facilities.
Prices of residential units start from INR 1.57 crore / Dh 699,000 (US$190,305) for a studio apartment, making them an attractive proposition for home buyers and investors who could benefit from the continuous price appreciation as the real estate sector is witnessing an increase in demand. Danube Properties' homes come with an attractive payment plan with a trend-setting 1 percent monthly payment plan, following the initial deposits – making home acquisition more affordable and attractive.
The homes are usually delivered around mid-way through the payment plan, which means the buyer can move into the apartment after paying 65 percent of the total value of the property. This helps homeowners extract additional value either by increasing savings on the rent or by paying the equated monthly installments (EMI) from the rental income.
Danube Properties maintains a policy of launching one project at a time, selling it out, and then appointing a contractor to build the project, before launching the next one. It has delivered 11 of them while the rest are currently under various stages of construction.
In addition to launching projects and building them, Danube Properties will also deliver three projects this year including Wavez, Jewelz, and Olivz. Most of the projects launched in 2022 and 2023 are ahead of the construction and delivery schedule.
"Elitz 3 comes with more than 40 lifestyle facilities that offer luxury and larger-than-life lifestyles to homeowners who will be pampered with the best of the best that is available in the market. With the increased number of lifestyle facilities and amenities, we are gradually expanding and upgrading the comfort level to our buyers who see an increasingly greater value in our properties. Our trend-setting 1 percent monthly payment scheme is helping more and more tenants to buy property and enjoy living in their own homes which has increased the number of freehold homeowners in the UAE," Rizwan Sajan said.
Elitz 2 homes will be smart and sustainable homes and will consume less energy – in line with the "Year of Sustainability" ahead of COP28.
Danube Properties offers homeowners a 10-year Golden Visa – especially those who qualify as per the investment criteria – subject to government approval. As a testament to the Dubai Land Department trust, the DLD also signed an agreement with Danube Properties to offer an Initial Sale Contract (Oqood) to property buyers almost instantly.
Danube Properties last year launched and sold out five projects with 2,099 homes worth Dh2 billion. As one of the most successful developers in the UAE with the highest launch-to-delivery ratio, Danube Group has recently delivered Bayz, Elz, Glamz, Lawnz, Resortz, and Starz, and while it is preparing to deliver three more projects this year. All these projects have been greatly appreciated by those who have bought units in them.