The Future of 3D and AR Advertising: 6 jaw-dropping examples of 3D advertising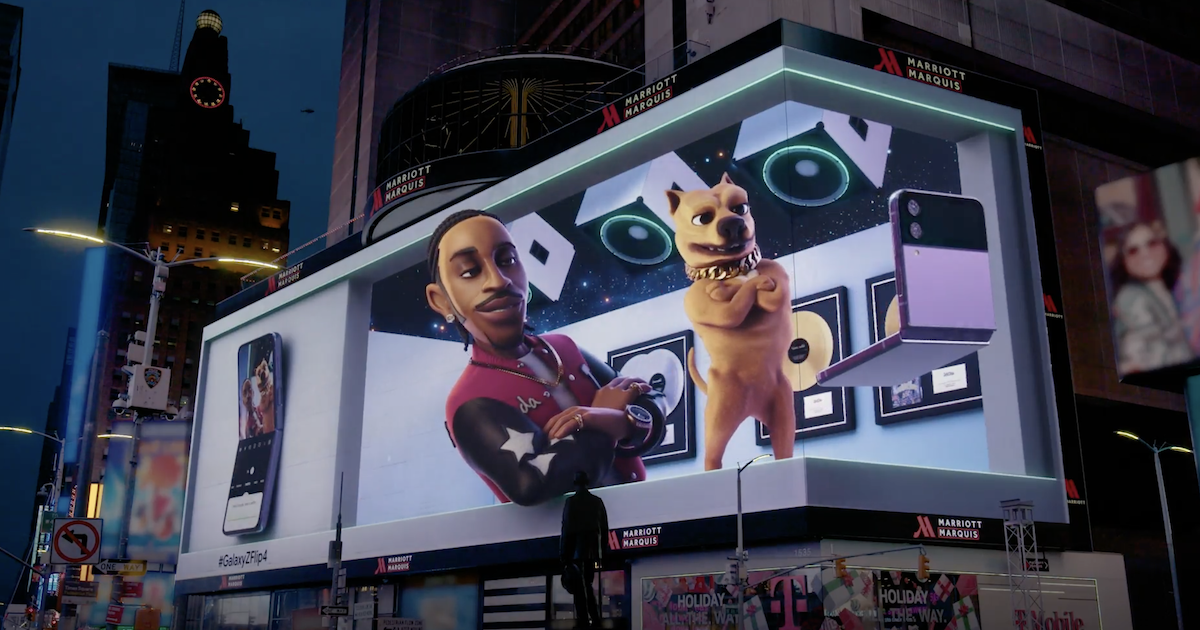 From the incredible appearance of a Calico cat amidst the bustling streets of Tokyo to the horrors of Resident Evil lurking in the shadows of New York City, the magic of anamorphic billboards can be seen everywhere today. Everything that was once confined to flat screens now leaps into reality.
Welcome to the world of 3D advertising.
The world of marketing and advertising embarks on an exhilarating journey of constant evolution and innovation. In this thrilling context, technology emerges as the ultimate ally, empowering brands to deliver mind-blowing experiences to consumers, and at the forefront of this revolution is the dazzling realm of 3D advertising.
An immersive experience as Augmented Reality (AR) and 3D technology is breathing new life into traditional billboards and posters. This powerful fusion of cutting-edge technologies with the real-world impact of outdoor ads is igniting excitement among marketers and brands worldwide.
But what sets 3D and AR advertising apart, and why is it causing such a frenzy in the marketing world? Before we dive into this electrifying revolution, let's take a peek into the current state of the digital advertising industry.
The digital advertising crisis
The digital advertising crisis looms ominously, leaving the industry in a state of distress. Despite attempts to label it as a "transition," the truth remains undeniable – what was once lucrative is now failing to yield results. On a larger scale, it's becoming increasingly challenging to appease modern consumers' appetite for new experiences. The market is saturated, and competition fierce, demanding advertisers to constantly elevate their ad strategies.
Delving into the finer details, the situation becomes even more perplexing. Ad returns dropping while costs soar, creating a worrisome landscape for online advertisers. Desperate to engage with consumers, advertisers are forced to explore new avenues. In this troubled landscape, 3D and AR advertising emerges as a potential game-changer, offering fresh ways to connect with customers and potentially redefine the entire advertising realm.
What is 3D and AR advertising?
3D advertising creates more depth than traditional two-dimensional ads and is far more engaging as it allows users to interact with an image or product in real-time. With just a touch, spin, or swipe, you can bring images and products to life right on your screen, unleashing a whole new level of excitement.
AR advertising uses a smartphone camera to superimpose virtual objects or 3D models onto the real-world environment. Simply, AR ads are what you see on your screen when you point your camera to a trigger, often a QR code. AR ads are the most advanced form of immersive and interactive advertising that everyday smartphone users have access to. They are the pinnacle of engagement, forging deep emotional connections that leave a lasting impression.
A famous example of AR entering the mainstream is Pokémon Go, the world's most successful mobile game that made $1.21 billion in revenue in 2021. The game turned brands on to the understanding of just how impressive this technology is to engage deeper with audiences.
In the wake of the worldwide craze sparked by the game's overnight success, numerous leading brands seized the opportunity to harness the potential of AR and 3D technologies for promoting their products and creating captivating experiences.
Why AR and 3D are the future of advertising?
Besides elevating the user experience and fostering deep brand-consumer connections, AR and 3D advertising have emerged as immensely rewarding marketing strategies, boasting measurable ROI.
For instance, when Adidas incorporated 3D viewing techniques, they witnessed a remarkable 4x surge in engagement and an average viewing time of 11 seconds. As for Google's 3D Swirl ads, they achieved a staggering 8x higher engagement rate compared to standard ads.
The secret to these outstanding results lies in interactivity. Unlike passive audience consumption seen in traditional ads, 3D and AR ads actively engage users, immersing them in an experience that stimulates their senses.
By creating lasting and immersive encounters, 3D and AR ads transcend the conventional approach of pushing ads directly to consumers. Instead, they captivate audiences, leaving a lasting impact that far surpasses the reach of traditional 2D ads.
3D billboards are wowing people all over the world
While 3D and AR advertising established itself in the digital space on our computers and smartphones, this technology is making its way into the "real world". All around the globe, 3D billboards are making a stunning entrance, captivating passersby to the point where they pause their walk or drive to indulge in this extraordinary experience.
The awe-inspiring scenes have become irresistible for onlookers, prompting them to capture the magic and share photos and videos on social media. As a result, the marketing move gains momentum, spreading its reach and popularity far and wide.
Meanwhile, AR advertising has been making waves among top brands for some time now. One standout example is the revolutionary AR app launched by the Swedish furniture giant, IKEA. The IKEA Place app ingeniously blends enjoyment and utility, leveraging AR technology to empower users to virtually place 3D furniture within their own rooms.
Each element is meticulously designed to scale, giving customers a realistic preview of how a new sofa or table will fit into their space before making a purchase. With AR, IKEA has transformed the way customers shop for furniture, blending digital delight with practical value.
No doubt about it – 3D displays are a mesmerizing sight to behold. Prepare to be dazzled as we present some of the most extraordinary advertisements crafted using this cutting-edge technology.
1- Coca Cola 3D Billboard Times Square
Recognized as both the world's first and world's largest 3D billboard by Guinness World Records, the sign has created a new benchmark for the creative application of technology in Times Square.
The world's first and largest 3D dynamic billboard was inspired by 3D design and elements of mixed reality. The height reaches six stories tall, and the digital billboard features over 1700 independent, computerised LED display modules to bring dynamic movement.
2- Nike's 3D Air Max Billboard in Japan
Nike Japan launched an innovative campaign to mark its 35th anniversary in 2014. The brand created a 3D LED billboard ad outside Shinjuku Station in Tokyo with a Nike box projecting out of the board. It then opens up showcasing various Air Max designs in customizable colors.
With a mission to highlight creativity, imagination, and innovation, Nike's creative directors also managed to bring in the right technology and win millions of hearts worldwide.
3- Netflix's Army of the Dead
The 20m tall zombie tiger in the 3D digital billboard is located in Piccadilly Circus, London. It is created to celebrate the release of director Zack Snyder's blockbuster Army of the Dead.
In the past, a real tiger may be treated inhumane ways during the filming, and it is condemned by some animal protection institutes.
However, using 3D visual effects to create the tiger can protect animals' rights better, and also bring viewers incomparable viewing experiences than previous 2D advertising.
The tiger was inspired by animals in Big Cat Rescue, which appeared in the Netflix series Tiger King, and finally, the gigantic outdoor 3D billboard helps to achieve the goals of animal-friendly advertising, and rocketing profits.
4- Fortnite x Balenciaga
The attention-grabbing 3D OOH advertising is achieved by Unreal Engine and real-time ray tracing technology.
It features a Balenciaga-wearing Fortnite favorite Doggo towering over the sidewalks. The advanced 3D OOH advertising technology makes it look like he really is in real life.
5- Vivo X80 3D Advertising Billboard
For the launch of the Vivo X80 in Shenzhen, this advertising billboard is created with gorgeous 3D content. The phone inside the parametric space goes through many transformations to appear to the world renewed.
Unlike other billboards that often hang on the wall, this is more like standing on the floor with the dedicated corner design. People can feel the amazing effect closely.
6- Versace Greca Goddess Bag
This video vividly showcases an elegant lady carrying a black leather bag from VERSACE, displaying the details of the bag on a huge screen.
The smooth animation, as well as the grand brand logo at the end, not only promote the product but also conveys the elegant and luxurious image of the brand.
3D digital billboards are here to stay
Amidst evolving consumption patterns and market trends, 3D billboard ads emerge as a lasting force, offering users an exhilarating gateway to a new world, whether on a busy freeway or through the heart of the city. 3D displays have become a rage, with an increasing number of brands jumping to disrupt marketing & advertising, it seems like 3D digital billboards are here to stay.