Bharat Petroleum Pioneers Ethanol Blended Diesel and Flex Fuel Program, Revolutionizing Sustainable Transportation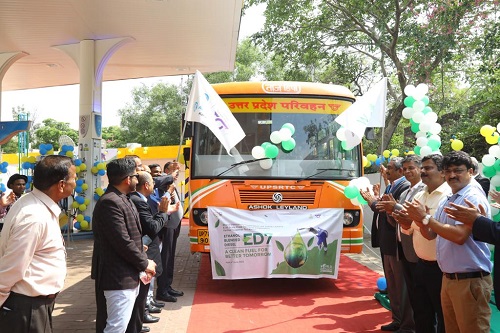 BPCL showcases commitment to sustainable fuel solutions by promoting alternative fuels and reducing carbon emissions
Flag off event features motorcycles fueled by Flex Fuel (Petrol blended with 27% ethanol, E27 & Petrol blended with 85% ethanol) and bus fueled by ED7 (Diesel blended with 7% ethanol), demonstrating the potential of these innovative fuel options
The pilot program marks an important milestone in this journey, showcasing BPCLs leadership and innovation in the pursuit of a cleaner and more sustainable future
Bharat Petroleum Corporation Ltd., a leading provider in the energy sector, and Ashok Leyland have initiated a pilot program to test the effectiveness of ED7 (Diesel blended with 7% Ethanol) fuel. This program aims to transform Indias bio-fuel economy and achieve a stable energy mix.
Launch of ED7 at Agra
The ED7 (Diesel blended with 7% Ethanol) fuel blend, developed by BPCL-R&D, consists of 93% diesel and 7% ethanol. The blend has undergone rigorous testing and validation on engine test bench in collaboration with Ashok Leyland.
ShriG. Krishnakumar,Chairman & Managing Director, BPCL,said,"In pursuit of India's commitment towards NET ZERO, BPCL is developing sustainable fuel options under the clean fuel development program in association with leading automotive OEM's, Ashok Leyland and Hero MotoCorp is committed towards developing sustainable fuel options. BPCL has commenced supply of E20 in many cities across the nation. Today's flag off of the Pilot ED7(Diesel blended with 7% Ethanol) for buses with Ashok Leyland and flex fuels (E27&E85) for two wheelers along with Hero MotoCorp is a step by BPCL towards our countrys aim of reducing import bill & providing sustainability. This world environment day, BPCL takes a lead to move towards cleaner fuels for a better tomorrow."
ShriSukhmal Jain,Director (Marketing), BPCL,said, "BPCL has been a pioneer in Fuel Retailing initiatives, leading the transformation towards a sustainable future. The field pilot of ED7 (Diesel blended with 7% Ethanol) and Flexi Fuel is an ambitious initiative to enhance the economic prosperity of large farming population and its contribution in India's GDP, as well as drive a change to a cleaner and greener future."
Ashok Leyland conducted extensive laboratory trials on their engines using the ED7 (Diesel blended with 7% Ethanol) fuel. The ED7 (Diesel blended with 7% Ethanol) fuel blend showcases a remarkable reduction in pollution levels, including Particulate Matter and Nitrogen oxides (NOx). The blend can be seamlessly adopted by diesel vehicles without requiring any significant modifications in engine. After pilot program, a comprehensive report will be submitted to ARAI, the Ministry of Road Transport & Highways, and the Ministry of Petroleum and Natural Gas, for developing roadmap for commercial implementation of the fuel. With ethanol readily available in India, the study targets to establish ethanol blend in diesel to the tune of 7%, with an aim to reduce energy bill for the country.
Hero MotoCorp, in alignment with its vision of being the future of mobility, has developed a Flex-Fuel Prototype at its Centre of Innovation and Technology (CIT) in Jaipur. The vehicle, equipped with a 125cc BS6 engine, can run on ethanol-blended petrol mixtures ranging from 20% (E20) to 85% (E85) ethanol blends. The Flex-Fuel Prototype utilizes advanced software to detect the ethanol blend in the fuel and adjust engine control parameters accordingly, ensuring a trouble-free riding experience. The engines performance and emissions remain uncompromised across the entire blend range.
BPCL, Ashok Leyland, and Hero MotoCorps initiatives mark significant milestones in Indias journey towards a greener and more sustainable future, aligning with the Government of Indias vision to promote renewable fuel technologies, reduce carbon emissions, and foster economic stability.
About Bharat Petroleum Corporation Ltd. (BPCL)
Fortune Global 500 Company, Bharat Petroleum is the second largest Indian Oil Marketing Company and one of the premier integrated energy companies in India, engaged in refining of crude oil and marketing of petroleum products, with a significant presence in the upstream and downstream sectors of the oil and gas industry. The company attained the coveted Maharatna status, joining the elite club of companies having greater operational & financial autonomy.
Bharat Petroleum's Refineries at Mumbai, Kochi and Bina Refinery have a combined refining capacity of around 35.3 MMTPA. Its marketing infrastructure includes a network of installations, depots, energy stations, aviation service stations and LPG distributors. Its distribution network comprises over 21,000 Energy Stations, over 6,200 LPG distributorships, 525 Lubes distributorships, 123 POL storage locations, 53 LPG Bottling Plants, 70 Aviation Service Stations, 4 Lube blending plants and 4 cross-country pipelines.
Bharat Petroleum is integrating its strategy, investments, environmental and social ambitions to move towards a sustainable planet. The company has chalked out the plan to offer electric vehicle charging stations at around 7000 energy stations over next 5 years.
With a focus on sustainable solutions, the company is developing a vibrant ecosystem and a road-map to become a Net Zero Energy Company by 2040, in Scope 1 and Scope 2 emissions. Bharat Petroleum has been partnering communities by supporting innumerable initiatives connected primarily in the areas of education, water conservation, skill development, health, community development, capacity building and employee volunteering. With 'Energising Lives' as its core purpose, Bharat Petroleum's vision is to be the most admired global energy company leveraging talent, innovation & technology.