Now, save 'disappearing' WhatsApp messages with sender consent
A long press on disappearing WhatsApp messages saves them, but only if the person who sent it agrees
Sending a message to someone? Think twice before hitting send. Meta CEO Mark Zuckerberg announced a new feature, called a 'Sender Superpower' that allows disappearing messages to be saved with a long press if the sender consents. Disappearing messages, a burn-after-viewing feature, thus becomes something of an option.
First introduced by WhatsApp in 2020, disappearing messages added a layer of privacy to conversations. While the platform offers end-to-end encryption, the effect of this is negated if the device or the person you are talking to is compromised. That's where vanishing messages can prove to be particularly handy.
WhatsApp believes that conversations do not have to stick around forever, just like in person discussions, which is what led to disappearing messages in the first place. However, every so often, there might be a message you need to hang on to. That could be a voice note, or an image, or just vital information you need to refer to later.
With "Keep in Chat," you can hang on to texts you need for later, with senders empowered to allow receivers to keep it for later, or not. The sender is sent a notification when a recipient tries to save a message, and the sender can then choose if it will disappear or be saved.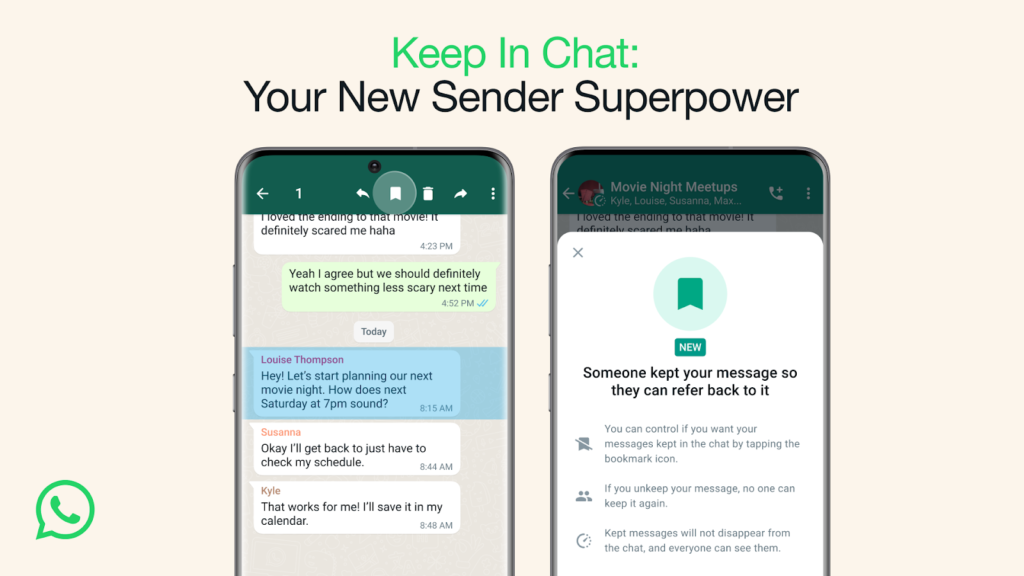 In a blog post, the company says that "If you've decided your message can't be kept by others, your decision is final, no one else can keep it, and the message will be deleted when the timer expires."
On the other hand, messages saved on WhatsApp will be noted with a bookmark icon and can be seen and organised in individual conversations in the Kept Messages folder. This feature will roll out globally over the next few weeks.
This announcement comes hot on the heels of WhatsApp introducing an optional feature that makes it easier for users to post WhatsApp status' to Facebook stories automatically if they wish to do so. The default option is to opt out of sharing, with users asked to opt in to use it, and given the ability to disable it at any time you want to.