Forged in the crucible of leadership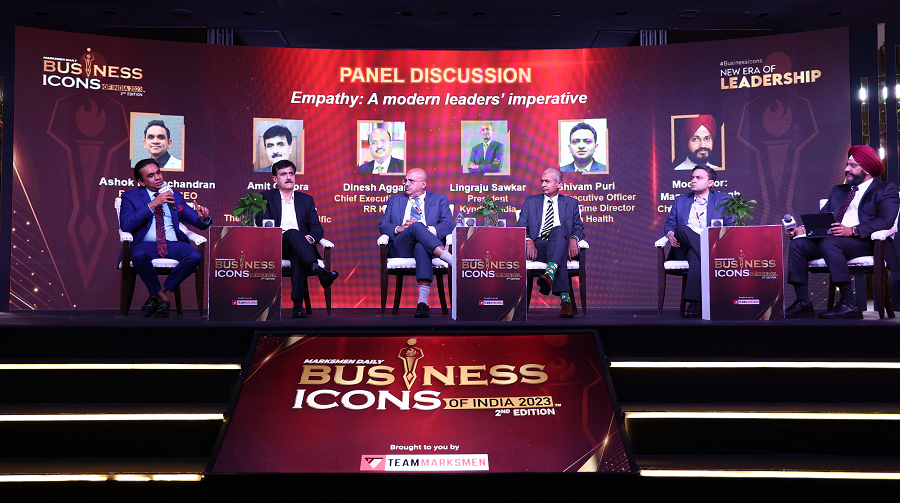 The Business Icons of India 2023 have proven their mettle with their feats of excellence, setting new benchmarks for others to aspire to
The events of the last few years have come together to create something of a perfect storm that will test even the most skilled of industry leaders helming the organisational ship. Fast-changing macroeconomic environments, unprecedented supply chain pressures, geopolitical pressures, and the changing nature of the workplace as well as our relationship with it are just some of the distinct forces reshaping our understanding of industry and society. Seen as a whole, these myriad factors are rewriting the playbook for corporate success in the 21st century.
Progressive thinking, purposeful performance
Even as these events roil the world around us, a clutch of elite leaders seem to naturally inspire confidence, loyalty, and hard work, while identifying a way forward for their flock. By learning in the most trying of circumstances, and applying those learnings to work towards progress, these savvy leaders sowed best-laid plans for the future, and are now reaping the rewards of their foresight. These are the Business Icons of India 2023, and their feats of excellence are setting the gold standard for others to aspire to.
Taking a research-based approach, Team Marksmen recognised individuals worthy of this accolade by using multiple parameters. This rigorous process then helped whittle down the shortlist of leaders to those truly worthy of being lauded.

Those recognised as Business Icons of India 2023 included:
Alok Tandon, Co-CEO, PVR Ltd.
Amit Chopra, MD India and South Asia, Thermo Fisher Scientific
Amit Gossain, MD, KONE Elevators India
Ashok Ramachandran, President & CEO – India & South Asia, Schindler
Bhargav Dasgupta, MD & CEO, ICICI Lombard
Colonel Chandhoke, MD, Victorinox India
Dheeraj Arora, CEO, Hygienic Research Institute Pvt Ltd.
Dinesh Aggarwal, CEO, RR Kabel
Dr. Arika Bansal, MD, Eugenix Hair Sciences
Dr. Pradeep Sethi, Chairman, Eugenix Hair Sciences
Gautam Boda, Vice Chairman & MD, J.B. Boda Group
Gautam Khanna, CEO, P.D. Hinduja Hospital
Girish Kousgi, MD & CEO, PNB Housing Finance Limited
Jayashree Vaidhyanathan, CEO, BCT Digital
K. Narender Reddy, CEO, Natural Remedies
Lingraju Sawkar, President, Kyndryl India
Manish Jha, MD, Briisk Ltd.
Ramesh Kumar Mutha, MD, Mohan Mutha Exports Pvt. Ltd.
Priyavrata Mafatlal, Vice Chairman, Arvind Mafatlal Group
Sahil Jain, CEO – Hirschvogel Components India and Vice President Hirschvogel Group
Sanjay Koul, Chairman & MD, Timken India Ltd.
Sanjeev Juneja, Founder, SBS Group of Companies
Sanjiv Navangul, MD & CEO, Bharat Serums & Vaccines Ltd.
Shivam Puri, CEO and Whole Time Director, Cipla Health
Shri Shyam Sunder Beriwala, Chairman Emeritus, Shyam Steel Industries Limited
Sridhar Dharmarajan , Executive VP & MD, Hexagon Manufacturing Intelligence India
Supriya Badve, Executive Director, Belrise Industries Limited
Vijay Chandok, MD & CEO, ICICI Securities
Vikram Utamsingh, MD & India Leader, Alvarez & Marsal
Vipul Mathur, MD & CEO, Welspun Corp Ltd.
Vivek Kopparthi, Co-founder & CEO, NeoLight
This industry-led and research-driven knowledge platform brought together industry experts to ponder the nature of leadership, and understand what it takes to lead and drive change in the dynamic environments we find to be commonplace in today's day and age. Extensive deliberations among a cross-section of eminent leaders highlighted ways to inspire teams, lead with empathy, how to pursue a true north star of purpose, and much more.
A selection of stalwart speakers from across the industry shared their views, such as Ashok Ramachandran, President & CEO India & South Asia, Schindler; Amit Chopra, MD India and South Asia, Thermo Fisher Scientific; Dinesh Aggarwal, CEO, RR Kabel; Lingraju Sawkar, President, Kyndryl India; Shivam Puri, CEO and Whole Time Director, Cipla Health; Manpreet Singh, Chief Digital Officer, PwC India; Amit Gossain, MD, KONE Elevators India; and Girish Kousgi, MD and CEO, PNB Housing Finance.
Speaking at the event, Rajesh Khubchandani, Co-Founder and CEO, Team Marksmen Network, offered his thoughts, saying, "It goes without saying that charting a course to a higher growth trajectory needs a skilled captain at the helm. One who ensures the tailwinds in play are fully leveraged, while course correcting or adjusting for environmental anomalies, as the case may be. In high-growth or lean periods, the criticality of strong leadership cannot be underestimated or stated strongly enough.
This is where the importance of the strong leadership comes to the fore. Modern leaders have a critical role to play in co-creating meaningful value with and for all stakeholders and society, creating a win-win situation that ensures growth is sustainable and inclusive, leaving no one behind. The many hats a modern leader must wear – that of a visionary, a growth architect, a coach, or a catalyst – make them a critical driving force for good. Those that we recognised as Business Icons of India 2023 fully epitomise this, and we salute their can-do spirit, hoping it serves as inspiration for others to rise and deliver for the greater good."
About Team Marksmen:
Team Marksmen's mission is to bring knowledge communities to life and help business leaders from all sectors navigate the contours of a changing world order. This is accomplished by utilising a variety of bespoke industry-centric knowledge platforms, such as Roundtables, Summits & Conferences, Workshops, and Recognition Ceremonies.
We collaborate with leading thinkers from various industries on the most pressing issues confronting organisations, governments, and society, and we share our findings through thought-provoking content on our daily news and insights website, marksmendaily.com, and our quarterly business and lifestyle magazine, in Focus.
To learn more, write to us today: contact@teammarksmen.com