ICICI Bank, ICICI Foundation Donate Advanced Equipment to ICARE Eye Hospital to Treat Retinal Diseases of Rural Patients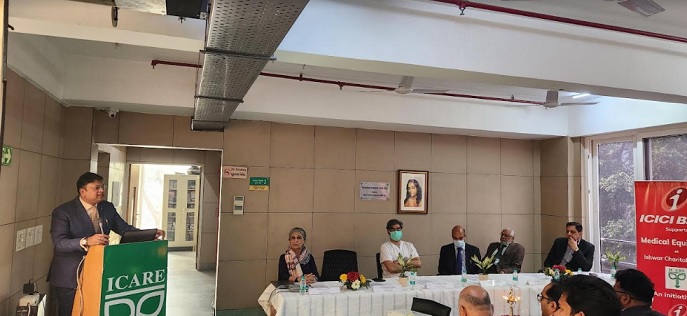 ICICI Bank Ltd. and ICICI Foundation have launched a Project for Provision of Eye Medical Equipment for the Rural Underprivileged People suffering from Retinal Eye Disease, in association with Noida's ICARE Eye Hospital & Postgraduate Institute. The aim is to help treat underprivileged people from rural areas suffering from retinal eye diseases.
ICICI Bank, ICICI Foundation donate advanced equipment to ICARE Eye Hospital
As part of the project, 17 vital advanced ophthalmic equipment required to detect and treat common retinal diseases were donated for the underprivileged patients of Ishwar Charitable Trust, Noida, which operates the ICARE Eye Hospital.
Several distinguished guests were present during the event organized at ICARE Eye Hospital to announce the donation. These included Mr. Anuj Agarwal, COO, ICICI Foundation; Mr. Shantanu Sammadar, City Head, ICICI Bank; Mr. Sanjay Chaudhari, Zonal Head – Northwest, ICICI Foundation; Dr. Sushil Choudhry, Founder Trustee, Ishwar Charitable Trust; and Dr. Saurabh Choudhry, CEO of ICARE Eye Hospital.
Speaking at the event, Mr. Sushil Choudhry, Founder Trustee, Ishwar Charitable Trust & ICARE Eye Hospital Noida, said, "People belonging to the underprivileged section of society often tend to ignore minor abnormalities in their vision, which may lead to blindness after a prolonged period. Additionally, with no facility of preventive or curative eye check-ups, they have never been screened for glasses or eye diseases. I would like to extend my gratitude towards ICICI Bank Ltd. and ICICI Foundation for helping us with such advanced ophthalmic equipment to treat our patients at the Ishwar Charitable Trust, Noida."
Mr. Shantanu Sammadar, City Head, ICICI Bank, said, "ICICI Bank Ltd. and ICICI Foundation hope that the advanced ophthalmic equipment provided through this grant and the highly efficient doctors at ICARE Eye Hospital will help provide appropriate eyecare treatment to the underprivileged people belonging to the rural community suffering from retinal issues. We look forward to similar collaborations."
About ICARE Eye Hospital
ICARE Eye Hospital is one of Delhi-NCR's oldest and largest, NABH-accredited eye hospital, established in 1993. ICARE is a patient-centric tertiary super-specialty eyecare hospital, with 22 optometrists and 25 consultants in 9 different sub-specialties of eyecare. The services offered include Vitreo-retina and Uvea, Glaucoma, Cornea, Pediatric Ophthalmology, Oculoplasty and Ocular Oncology, Neuro Ophthalmology, Contact Lens, Visual Electro Physiology, LASIK Eye Bank Services, Low Vision, Vision Therapy and Cataract. Dedicated clinics exist such as Vision Club (dedicated clinic for childhood vision problems), cataract suite, LASIK suite, retinal suite (dedicated operation theatre for retinal diseases), etc. 24*7 emergency eyecare services are available.
The hospital's well-equipped OPD treats over 400 walk-in patients every day. The hospital's Outreach Program arranges around 1n200 screening camps and treats more than 180,000 people every year for eye disease. It performs about 16,000 surgeries in a year free of charge, or at a very subsidized cost. ICARE hospital has its main branch at Sector 26, Noida. A second center exists in Sector 63, Noida.
ICARE Eye Hospital with Post Graduate Institute (PGI) has been involved in the training of young doctors in DNB (Diplomate of National Board) Ophthalmology since 2003.