Genefied Puts its Flagship QR-code-based Solutions to Display at DelhiWood's 7th International Trade Fair for Plywood Industry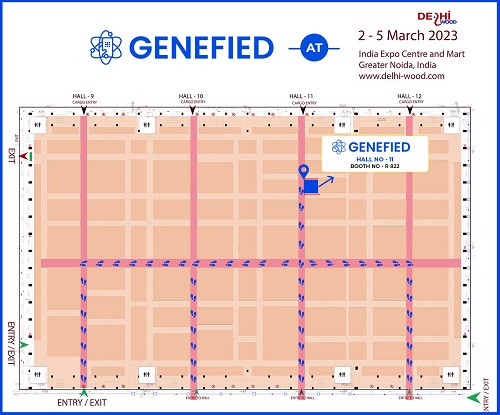 Genefied, an IT Services and IT Consulting company, has announced to display flagship QR-code-based solutions at the upcoming 7th International Trade Fair for Plywood Industry organised by DelhiWood between 2nd to 5th March 2023 at India Expo Centre and Mart, Greater Noida, India.
Track us via the above roadmap and visit our stall at Hall No. 11, Booth No. R 822 for understanding our technology and functionality
Genefied is all set to become a part of the trade show. The importance of this participation lies in the synergy that Genefied can bring to the Indian plywood market which is growing at an enviable pace and is expected to reach INR 344.2 billion by 2027.
Genefied is well known for its QR Based technology and we can help the plywood industry in attaining Carpenter Loyalty, Supply Chain Traceability and Consumer genuinty
The 2023 edition of the DelhiWood Trade Fair will draw all relevant stakeholders from the woodworking industries including suppliers, producers, manufacturers, and partners among others. The event is likely to witness participation from firms manufacturing tools, machinery, equipment, and hardware for brands involved in producing plywood and furniture. Policymakers, regulators, and officials from both centre and state governments will also make a beeline for the event. The 7th Edition of DelhiWood will become a platform for stakeholders to showcase their innovations and explore opportunities to collaborate with both national and international players across the value chain provides a wonderful branding opportunity that strengthens the identity of your brand.The participants will get a chance to meet key decision-makers and acquire both national and international clients while getting to know about emerging opportunities across the globe.
Ayush Jhawar, Co-founder & Technical Director, Genefied, says that, "To make the most of these growth opportunities, it's important that brands in the plywood industry choose the right technology to deliver superior experiences to both partners and end consumers. Genefieds revolutionary QR-code solutions can help companies operating in the plywood industry in more than one way. These solutions can help brands counter the menace of counterfeit products, manage their customers' loyalty, and fix their broken supply chains for enhanced efficiency and better output. In fact, Genefieds QR-Code-based solutions offer a one-stop shop for all quality, loyalty, and Supply Chain needs of the plywood industry. Come and explore these powerful solutions at Genefieds stall at the 7th International Trade Fair and experience the growth and transformation that you have been aspiring for a long time."
Genefied is a brainchild of Ayush Jhawar and Kapel Malhotra, which came into being in 2018 and since then, it's offering QR-code solutions to help differentiate real products from fake ones. Today Genefied is well-recognised for its solutions in the domains of anti-counterfeiting, loyalty management, traceability services, and digital warranty management services. Besides, the company is emerging as a significant player in offering allied business solutions such as Rewardify, Scan&Win, DWAM and SupplyBeam among others.
About Genefied
Genefied team strives to incorporate technology into the offerings made by various brands. This way, brands can claim success through digital solutions offered by Genefied to help brands understand their consumers. It was awarded the "Best Upcoming Anti-Counterfeiting Technology" solution. Its products allow brands to protect against counterfeit products, collect consumer data, expand retailer models while empowering their consumers. These solutions have a track record in increasing sales, shifting consumers to e-commerce and providing a high return on investment.
For more info visit us at genefiedtech.com.