Bella Hadid turned heads at Paris Fashion Week while walking the runway in a transparent spray-on dress.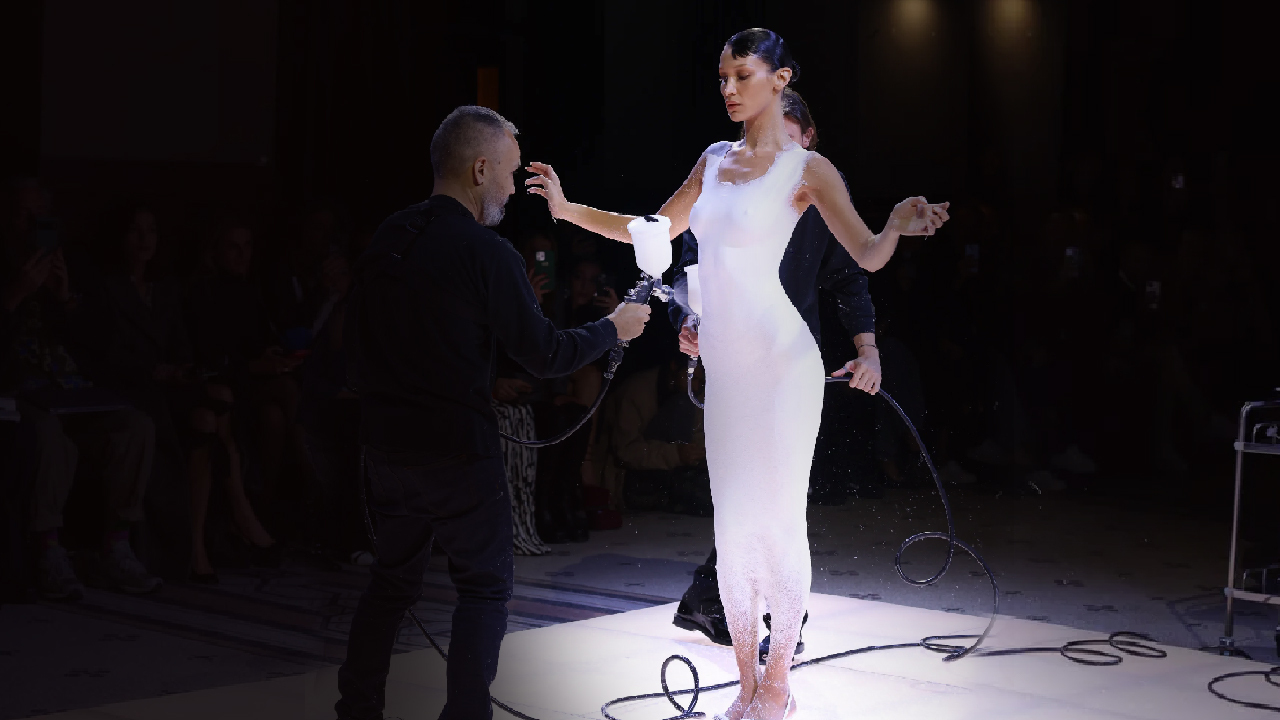 Supermodel Isabella Khair Hadid, better known as Bella Hadid, stole the show at Paris Fashion Week on September 30. Parisian fashion brand Coperni used Fabrican's sprayable liquid fiber to spray dresses on a model for its Spring/Summer 2023 show at Paris Fashion Week.

The Coperni show took place in the Salle des Textiles at the Muse des arts et métiers in Paris on September 30 and saw a white dress sprayed live onto the body of model Bella Hadid for the final spectacular show, Hadid entered the Salle des Textiles wearing only flesh-colored underwear. Hadid approached the lit platform, surrounded by a team of people holding spray guns, where she stood for 15 minutes while Fabrican's team sprayed white fabric on her body to create the outline of the dress. The material used to create the spray dress was developed by Fabricant, a fabric spraying technology company founded in 2003 by Spanish scientist and fashion designer Manel Torres.

Fabricants sprayed fabric is a liquid composed of natural and synthetic fibers such as wool and mohair, cotton, nylon, and cellulose depending on the desired feel, which is suspended in a polymer solution. The liquid solution is sprayed with an aerosol or spray gun on the body, which then evaporates on contact with the surface to form a non-woven fabric.

After the dress shape was sprayed onto Hadid's body, a Coperni employee began cutting and adjusting the white dress, shortening the length, adding a slit, and pulling the straps off Hadid's shoulders before she walked across the room. The material is said to have a suede texture and can be used to create, customize and repair clothing, while also being strong enough to be worn and washed again.

The Coperni brand – which is named after the mathematician and astronomer Nicolaus Copernicus – called the spectacle a moment where "fashion meets technology", and indeed it was. "Technology opens up new possibilities for personalized fashion," says Fabrican's website, "allowing individual touches to be added to manufactured garments…elegant clothing may contain fragrances, active ingredients or conductive materials to interface with information technology."

In other words, Fabrican's creators envision a world where their solution can become a sprayable clothing cocktail—mix in your favorite perfume or an unidentified technology interconnect conductor, and you have something that may one day be "tailored" for the future. After ten years of research," the site continues, "this futuristic vision is taking shape."
"It's our duty as designers to try new things and show a possible future," Coperni creative director Sébastien Meyer told Vogue Business. "We don't make money off of it, but it's a beautiful moment."

Coperni's closing event saw similarities with other fashion moments, including Hussein Chalayan's Spring/Summer 2016 show, where falling water dissolved the clothes on the models' bodies to reveal the dresses underneath, Martin Margiela's colorful ice cube accessories that dyed the garments as they melted, and Fredrik Tjærandsen collection of giant balloons that deflated on the runway to become garments.In response to the show, fashion critic and Harper's Bazaar news director Rachel Tashjian said that "this was a gimmick, and nothing more."

Hadid took to her Instagram account where she detailed there was no rehearsal, and that she was "still speechless". Others flooded to social media to express their witnessing of "fashion history." Speaking about the show later, Hadid commented on the groundbreaking and stunning moment's positive reception in her post. "There is no singular person more important than the next," she wrote. "Only together can we make magic …. Thank you for all of the love …. I am still speechless!"

After turning heads on Friday's show on the 30th of September, Hadid proved that she is indeed one of the top models in the world by stunning the fashion world once again, just two days later, on the following Monday. She wore a sheer catsuit covered with glitz for her look on Monday. Hadid wore the catsuit while walking in Stella McCartney's Paris Fashion Week presentation atop a pastel yellow, red, and blue runway. The model opted to skip a bra for the occasion and layered the tan, crystal-embellished jumpsuit, which featured a mock neck design and long sleeves, over nothing but a pair of matching tan underwear. Coordinating mesh heels and a makeup-free complexion with bleached eyebrows completed Bella's look, and she wore her long brown hair in loose waves with a middle part.

The exhibition at the Coperni show comes at an interesting time for the fashion industry, as major companies have been forced to consider the environmental consequences of textile production and ever-changing styles. In response, many designers are now looking for less harmful raw materials in plant-based fabrics, such as seaweed (which is also being explored as a substitute for a plastic film) and sponges. Fabricant states on its website that it uses "fibers recycled from discarded clothing and other fabrics. The technology can also use biodegradable fibers and binders instead of fossil-based polymers to reduce the carbon footprint of the material and production. In addition, the company said that "at the end of its useful life, the sprayed substances can be re-dissolved and re-sprayed".

The material is being considered for uses other than the fashion industry as well. Since it's in a can, the material is sterilized, which makes it suitable for wound dressing and instant bandages. Using sprays and 3D-printed polymers to seal injured skin is not unheard of in the biomedical field; companies such as Nanomedic have also been developing a portable device that shoots out nanofibers to make a protective film atop a wound. Furthermore, Torres has said that the formulation of the mix can be altered to produce casts for broken arms or foam seats for cars.

After the show and over the weekend, clips from the show created many viral moments. According to WWD, within 48 hours of the show, the event's media impact value was measured at $26.3 million (£23 million), with $20.9 million of that total coming from social media.