Rainbow Hues Launches a Unique and Spectacular Acrylic Diwali Collection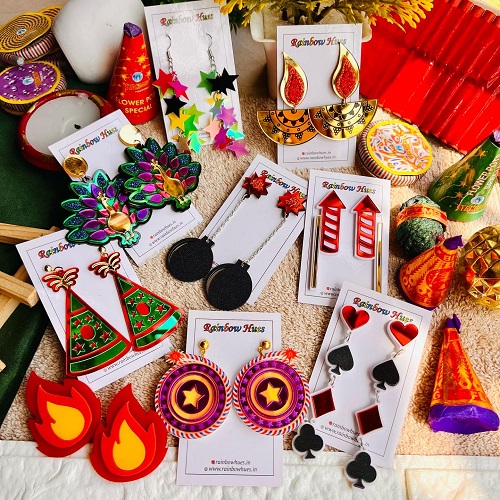 Rainbow Hues, a wonderland of chic jewellery and accessories and a leading designer of acrylic jewellery, introduced their festive Diwali Collection with the launch of a range of handcrafted original designs including Chakra Earrings, Anar Earrings, Bomb Earrings, Rocket Earrings, Peacock Earrings, Diya Earrings and lots more! These beautiful products are inspired by the vibrancy and traditions of Diwali, and are destined to add a touch of elegance and charm to your celebrations.
Rainbow Hues – Diwali Collection
This Diwali, Rainbow Hues invites you to step into a world of wonder and allure with a range of stunning products, including:
Chakra Diwali Earrings: Immerse yourself in the spiritual energy of Diwali with these elegant Chakra Earrings that are sure to make a statement this festive season! These beautiful earrings feature a unique chakra-shaped design, crafted from quality acrylic materials for a stunning look thats sure to turn heads.
Anar Diwali Earrings: Celebrate the festival of lights with a touch of sparkle by adorning yourself with the Anar Earrings, designed to resemble the dazzling burst of an anar firework.
Bomb Earrings: These Bomb Earrings capture the playful and vibrant essence of Diwali, making a bold fashion statement that demands attention.
Rocket Diwali Earrings: Reach for the stars with these Rocket Earrings, a symbol of ambition and progress, perfect for embracing the spirit of Diwali.
Diya Earrings: Illuminate your look with the Diya Earrings, inspired by the traditional oil lamps that symbolize the triumph of light over darkness.
Peacock Earrings: Channel the divine beauty of the peacock and rangolis with these stunning earrings, which embody grace, charm, and a dash of regal splendour.
Fire Lit Studs: These Diwali themed earrings serve as a beautiful and symbolic accessory for those who wish to embrace the spirit of the Festival of Lights. They are a stylish way to honour the traditions and significance of Diwali while adding a touch of elegance and radiance to your festive ensemble.
Shinning Star Danglers: Shining Star Danglers are a perfect accessory for anyone looking to embrace the radiance and joy of Diwali while also making a fashion statement. They capture the enchanting beauty of the festival and can be a wonderful addition to your Diwali wardrobe or a thoughtful gift to celebrate the occasion in style.
Poker Earrings: These earrings are a creative and playful way to participate in the festivities of Diwali, especially if you enjoy card games and want to incorporate that interest into your Diwali wardrobe. They can also make for thoughtful and unique Diwali gifts for friends and family who share your love for both poker and the festival of lights.
"We are thrilled to present our unique Diwali Collection, designed to add a touch of sophistication and style to your festive celebrations," said Rebecca M Fernandes, Co-founder, Rainbow Hues. "Our designs encapsulate the essence of Diwali, combining tradition with contemporary flair. We are excited to share these unique pieces with our customers, helping them to flaunt their style and make a statement during the festival of lights," she added.
The Diwali Collection is now available for purchase online at rainbowhues.in. Dont miss the opportunity to elevate your Diwali festivities with these one-of-a-kind pieces. Embrace the spirit of the season with Rainbow Hues, where chic meets tradition in a spectacular blend of fashion and culture.
About Rainbow Hues
At Rainbow Hues, our journey began as a quaint brick-and-mortar accessories store. From our humble beginnings, weve evolved and grown, carving a unique niche for ourselves in the world of fashion. Today, we stand proud as a specialized destination for a range of trendy accessories, with a distinct focus on unique acrylic creations! We at Rainbow Hues, channel our creative energy and expertise into crafting apt products that resonate with style-conscious individuals, for all occasions.