Apple WWDC 2023 Highlights: From iOS 17 to Vision Pro, everything announced at the developer conference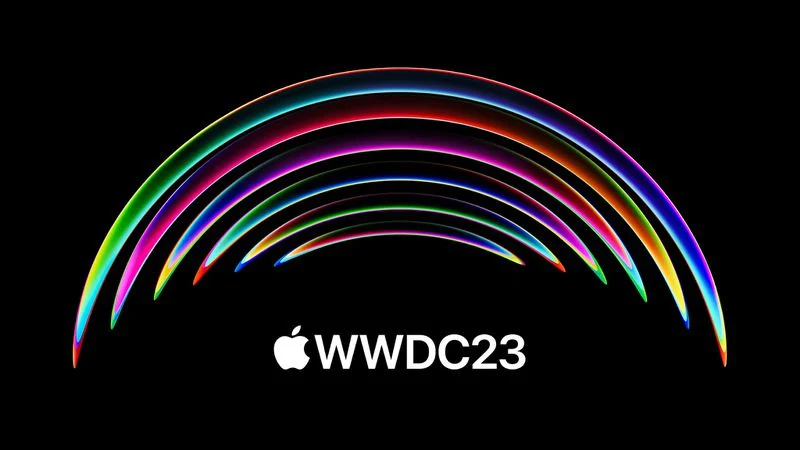 Apple's  Worldwide Developer Conference (WWDC 2023) kicked off on June 5, 2023. Tim Cook, the CEO of Apple, commenced the event by emphasising the significance of hardware, software, and services. However, the standout revelations were the Vision Pro headset and the 15-inch MacBook Air. Apple also introduced updates to all its primary platforms.
Apple's biggest announcement in years is a new mixed-reality headset 'Vision Pro' that lets you watch TV, look at Excel spreadsheets, FaceTime, and do other standard iPhone and computer activities, but more immersive and closer to your face.
Although its release is slated for the following year, Apple saved this highly anticipated product announcement for the grand finale of its annual developers conference press event.
Throughout the event, Apple covered a wide range of topics, including a sneak peek into iOS 17, innovative methods for detecting depression, and updates to their Mac computers.
At its yearly software showcase, the company is taking a significant risk by betting on the future of computing. Here is a comprehensive list of everything Apple announced today, presented without a specific order.
Apple Vision Pro – the New Mixed-Reality Headset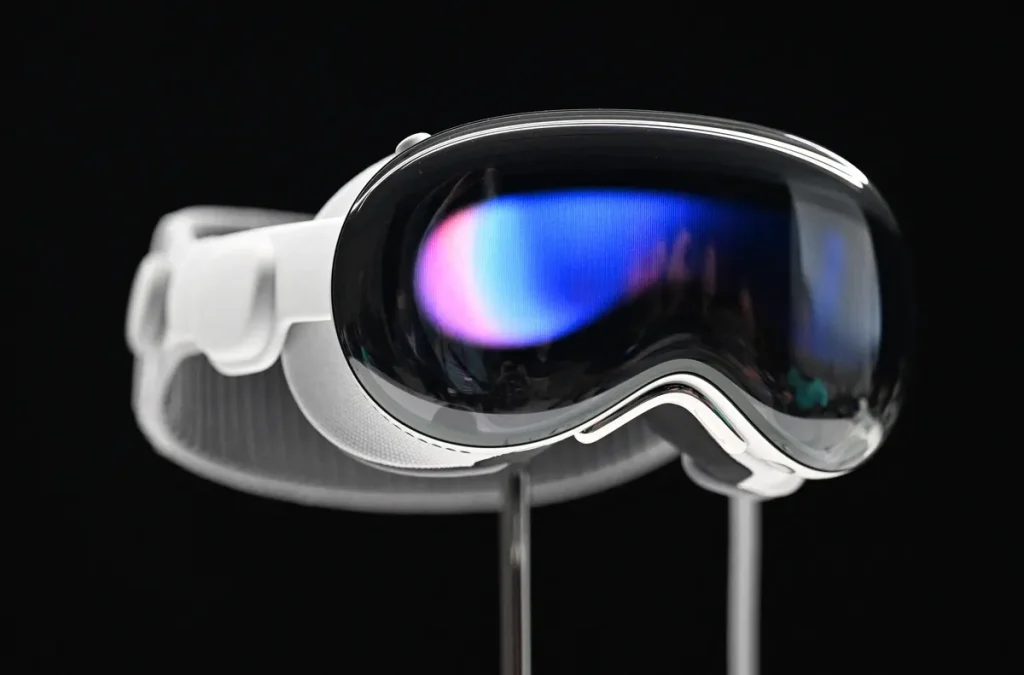 After years of delays, Apple is taking its first shot at AR glasses. Vision Pro is positioned as primarily an AR device, but it can switch between augmented and full virtual reality using a dial, meaning it can both immerse you in virtual experiences and overlay digital imagery on a view of the space around you. As Apple chief executive Tim Cook put it, the Vision Pro headset "seamlessly blends the real world with the digital."
The device is controller-free, and you browse rows of app icons in an operating system called visionOS by looking at them. Selections can be made by tapping and scrolling can be accomplished through flicking gestures. Additionally, voice commands are supported, and Apple assures that a vast number of well-known iPhone and iPad apps will seamlessly adapt to this input method.
Furthermore, the headset is compatible with Bluetooth accessories, such as the Magic Keyboard and Magic Trackpad, and enables the connection of a Mac to be used within the headset. To capture hand movements, the device is equipped with downward-facing cameras that can accurately track your hands, even when they are positioned at lower parts of your body.
It resembles a pair of ski goggles and can be used while plugged in or with a battery pack that lasts up to two hours. It's important to note that when using the headset, you are not actually seeing the real environment around you. Instead, the device displays a live video feed of the area you are in, while overlaying any active apps on top of that visual feed.
The external appearance of the headset also undergoes changes. When engaged in an activity that occupies your entire field of view, the external screen will be adorned with vibrant, colorful clouds, serving as a visual cue to those nearby that you are currently occupied. However, when you can observe your surroundings, the headset will display a view of your eyes—a design choice that evokes both thoughtfulness and a sense of unease.
Apple says the view of your surroundings will feel real, even though it's all just digital imagery. The home screen, for instance, reacts to ambient light and even leaves digital "shadows" in your view of the real world. The headset has a glass front and an aluminum frame, containing five sensors, 12 cameras, a 4K display for each eye, and a computer that's apparently cooled with a fan.
iOS 17 adds journaling app, voicemail screening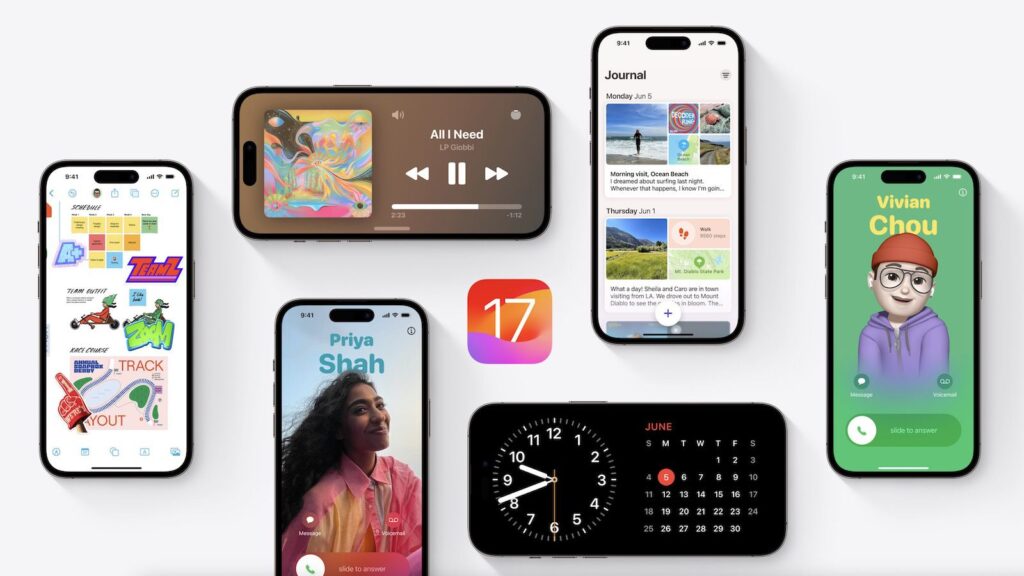 Apple's upcoming iOS 17 iPhone software, set to release this fall, will prioritize key functionalities of the smartphone such as calls, contacts, messages, and typing. One notable addition is the Contact Posters feature, allowing users to design a customized screen that appears when calling another iPhone user, complete with a chosen photo. Additionally, voicemail messages will be transcribed in real-time, allowing users to read them instantly instead of waiting. FaceTime users will finally have the ability to leave video voicemail messages as well, a feature previously unavailable.
Messaging will become more enjoyable with enhanced options for turning photos into stickers, expanding the range of expressive responses beyond emojis. Apple also promises improvements to Airdrop, enabling file and image sharing between devices. iPhones will now initiate transfers by bringing them close together, and a new feature called NameDrop facilitates sharing contact information with new acquaintances.
Rather than creating a HomePod with a dedicated screen like competing products from Amazon and Google, Apple has opted to transform the iPhone itself. When an iPhone running iOS 17 is connected, a Standby feature will take over the screen, effectively turning the device into a compact smart home display. This allows users to effortlessly check the weather, view photos, and access schedule details without needing to physically pick up the phone.
Apple also unveiled enhancements to the auto-correct functionality, utilizing the advanced language model ChatGPT to provide more accurate suggestions while typing. The keyboard will analyse frequently used words and phrases, offering contextually relevant predictions. This improvement extends to voice dictation as well, ensuring a more seamless and efficient user experience.
iPad OS 17 gets PDF tools, lock screen updates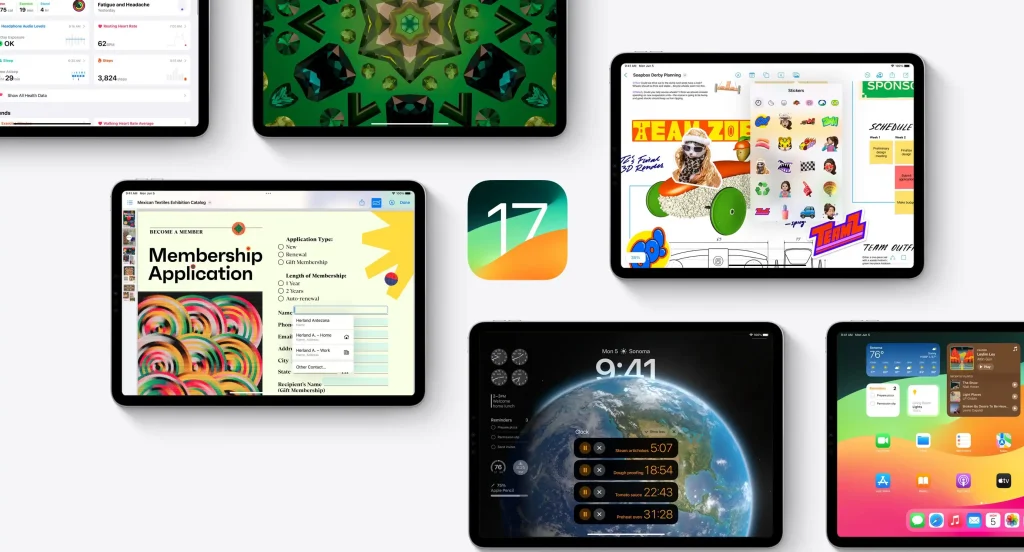 In building the latest version of iPadOS, Apple sought to make iPads act just a little more like its iPhones. That means iPad users will — finally — be able to customise their lock screens with different fonts and wallpapers that can sit behind some elements on-screen. Those lock screens can also display so-called Live Activities, which provide up-to-the-moment updates for things like your flights or Uber Eats deliveries, just like Apple's iPhone 14 Pros.
Apple also said it would bring its Health app to the iPad for the first time. Other changes, however, highlight some of the iPad's distinct talents. Their bigger screens makes them ideal for working with documents, and a handful of new features for PDFs — think auto-filling them with personal information and collaborative editing with nearby colleagues — could help iPad users get productive more easily.
There's another change, which might be the most basic one: you can now have multiple timers running at the same time. Sometimes, it's the little things that hit the hardest.
15-inch MacBook Air offers up to 18 hours of battery life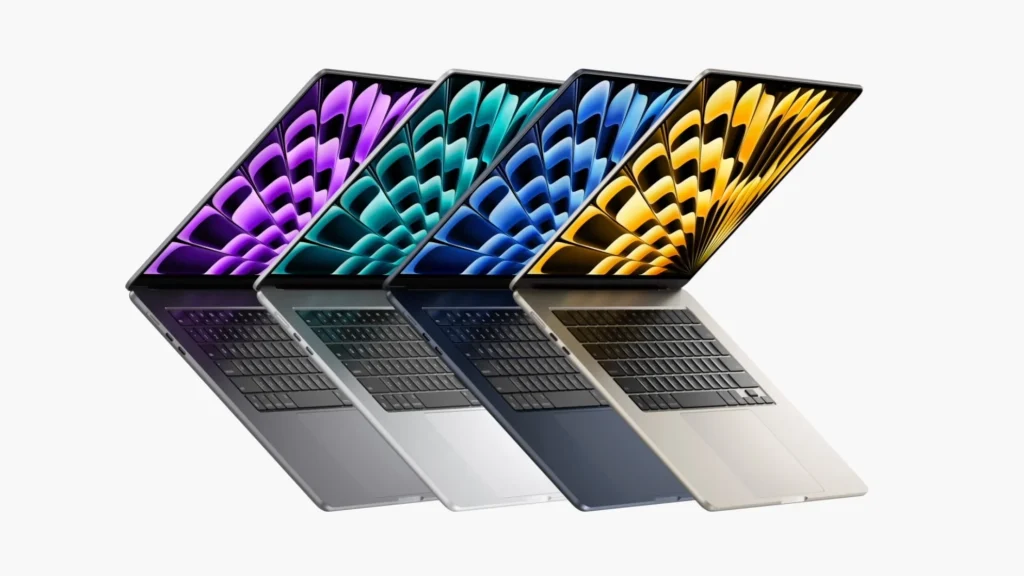 For an extended period, Apple's popular MacBook Air was exclusively available with a 13-inch screen, which made them ideal for portability but limited in terms of screen space. However, the introduction of a new 15-inch MacBook Air model addresses this limitation.
This sleek notebook, measuring 11.5mm in thickness and weighing 1.3kg, is equipped with Apple's powerful M2 chipset. It features two USB-C ports, Apple's MagSafe charging dock, and a standard headphone jack. With an 18-hour battery life, the laptop boasts an 8-core CPU and 10-core GPU for optimal performance. The new MacBook Air is offered in four attractive colors, including Midnight and Starlight. Starting at a price of Rs. 134,900, customers can place their orders today, and it will be available for purchase next week.
New Mac Pro, it's most powerful machine to date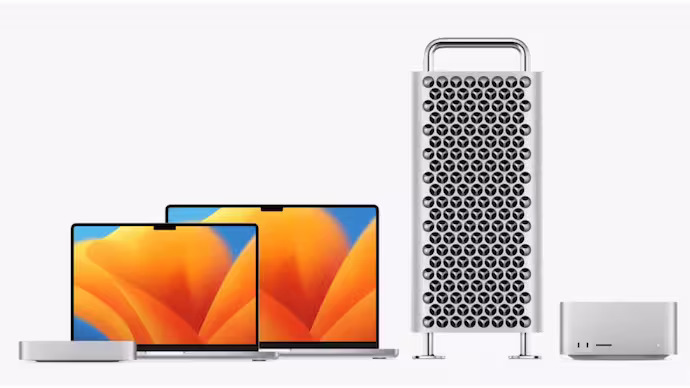 Furthermore, Apple has introduced the supercharged Mac Pro, joining its pro-grade Mac lineup. This powerhouse desktop computer is powered by the M2 Ultra 24-core CPU, supporting an impressive range of up to 76-core GPU configurations. It includes eight Thunderbolt 4 ports and can accommodate up to six of Apple's high-end Pro Display XDR monitors.
The Mac Pro features a stainless-steel frame designed for easy customization, with movable modules. Primarily targeted towards creative professionals and designers, this high-end desktop offers exceptional performance. The new Mac Pro model will be available starting at Rs. 729,900.
In addition, Apple has announced the updated Mac Studio, which can be configured with either the M2 Max or M2 Ultra chips. The Mac Studio, starting at Rs. 209,900, caters to users seeking a balance between performance and affordability.
MacOS Sonoma adds widgets, private browsing option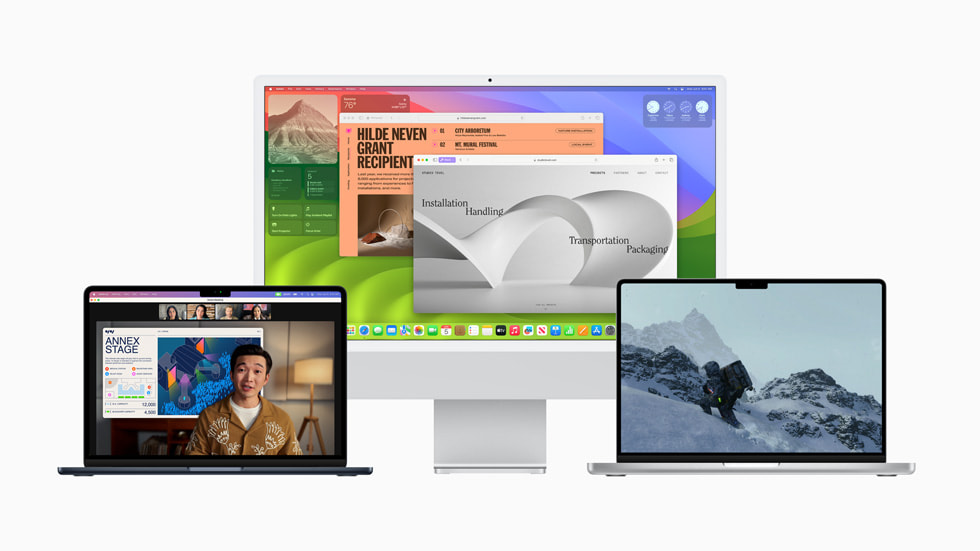 Apple's newest version of its MacOS Sonoma, will bring over more iOS design elements and features, with updated widgets that you can actually place on your desktop and a lock screen that follows the same design as that of your iPhone or iPad.
With Sonoma, users can now access and interact with iPhone widgets directly from their desktop, as long as their iPhone is within proximity. Furthermore, Sonoma enhances video conferencing capabilities by introducing advanced screen-sharing options in Zoom. Users will have the option to display their face in a floating, movable bubble while presenting.
In addition, Apple's Safari browser receives enhanced privacy protections in Sonoma. The update includes measures to prevent companies from tracking users via URLs, providing an added layer of security and privacy.
WatchOS 10 brings a brand-new UI to Apple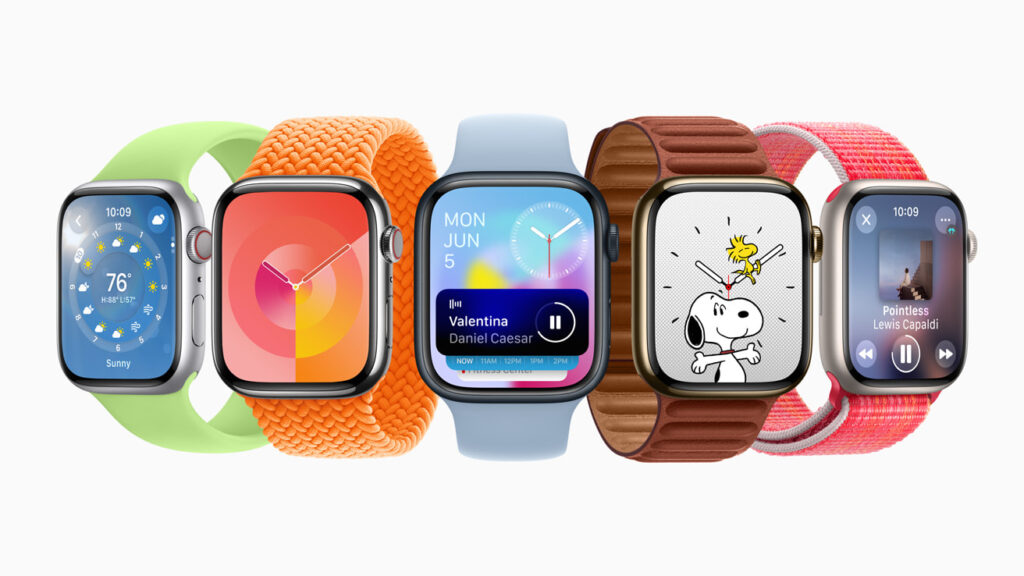 Apple is introducing updates to the software of its Apple Watch, which includes new widgets and redesigned apps. The aim is to provide users with more information at a glance. By simply turning the digital crown, users can access their widget stack and effortlessly scroll through for convenient access to various information. Additionally, the Apple Watch will feature two new watch faces: one inspired by color palettes and another showcasing the beloved Peanuts characters, Snoopy and Woodstock.
The Apple Watch will offer enhanced metrics and workout views specifically designed for cycling. This includes the ability to display additional statistics when connected to other Bluetooth-enabled bike sensors. Health remains a focal point for WatchOS 10 as well. Lastly, Apple is incorporating new mood-logging features into the Mindfulness app, which can be accessed both on the watch and the phone, further promoting mental well-being.